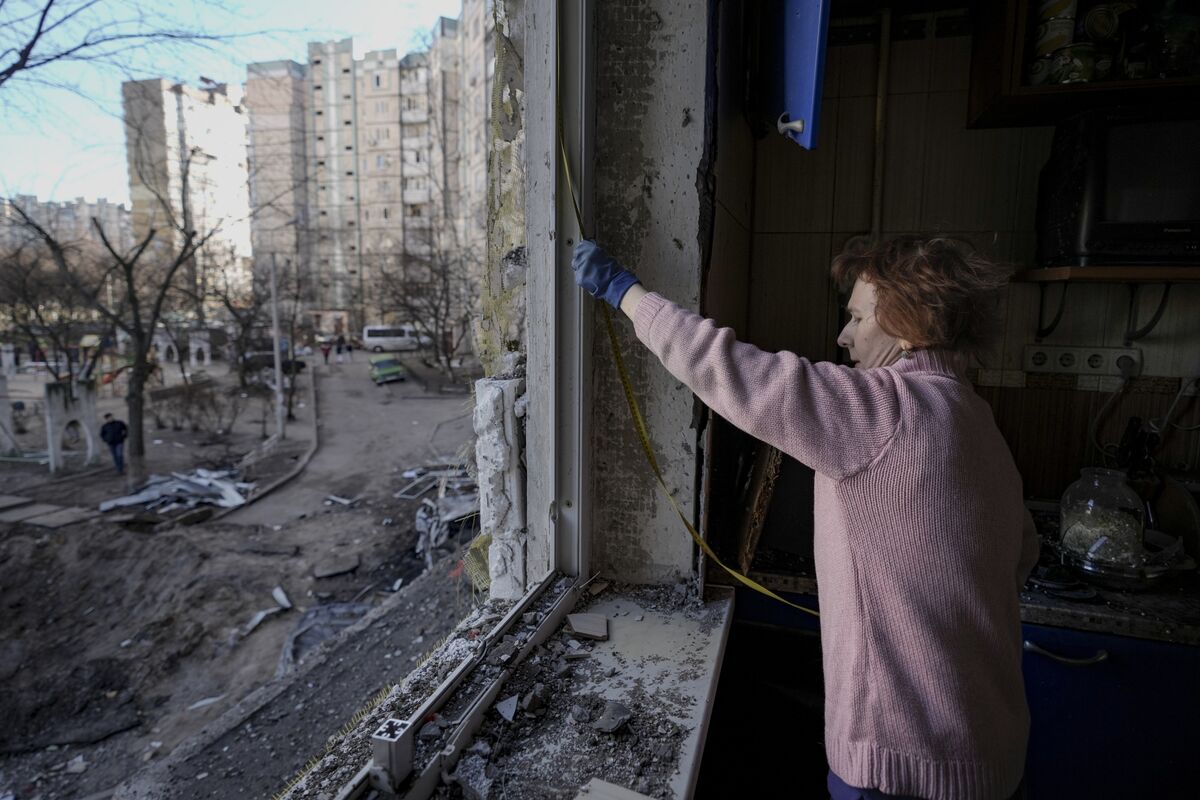 This is a special daily brief on the Russian invasion of Ukraine, one of the most urgent security crises in Europe since World War II.
Germanys finance chief proposed a Marshall Plan to help Ukraine rebuild
when the war ends, as European leaders prepare to meet with U.S. President Joe Biden in Brussels this week to discuss the crisis spawned by Russias invasion.
Italy wants Ukraine in the European Union, Prime Minister Mario Draghi said, after President Volodymyr Zelenskiy addressed lawmakers in Rome by video link. Zelenskiy has called for Ukraine to be allowed to join the bloc, although that process can take many years.
At the same time, Germany and Hungary are putting the brakes on a potential embargo on Russian oil, deepening differences in the EU over how to further punish Moscow. The Kremlin warned that such measures would hit everyone, especially Europeans.
Smoke rises from damaged buildings following Russian airstrikes in Mariupol, Ukraine.
Russia is refocusing its campaign on the east and above all the port city of Mariupol, in a potentially

narrower set of war aims: To take the parts of eastern provinces in Donbas not already under its control and secure a land corridor to Crimea.

Chinas top Russia envoy urged Chinese business people in Moscow to

seize economic opportunities created by the crisis, a strategy that could help

soften the blow from international sanctions. 

Russia will stop negotiations with Japan on a peace treaty that would officially end a conflict dating back to

World War II, after Tokyo imposed unprecedented sanctions. 
Roman Abramovichs superyachts have moved to Turkish shores as the Russian billionaire contends with the prospect of
asset seizures from the U.K. and EU. The Eclipse, a 533-foot superyacht, is now off Marmaris in southwestern Turkey, according to vessel data compiled by Bloomberg. The 458-foot My Solaris is nearby. 
Follow all our coverage in our daily 
Balance of Power newsletter. You can sign up for this special briefing 
here.
Key news
Google, among the few American corporate giants still operating in Russia, is poised to lose one of its

biggest footholds as tensions with the Kremlin escalate over video service YouTube.

Foreign holders of Russias sovereign bond maturing in 2029 are

watching their accounts for the latest debt coupon after the government said a $66 million payment had been made to its local depository.

A Russian court convicted

jailed opposition leader Alexey Navalny on new fraud charges, according to his allies, a ruling that may keep Vladimir Putins top critic in a maximum security prison for 13 years.
Home Is Best
Domestic firms dominated Russia's oil-service segment in 2021
Source: Vygon Consulting
The decision by the worlds largest providers of oil services to stop taking on new business in Russia wont affect the nations current crude output, but is
a threat to its longer-term production growth. 
What to watch
Ukraines Agriculture Minister takes part in a European Parliament meeting as concerns rise about the impact of the war on supplies of staples like wheat.
European affairs ministers meet in Brussels to lay the groundwork for the leaders summit starting Thursday.
Russias State Duma approved amendments that expand a law imposing criminal penalties for publishing what Moscow deems to be fake news about its military operations to cover all state agencies abroad.
Bloomberg explainers and opinion 
Join the 100,000+ users who already follow 
Bloomberg on Telegram to get coverage of the conflict from reporters around the world and the biggest stories moving markets.
Finally  Since the war began, more than 10 million of Ukraines 41 million people have been driven from their homes. A third have left the country, producing the fastest moving refugee crisis since World War II, according to the United Nations.
This explainer sets out how Europe has responded.
Ukrainian refugees from Odesa arrive in Przemysl, Poland, on March 21.
With assistance by Gordon Bell