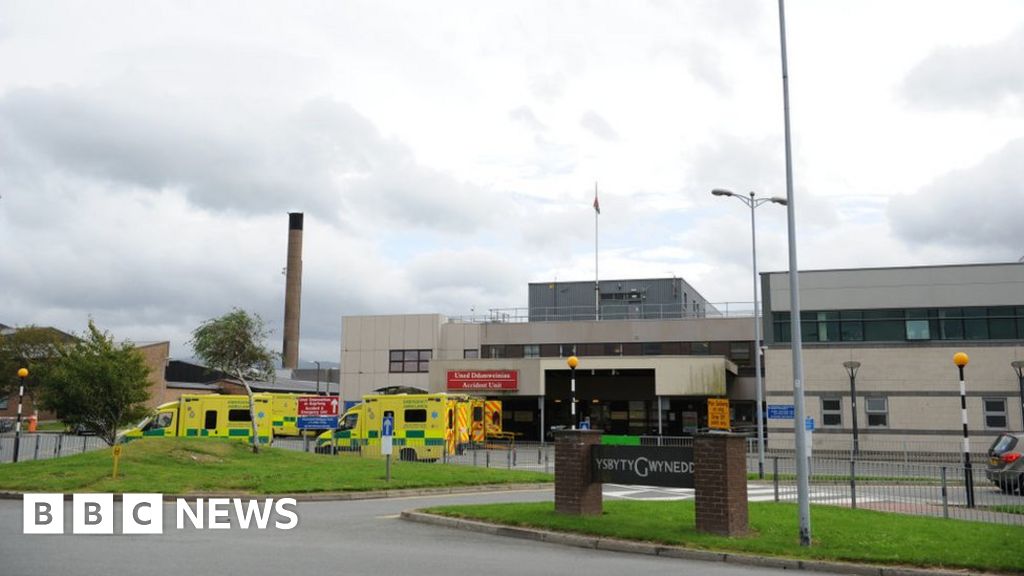 image copyrightGetty Images
image captionBetty Williams' husband Evan died at Ysbyty Gwynedd in Bangor last April
A former MP is calling for an investigation following her husband's death amid growing concern over the use of do not resuscitate (DNR) orders.
Former Conwy MP Betty Williams' husband Evan died at Ysbyty Gwynedd in Bangor last April after contracting Covid.
She said she had not been told about the decision on a DNR order – which she said was made the day he died – despite speaking to staff before his death.
The health board said it was unable to comment on individual cases.
In a statement, Betsi Cadwaladr University Health Board chief executive Jo Whitehead said: "I would like to offer my deepest condolences to Mrs Williams following the loss of her husband.
"Due to patient confidentiality, we are unable to comment on individual cases.
"We would urge her to contact us directly if she has any concerns."
But Ms Williams told BBC Radio Wales' Sunday Supplement she had already written to the new chief executive to highlight her concerns.
image captionFormer Conwy MP Ms Williams said the last time she saw her husband was when paramedics took him to hospital from their home
It comes as the care watchdog for England said individuals' human rights may have been breached in more than 500 cases where DNR decisions were made during the Covid pandemic.
The last time Ms Williams saw her 79-year-old husband of 52 years was when paramedics took him to hospital from their home. He died on Good Friday – 10 April – last year.
"I had a telephone call from a doctor telling me that his condition has deteriorated," she said.
"Nothing at all was said to me about DNR instructions," she said.
She said a DNR order was signed by two consultants.
Ms Williams, who stood down as a Labour MP more than a decade ago, said she wrote to the health board asking about the DNR order on 27 April and whether he had given his consent.
She said she received confirmation on 12 June that he had not.
"It's like pulling teeth," she said.
"I had to drag this information out."
Ms Williams said she would again be writing to the chief executive asking her to "conduct an investigation into how she's going to deal with this".
First Minister Mark Drakeford stopped short of saying a review would be held into DNR orders when asked during an interview on BBC Politics Wales.
He said guidance had been given to the health service in Wales "early on in the coronavirus crisis" by the chief medical officer after a GP practice sent an "unfortunate letter" to patients last April asking them to sign DNR consent forms.
"If there's more to find out then we will definitely want to find out. I completely agree with that," he said.
"But I also want to be clear that, because we had an early incident, we were on top of this issue from right at the start of the pandemic."
The BBC is not responsible for the content of external sites.