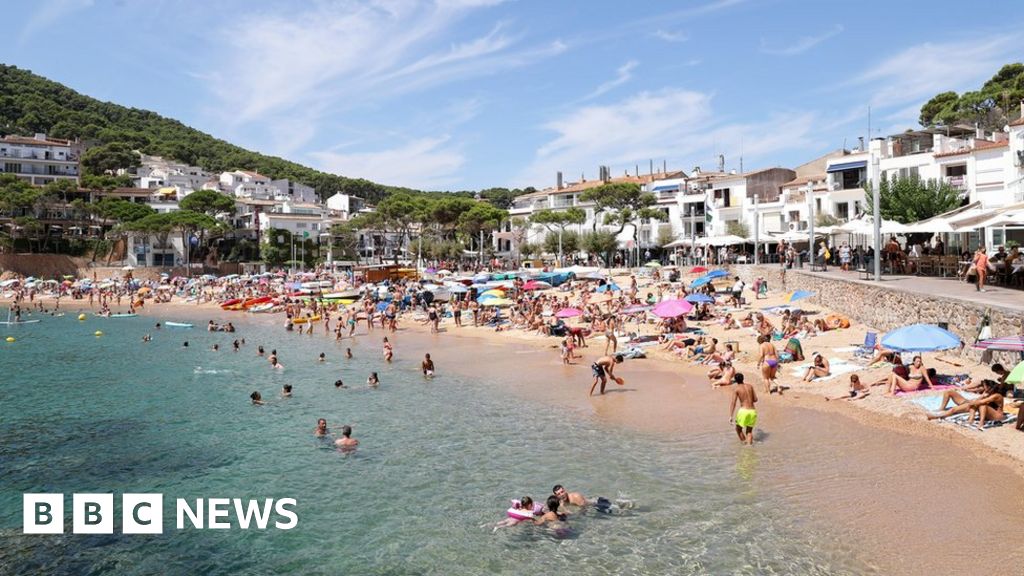 media captionDefence Secretary Ben Wallace says booking holidays is "premature".
An extension to the ban on foreign holidays in order to control the spread of coronavirus cannot be ruled out, Defence Secretary Ben Wallace has said.
Mr Wallace told the BBC that booking a trip abroad would be "premature".
It comes after a scientist on a government advisory body said summer holidays overseas are "extremely unlikely" because of the risk of travellers bringing variants to the UK.
Non-essential travel is banned and those coming to the UK must quarantine.
A government taskforce will report to the prime minister on 12 April detailing when and how international travel can resume.
Under the current roadmap for easing restrictions, the earliest date people in England could holiday abroad would be 17 May.
People can currently travel abroad for a limited number of reasons, such as education or work.
Mr Wallace told the BBC's Andrew Marr Show that he had not booked a holiday abroad, adding it would be "premature" to do so while we are "seeing growing variants".
When asked whether the ban on foreign holidays could be extended, Mr Wallace said: "I think we will play it by ear… I'm not going to rule anything in or anything out.
"I think the first thing is we are not going to do anything that puts at risk this national effort to control this pandemic. All the indications are in the right direction at the moment and let's take it step by step."
image copyrightGetty Images
When asked about trips abroad, Dr Mary Ramsay, head of immunisation at Public Health England, told Andrew Marr it was "too early to say".
"I think everyone has to wait and see. We really don't know. The situation changes so quickly. Numbers are going up at the moment in continental Europe and that's very concerning," she said.
She added that she hoped countries on the continent can get their vaccine programmes "on track" to mitigate the rise in cases.
"But obviously the safest thing is to stay where you are. And to avoid anything that increases your risk and I think it's really too early to say what sort of summer we might be able to experience," Dr Ramsay said.
She added that even those who have been vaccinated could potentially still transmit the virus, saying that restrictions could last for "quite a long period of time".
Dr Mike Tildesley, who is a member of the Scientific Pandemic Influenza Group on Modelling, which feeds into the Sage group of government science advisers, said on Saturday the UK faces a "real risk" if people travel abroad, adding that international travel for the summer was "extremely unlikely".