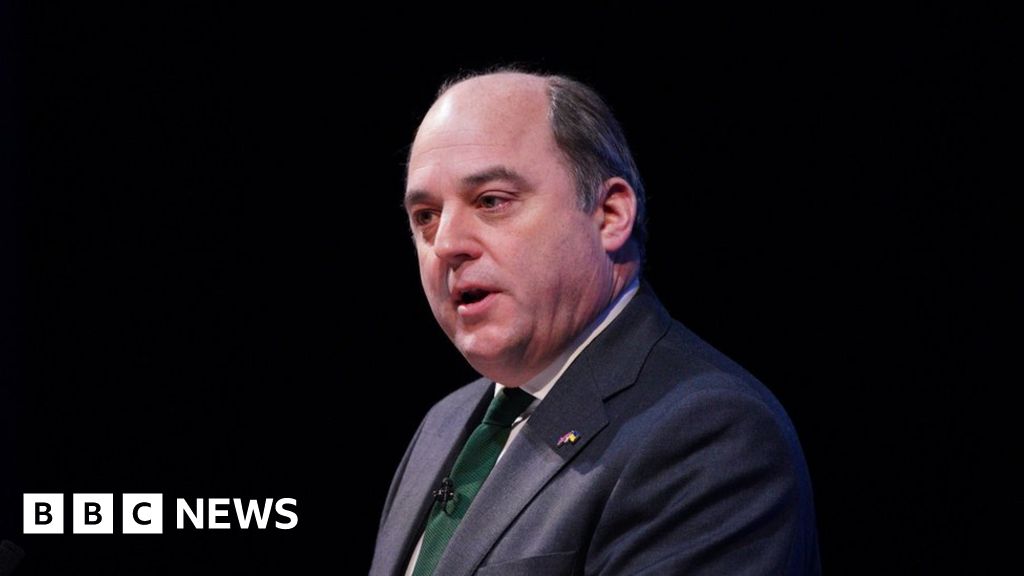 Image caption, Ben Wallace, shown here at the Conservative spring conference, revealed he was targeted last week
Two prominent Russian hoaxers have published footage from a call they made to the UK defence secretary.
In a recording posted online, Ben Wallace can be heard speaking to a man in a video call, made while Mr Wallace was visiting Poland on Friday.
Mr Wallace revealed the hoax last week, saying he had been targeted by an "imposter" posing as the Ukrainian PM.
The UK government has blamed Russia for targeting British ministers with fake calls about the conflict in Ukraine.
Home Secretary Priti Patel revealed she had received a hoax call last week, whilst No 10 said Culture Secretary Nadine Dorries has also been targeted.
The recording of the video call to Mr Wallace was posted online by Vladimir "Vovan" Kuznetsov and Alexei "Lexus" Stolyarov.
The pair have targeted a number of politicians and public figures in the past. They were credited with a hoax call to then-foreign secretary Boris Johnson in 2018, in which he was targeted by a caller pretending to be the prime minister of Armenia.
Previous recordings of their alleged conversations have been aired on Russian TV.
In the published footage, which lasts around a minute, Mr Wallace, shown in a car, is asked questions about an alleged nuclear weapons programme for Ukraine.
A defence source told the BBC the clip had been "doctored".
After the video was published, Mr Wallace said: "Things must be going so badly for the Kremlin that they are now resorting to pranks and video fakes".
Earlier, Boris Johnson's spokesman told reporters that "the Russian state was responsible for the hoax telephone calls made to UK ministers last week".
The spokesman did not give further details, but added: "This is standard practice for Russian information operations.
"Disinformation is a tactic straight from the Kremlin playbook to try to distract from their illegal activities in Ukraine and the human rights abuses being committed there."
It is understood that Mr Wallace was put through to a Microsoft Teams video call which lasted about 10 minutes.
The video call was set up after an email, purportedly from an aide at the Ukrainian embassy in London, was sent to a UK government department and then forwarded to the Ministry of Defence.
A cross-department government inquiry into how the call happened is ongoing.
Asked whether defences against hoax calls were strong enough, the No 10 spokesman said there was guidance on how such calls should be handled.
The Russian duo have also claimed to have interviewed politicians including Nato Secretary-General Jens Stoltenberg, former Ukrainian President Petro Poroshenko and US Senator John McCain.