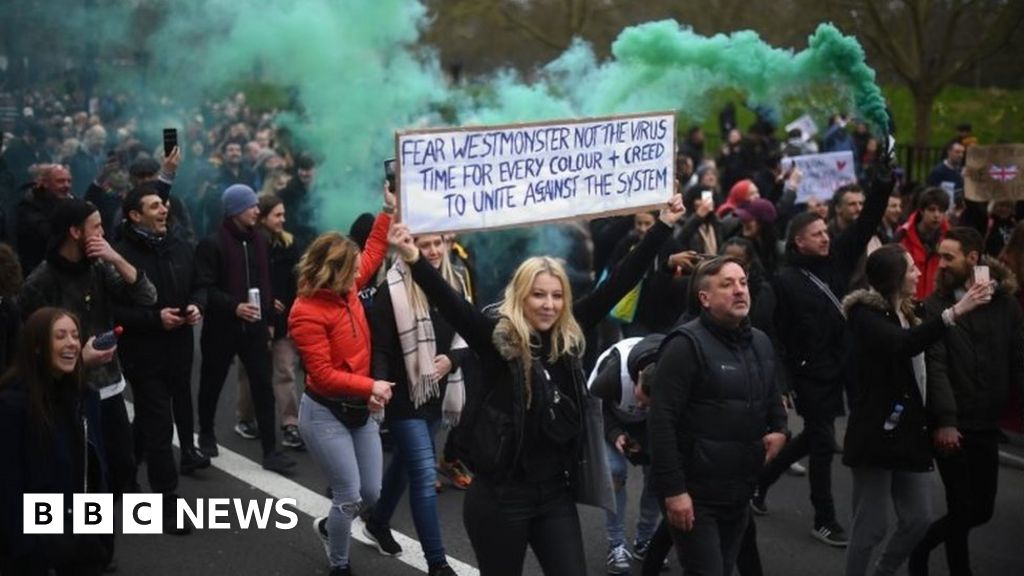 image captionProtesters near Hyde Park on Saturday
Anti-lockdown demonstrations are under way in central London, as MPs urge the government to change the law to allow peaceful protest.
Hundreds of people marched from Hyde Park to Westminster, with some detained by police.
Earlier, more than 60 MPs and peers wrote to the home secretary calling for laws to be changed.
The Home Office said it was still illegal for people to attend protests under the current coronavirus rules.
The Metropolitan Police warned of a "significant policing operation" throughout Saturday – with enforcement including fixed penalty notices and arrests.
image captionSome protesters in Hyde Park were detained
The anti-lockdown protest came after a vigil following the death of Sarah Everard in south London last week resulted in arrests, as police enforced Covid and public order laws.
Liberal Democrat leader Sir Ed Davey blamed the scenes at that event on a lack of clarity putting police "in an impossible position".
He said: "The original Covid restrictions had an exemption for peaceful protest because it was recognised that peaceful protest was a human right – a basic freedom.
"Liberal Democrats strongly objected when new Covid restrictions in November sought to limit peaceful protests.
"Indeed, the courts have made it clear that the human rights act still protects the right to peaceful protests and we need the government to clarify the law."
The letter to Home Secretary Priti Patel, organised by campaign groups Liberty and Big Brother Watch, urged her to issue guidance to police forces on "facilitating" protests.
The initial organisers of the Sarah Everard vigil effectively lost a High Court battle to hold it lawfully the day before, resulting in its cancellation.
But hundreds attended Clapham Common to gather around tributes left on a bandstand – the Met Police said the gathering became unlawful after people began delivering speeches to the crowd.
The event also increased interest in plans to give officers more precise powers to restrict demonstrations in a new sweeping Police, Crime, Sentencing and Courts Bill debated by MPs.
Sir Patrick Vallance, the UK's chief scientific adviser, told MPs earlier this month that protests elsewhere had not resulted in a spike in infections and that outdoor gatherings were safer than indoors, though not risk free.
He said: "It is the case that it is difficult to see how things like large beach gatherings and so on can cause a spike. The same was the case in a protest march in New York; they did not really see any spikes after that.
"It is lower risk, but the other thing that can happen with outdoor events, and so on, is that, when indoor things are also open, you start to get people congregating indoors around that. That can increase risk, but outdoors itself is lower risk."