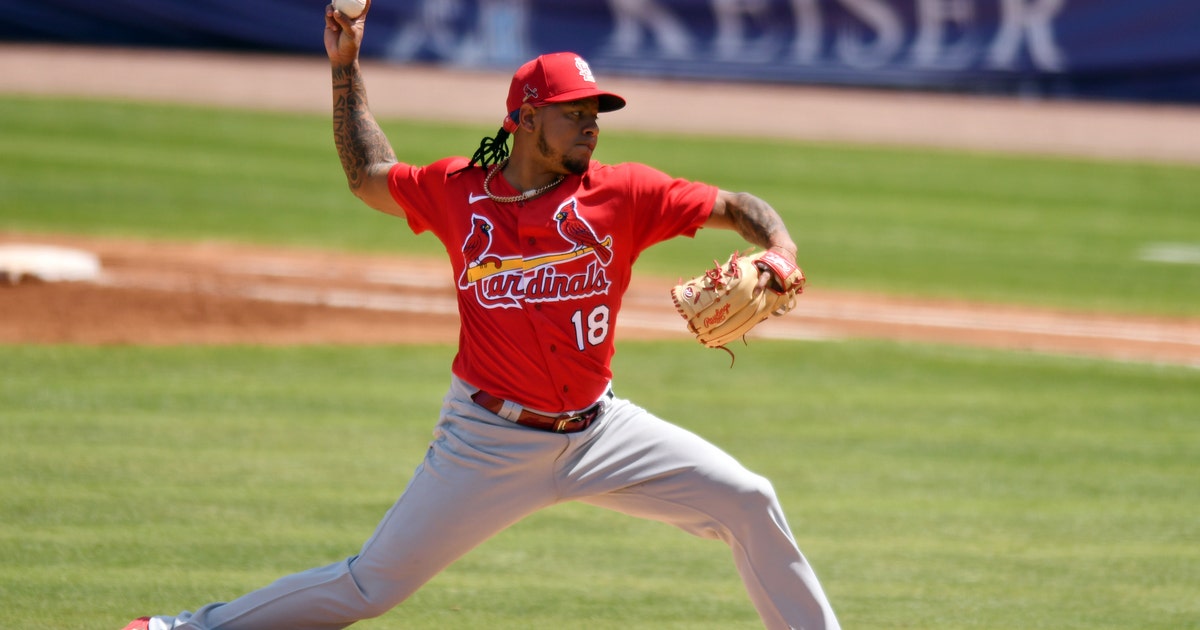 Carlos Martínez had some rough going early on in his start Friday afternoon against the New York Mets and was removed after throwing 25 pitches and recording just one out. Thanks to MLB's special spring rules for pitchers, he was allowed to return in the second.
Things didn't exactly click after that, either. Martínez allowed five runs on five hits and two walks over three fragmented innings in the Cardinals' 8-5 loss to the Mets in Port St. Lucie, Florida.
After allowing a leadoff walk in the first, Martínez got the next two batters. But by the time cleanup man Pete Alonso lined a run-scoring double, the right-hander had made 25 pitches and manager Mike Shildt decided to take him out. Evan Kruczynski took over and got the third out.
Martínez was back on the mound to start the second, when he faced four batters and recorded three outs. The other batter, Tomas Nido, hit a solo home run to put New York up 2-0.
Martínez pitched a scoreless third, helped in part when catcher Andrew Knizner caught Francisco Lindor, who had hit a leadoff single, stealing second. A single, strikeout, double and run-scoring fielder's choice in the fourth put an end to Martínez' day, although he still was on the hook for two of the four runs that scored when Lindor hit a grand slam off Thomas Parsons two batters later, putting the Mets on top 7-0.
Edmundo Sosa's third-inning single was the Cardinals' only hit until pinch hitter Max Moroff smoked a two-run homer to right in the sixth. A Dylan Carlson single and Evan Mendoza double made it 7-3.
Cards outfielder Scott Hurst followed a leadoff single by John Nogowski with a two-run homer to make it 7-5 in the eighth. A fielder's choice in the eighth scored the Mets' final run of the day, an unearned run off Matthew Liberatore. Miller, Gallegos, Liberatore and Cruz combined to all0w only four hits and that lone unearned run over the last four innings.
Center fielder Harrison Bader went 0 for 3 but made a stellar running catch on a Kevin Pillar drive to deep right-center in the fifth.
New York's Jeff McNeil got hit by a pitch three times, by three different St. Louis pitchers (Kruczynski, Andrew Miller and Giovanny Gallegos). The Mets' Michael Conforto also took one for the team (by Parsons).
The Cardinals host the Houston Astros at noon Saturday on FOX Sports Midwest.