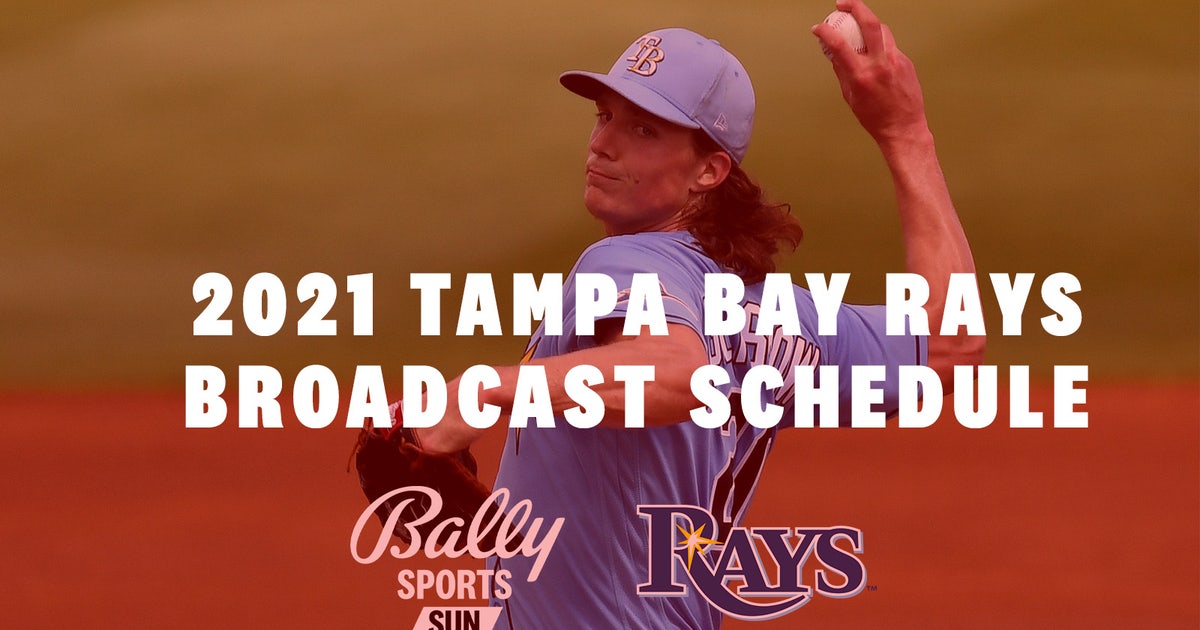 TAMPA, Fla. Bally Sports Sun (rebranding from FOX Sports Sun) announced today the network will produce and televise 160 regular season Tampa Bay Rays games as part of the 2021 Major League Baseball season. All games not airing exclusively on a national platform will air on the all-new Bally Sports Sun regional network starting with Opening Day coverage, April 1 at 3 p.m. vs the Miami Marlins.
Dewayne Staats returns this year for his 24th season as play-by-play announcer and will be joined in the booth by former MLB pitcher Brian Anderson. Staats enters his 44th year broadcasting baseball, and Anderson enters his 13th season providing color commentary. Former Rays pitcher Doug Waechter and MLB veteran Orestes Destrade return as analysts, while Rich Hollenberg is back for his eighth season as host. Tricia Whitaker rounds out the broadcast team in her third season as lead in-game reporter and host, while Tampa Bay digital host and reporter Kailey Mizelle will cover all things social in her second season with the network.
All broadcasts throughout the season will feature half-hour Rays Live pregame shows along with extended postgame coverage. Rays Live will originate from Tropicana Field for home games, while away games will be anchored between Tropicana Field and the new Bally Sports studio.
Rays programming airing on Bally Sports Sun will stream live on the all-new Bally Sports app and on ballysports.com when a consumer authenticates through their pay-tv service. Both the app and website will launch in coordination with the network rebrand on March 31, 2021. The Bally Sports app will be available on mobile and tablet devices, including iOS and Android, as well as connected devices including, Amazon Fire TV, Android TV, Apple TV, Google Chromecast, PlayStation, Roku Players and Roku TV, Samsung and LG platforms and Xbox One.The FOX Sports GO app will update to the all-new Bally Sports app upon the rebrand. Fans can also download the app for free from theiTunes App Store, Google Play, Amazon App Store, Roku App Store, XBOX One App Store and Windows App Store..
Complementing Opening Day coverage on April 1 and marking a new era of regional sports Bally Sports Big Opening Day will leverage the Bally Sports regional networks to offer fans across the country for the first-time ever a live, whip-around style MLB Opening Day broadcast complete with expert analysis, interviews and more. In coordination with Sinclair-owned sister sports platforms, including Tennis Channel and Stadium, the 4.5-hour special will also feature NHL, NBA, and pro-tennis updates and highlights. Leading off at 11AM ET, Bally Sports Big Opening Day will originate from Stadiums studio in Chicago and air across all 19 Bally Sports regional networks, including Bally Sports Sun.
Going beyond the games, Bally Sports Suns partnership with the Rays provides fans with opportunities to get to know the team and its players. Rays All-Access returns with unique perspectives and captivating insights on the team, players, coaches, organization and more.
Lastly, this seasons broadcast schedule will be subject to change in anticipation of MLB, team, network and provider updates and clarifications. Any changes will be communicated to media and fans ahead of each series in accordance with the Rays and MLB.
FOR MORE INFORMATION, MEDIA CONTACT:
Bally Sports Florida: Eric Esteban, (954) 375-3634, [email protected]
ABOUT BALLY SPORTS FLORIDA / BALLY SPORTS SUN
Bally Sports Florida and Bally Sports Sun, formerly FOX Sports Florida and FOX Sports Sun, are the local destinations for the Orlando Magic, Miami HEAT, Tampa Bay Rays, Miami Marlins, Tampa Bay Lightning and the Florida Panthers. Together, Bally Sports Florida and Bally Sports Sun present more live, local sports programming than any other network or broadcast system in the market. Serving sports fans across the Sunshine State, the regional networks combine to produce more than 700 live sporting events and over 300 studio based and original programs year round. Bally Sports Florida and Bally Sports Sun are committed to making a positive impact in the communities we serve by engaging our audiences and providing award-winning TV, digital and streaming coverage of Floridas hometown sports teams.