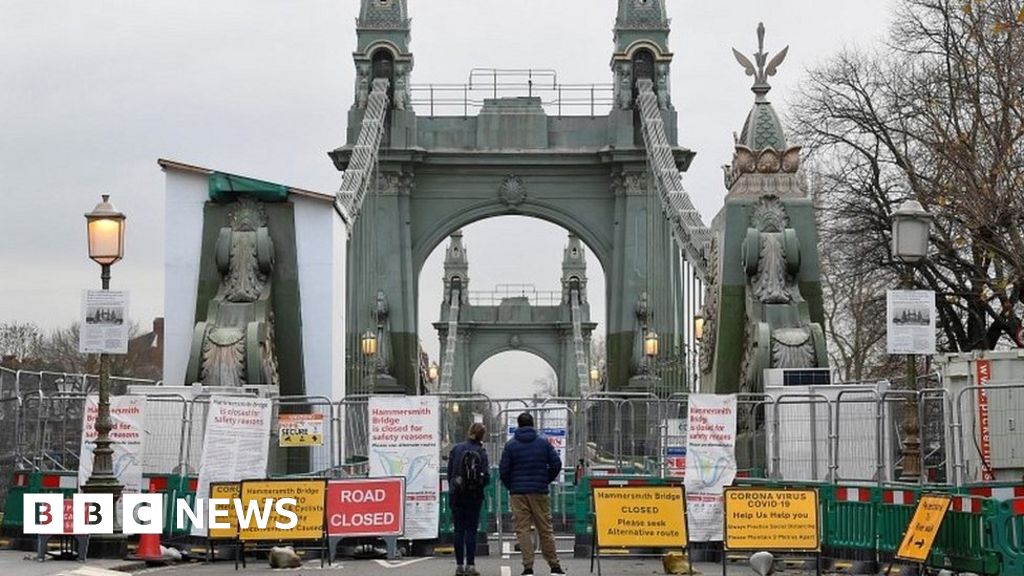 image captionThe 134-year-old crossing was shut to all users six months ago
Motorists could be charged to cross London's Hammersmith Bridge in order to pay for its repair.
The 134-year-old crossing was entirely closed last year when cracks in the pedestals worsened during a heat wave.
Hammersmith and Fulham Council has suggested that motorists pay to use a temporary double-decker structure which would be put in place while the original bridge is mended.
It could be ready for traffic from the summer of 2022, the council said.
image copyrightFoster + Partners/COWI
image captionA double-decker bridge has been proposed as a temporary solution
The plan for a double-decker structure, which would be installed within the existing crossing, was proposed following a feasibility study carried out by architects Foster and Partners and bridge engineers COWI.
An upper level would carry cars and buses, while pedestrians and cyclists would use the lower level.
Repairs to the original bridge could then take place around them.
The council, which owns Hammersmith Bridge, said the plan would help reduce restoration costs to "around £100m" and allow traffic to use it from the middle of 2022.
The full restoration of the bridge could then be completed by 2023. It had previously been suggested the crossing would not fully re-open until 2027.
To help pay for the repairs, motorists would be charged a toll using the same automatic number plate recognition technology put in place for the congestion charge.
"Early assessments" indicated they would pay "an average of £3" to cross, the council said.
The council has also suggested the ownership of the bridge should be transferred into a charitable trust.
media captionAre Londons bridges deteriorating?
Council leader Stephen Cowan said: "Hammersmith Bridge is one of the oldest suspension bridges in the world and the most expensive in Britain to repair.
"We're determined to put in place the necessary governance and long-term funding arrangements that will make sure it is properly maintained well into the next century."
The plans will be discussed at the upcoming Hammersmith Bridge Taskforce meeting, which is set to take place next week.
The BBC is not responsible for the content of external sites.