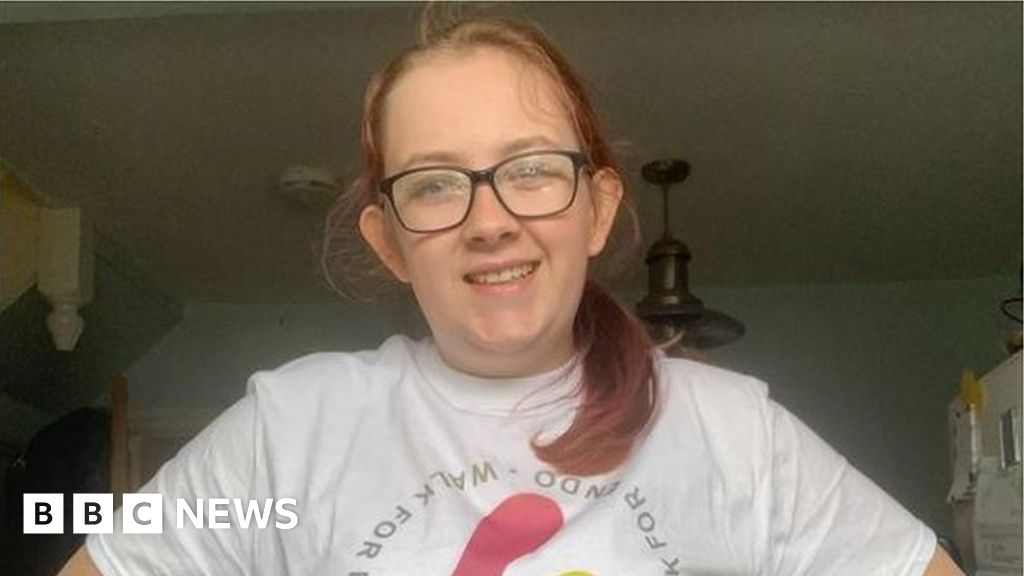 image copyrightChloe Kidd
image captionChloe Kidd says she had an instinct something was wrong
Chloe Kidd knew something was wrong from the moment she started having periods.
After 10 years of pain, she was eventually diagnosed with endometriosis. Now aged 24, she still has days in "absolute agony".
The condition – which affects one in 10 women – causes tissue similar to the lining of the womb to grow elsewhere inside the body.
In her own words, Chloe, from Hethersett near Norwich, describes how it has affected both her physical and mental health, as she wants to help others "get a diagnosis".
image captionChloe says her partner Brett Harvey has been very supportive in her fight to get a diagnosis
I was 13 or 14 when I started getting periods.
They didn't seem regular and they were very painful. I also had very heavy periods.
There was a recurring water infection, and they shove you on antibiotics, but that isn't the answer.
You can have problems with your bowel movements, and I ended up constipated.
There was a pain, always in the lower back and pelvic area. I would double over in pain – paracetamol and a hot water bottle didn't touch it.
I was told it was a water infection, a kidney infection, or I had a missed a cycle of my period, because it used to happen when I was about to come on to my period.
I kept going backwards and forwards to hospital, but I didn't get better.
image copyrightChloe Kidd
image captionShe was recently in hospital after endometriosis caused her stomach to swell up
It wasn't until a doctor, who was doing a locum shift at hospital, said to me that it could be endometriosis.
My partner and I had never heard of it, so we Googled it. I know you shouldn't normally do that, but when we saw some of the symptoms it was similar to what I had.
I went back to my GP and asked if there was any way I could tested for this, for endometriosis.
I ended up seeing several different consultants and went through two different specialities before I was seen by gynaecology.
I had a laparoscopy – a procedure with keyhole surgery to look around the lower half of your body – and I was diagnosed.
I cried with relief because I had this instinct that something was wrong.
The doctors allowed me to see the images – I had looked it up online so I knew what it was and what I was dealing with.
I then knew what the problem was and how to go about it.
image copyrightChloe Kidd
image captionChloe has a tattoo on her arm to represent endometriosis and mental health
It affected my relationship and I had problems with commitment. I suffered with depression and I have had counselling in the past.
But once I knew what it was, I was able to find out a few friends and family had also had it, so it's nice that I'm not on my own, that I'm not alone, with this condition.
I also joined a Facebook group for women in Norwich with endometriosis and we're able to share our stories.
It's the same on Instagram, I've found women with this condition, and I'm currently sharing my experiences with little posts each day.
image copyrightChloe Kidd
image captionShe says her mental health suffered because of the pain she was going through
At the moment I have days in absolute agony and I am still in touch with my consultant.
People have recommended a pain dairy to know what you are going through and how it feels each day.
I have a TENS [transcutaneous electrical nerve stimulation] machine which sends an electric pulse into my body where the pain is and gives a little massage and seems to soothe it a bit.
Some people can be very blasé about it, but you have to keep pushing your GP to get referred.
I think some people do struggle to understand what it is.
I want young people to understand it and to help to allow them to get a diagnosis.
As told to Pete Cooper
Find BBC News: East of England on Facebook, Instagram and Twitter. If you have a story suggestion email [email protected]
The BBC is not responsible for the content of external sites.