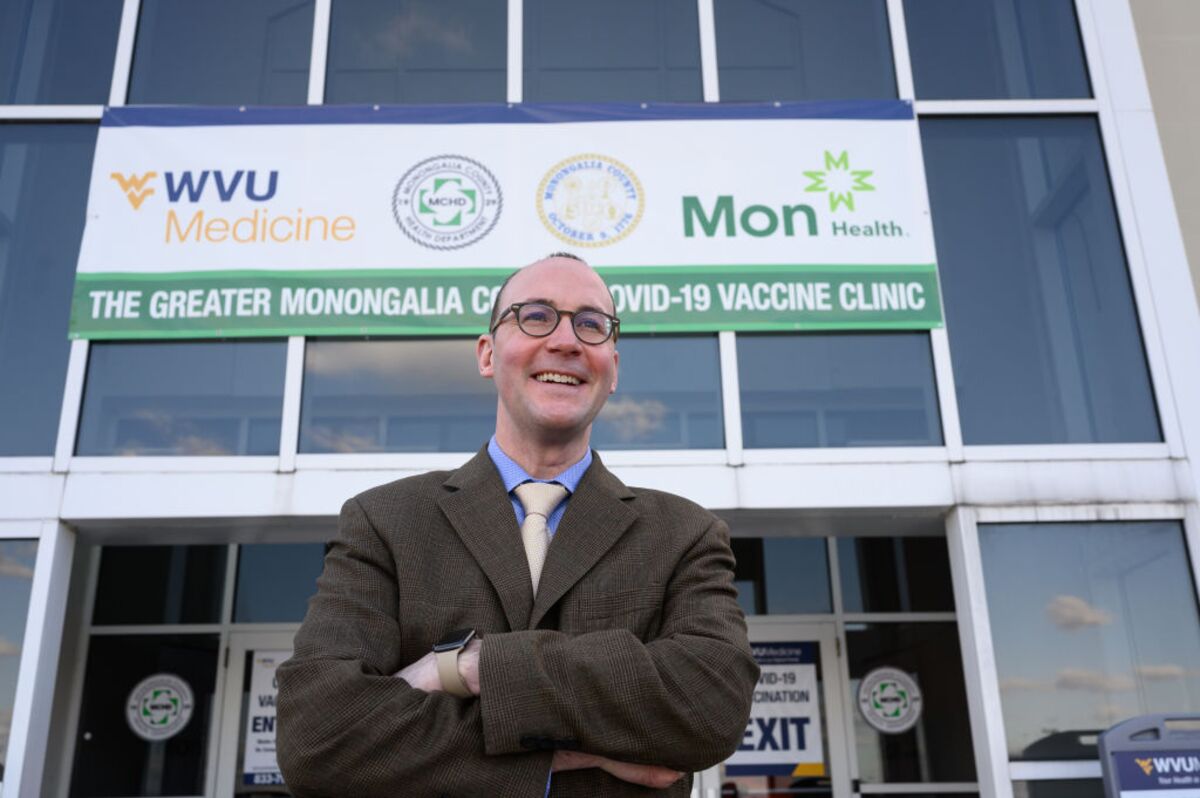 Albert Wright, president and chief executive officer of West Virginia United Health System Inc., outside the organization's Covid-19 vaccine clinic in Morgantown, West Virginia.
This is Bloomberg Opinion Today, a vaccination program of Bloomberg Opinions opinions. Sign up here.
Todays Agenda
The Three Habits of Highly Successful Vaccinators
Switzerland and West Virginia have a lot in common, one imagines. Mountains. Yodeling. Other stuff. But Switzerland would also seem to have some advantages over its distant American cousin, given its reputation for extreme wealth and hyper-efficiency. 
So it may truly shock you to learn that
West Virginia is absolutely trouncing Switzerland when it comes to vaccinating people for coronavirus, writes Therese Raphael. I mean, look at this:
In fact, few countries are doing better at this than West Virginia is right now. Its vaccination rate per 100 people is on par with that of the U.K., generally considered one of the worlds best Covid inoculators. Its also topping
most other U.S. states. So what does West Virginia have that Switzerland lacks? Aside from coal and
pepperoni rolls? Therese points to strong central leadership, clear communications and electronic health records. The Swiss government, meanwhile, failed to get enough supply and struggled to tell people where to get shots. And its health record-keeping is outdated.
West Virginia also overcame a high level of vaccine skepticism, apparently by 
mocking the skeptics fears. This may not be the go-to approach for changing peoples minds beyond West Virginia, however, writes Clara Ferreira Marques. With some countries even more leery of vaccines than West Virginians ever were, this problem could keep the world from reaching herd immunity. Clara suggests we must
understand the doubters and address their anxieties directly, even if mockery works in West Virginia.
Further Vaccination Reading:
The U.S. Military Has an Extremism Problem
When a mob of Donald Trump supporters stormed the U.S. Capitol on Jan. 6, active-duty military members were likely among them. There were definitely reservists and national guardsmen involved; some have already been charged with crimes. And this is probably just the tip of a White-nationalist iceberg in the armed forces. Defense Secretary Lloyd Austin recently ordered officers to have a chat with their charges about the problem, but thats not nearly enough, writes Bloombergs editorial board. The
services must do a better job of tracking radicals and bigots in their ranks, watching for signs of recruitment by fringe groups and making extremist activity illegal. 
Fred Smith Has Earned a Vacation
Its safe to say Fred Smith has had a pretty good career. The FedEx founder revolutionized fast package delivery and even had a movie made about his company, Cast Away, the tear-jerking finale of which is the (spoiler alert) extremely late delivery of a FedEx package. The company had fallen on hard-ish times recently. But as it approaches its 50th anniversary this summer, Brooke Sutherland writes,
FedEx seems to have managed a pandemic-boosted turnaround, giving Smith the chance to go out on a high note. Wed advise against any plane trips across the Pacific, however. 
P.S.: Dont forget to sign up for
Brookes industrial-strength newsletter, called Industrial Strength.
Telltale Charts
The pandemic exposed just how badly people need broadband internet at home, and
wireless carriers want to take a lot of that business away from the cable companies, writes Tara Lachapelle. 
Vladimir Putin faces a water crisis in the Crimea, which keeps getting more expensive to maintain and could soon become a political liability, writes Clara Ferreira Marques.
Further Reading
Antony Blinken
handled his meeting with Chinese counterparts perfectly.  Eli Lake
The Fed ending a Covid-era break on bank capital may be
a first step toward tapering bond purchases.  Brian Chappatta 
Suddenly the
Indo-Pacific Quad has unity and a purpose: providing an economic counterweight to China.  Mihir Sharma 
Oil is selling off because of the brutal market math that kicks in whenever prices stay above $60 for very long.  Liam Denning 
NCAA basketball
players might stage March Madness protests to win support for their rights.  Joe Nocera 
If youve got a lot of home equity and need money, a
cash-out refi isnt as risky as you might think.  Alexis Leondis 
Stimulus check cutoffs have a lot of people wondering:
Hey, am I in the middle class?  Pete Saunders
ICYMI
The CDC says
kids can be 3 feet apart in schools.
A sharecroppers daughter got $50 million from Mackenzie Scott to revive a Black college.
China
banned Teslas from military complexes.
Kominerss Conundrums Programming Note
Due to unforeseen circumstances, Kominers's Conundrums will not run this weekend, so we are giving everyone an extra week to solve our
Pi Day puzzle! Solutions are now welcome until midnight New York time on Thursday, March 25.
And if you're having trouble figuring out what to do once you've corrected Donald's geometry mistakes, you might think about whether there's any way to convert those corrected numbers into letters! If you work that out, you'll be halfway to the answer.  Scott Duke Kominers
Kickers
Gold-fossickers
find a rare meteorite. (h/t Scott Kominers)
Young female 
Japanese biker is really 50-year-old man using FaceApp.
Area engineer converts
van into mobile laundromat for the homeless.
Here are
baseballs best relievers in the era of the save.
Notes: Please send meteorites and complaints to Mark Gongloff at [email protected]
Sign up here and follow us on Twitter and Facebook.
This column does not necessarily reflect the opinion of the editorial board or Bloomberg LP and its owners.
To contact the author of this story:
Mark Gongloff at [email protected]
To contact the editor responsible for this story:
Brooke Sample at [email protected]
Before it's here, it's on the Bloomberg Terminal.
LEARN MORE