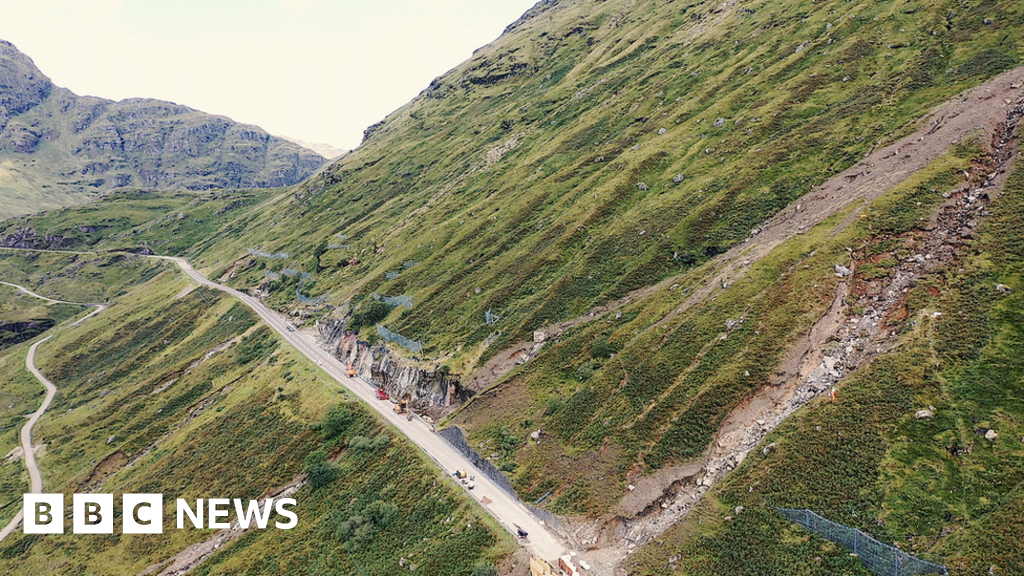 image copyrightBear Scotland
image captionThe A83's Rest and be Thankful has been the scene of work to prevent disruption caused by landslips
The preferred route to replace a section of the A83 hit by landslides would run through the same glen as the existing road, it has been announced.
The section of road – the Rest and Be Thankful, near Arrochar – has become infamous for landslips, closures and long diversions.
Transport Scotland has been consulting on 11 "route corridor options" to improve travel through the area.
A route through Glen Croe near the existing road has now been identified.
Transport Scotland said that in recognition of a need to act quickly, further short and medium-term mitigation works at the Rest and Be Thankful had also been identified and would be taken forward in the coming months.
Transport Secretary Michael Matheson said he understood the "frustration and disruption" caused by problems at the section of road.
He said: "We are progressing substantial short-term investment in the existing A83 including installing a debris cage and new culvert, construction of an additional catchpit, debris fencing and flood mitigation measures at the River Croe crossing."
image captionThe section of A83 is prone to landslides from the nearby hillside
Mr Matheson said a "medium-term resilient route" through Glen Croe was also being looked at, with minor roads in the area called the Forestry Track and the Old Military Road being considered as possible routes.
He added: "Identifying the preferred route corridor is a major step forward for this vital work and we are now pushing forward to look at five alternative options within that online corridor and starting the process shortly to appoint design consultants for this work."
Transport Scotland said the preferred route corridor was more cost effective and quicker to deliver than the others, with significantly fewer environmental constraints.
It said it would start the process of procuring long-term consultancy services for the design work next month and taking forward further survey and assessment work in parallel with this procurement subject to Covid-19 restrictions.