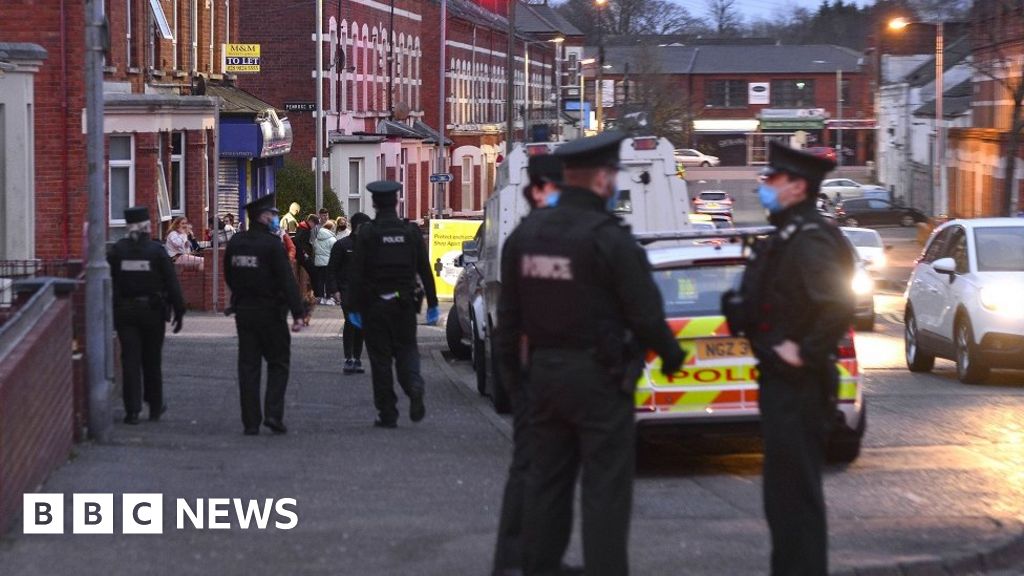 image captionThere was a police presence on Wednesday night in the Holyland area of Belfast
A number of fines were issued by the PSNI as part of a large-scale operation to enforce Covid-19 restrictions on St Patrick's Day.
However, police have said that people mostly heeded the message to celebrate the day responsibly.
On Wednesday night, extra police were on patrol in the Holyland in Belfast's university area.
There had been concerns about house parties taking place and possible Covid-19 regulation breaches.
Police were also called to clear crowds of young people from Botanic Gardens in south Belfast.
image captionCrowds in Botanic Park dispersed quickly after the PSNI arrived
It took less than an hour after police arrived for the area to be cleared.
PSNI Ass Ch Con Alan Todd had urged parents to ask their children and young adults to "return home".
Speaking on BBC Radio Ulster's Evening Extra programme on Wednesday, he said: "There have been people out and enjoying themselves – by and large, people have heeded the messaging from ourselves, from politicians and civic leaders in terms of how they've conducted themselves.
"While places have seen steady footfall and traffic flows, by and large the vast majority of people have done so responsibly."
Meanwhile in the Republic of Ireland, 21 people were arrested at anti-lockdown protests in Dublin.
It came as part of a Gardaí (Irish police) operation to prevent lockdown protests, which were being planned on social media.
Thirteen men and three women arrested by 15:00 GMT on Wednesday. Ten people have been charged.
More than 2,500 Gardaí have been deployed at checkpoints and arterial routes across the country.