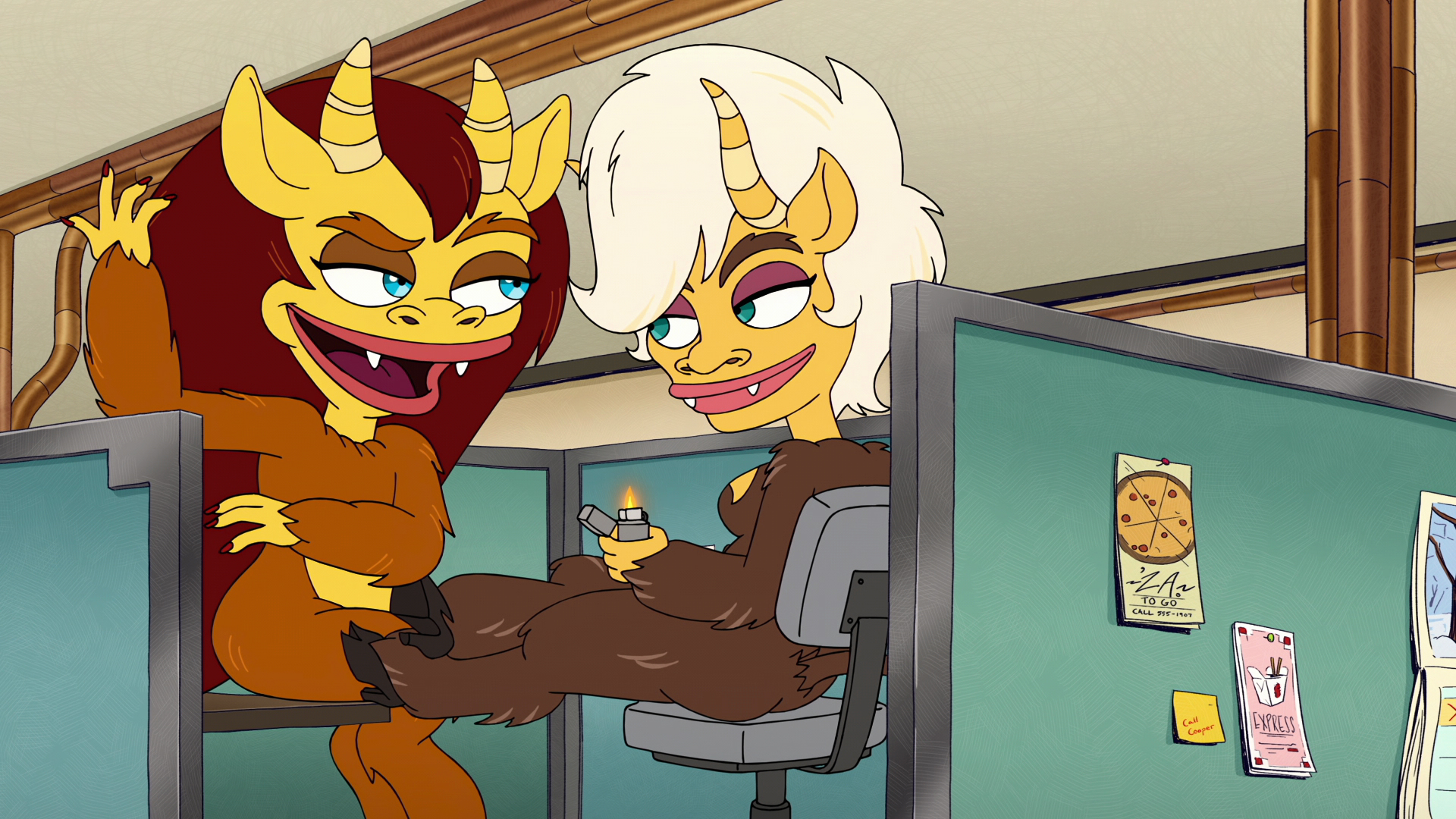 Big Mouth fans rejoice as there is another amusing animated series set in the universe of the original.
Netflix's new series, which was released on Friday, March 18, follows the monsters who are assigned to help human adults with their feelings.
A workplace comedy, the show was created by Nick Kroll, Andrew Goldberg, Mark Levin, Jennifer Flackett, and Kelly Galuska, the first four of which were also the creative minds behind Big Mouth.
Those watching the animated series will no doubt recognize a number of the voices they hear on the show, from Big Mouth favorites to A-List guest stars.
Human Resources stars a number of voice actors who originally appeared in Big Mouth, reprising their roles from the hit animated series.
Nick Kroll returns as Maurice "Maury" the hormone monster, and Maya Rudolph also reprises her roles as Constance "Connie" the hormone monstress.
Other members of the main cast returning include Keke Palmer as Rochelle, a hate-worm turned Lovebug, and Brandon Kyle Goodman as a Lovebug named Walter Las Palmas.
New cast members include Randall Park as a rock monster named Pete and Lupita Nyong'o as Shame Wizard Asha. Meanwhile several A-listers have recurring roles such as Thandiwe Newton as hormone monstress Mona.
Here is a full list of the main cast of 'Human Resources'
Aidy Bryant as Lovebug, Emmy.
Nick Kroll as Hormone Monsters Maurice "Maury" Beverley
Maya Rudolph as Hormone Monstress, Constance "Connie" LaCienega.
David Thewlis as the Shame Wizard.
Brandon Kyle Goodman as Lovebug, Walter.
Keke Palmer as Lovebug, Rochelle.
Pamela Adlon as Lovebug, Sonya.
Randall Park as Pete the Logic Rock.
Ali Wong as Becca, a mother the monsters are assigned to.
Thandiwe Newton as Mona the Hormone Monstress.
Jemaine Clement as Simon Sex.
Maria Bamford as Tito, and Kitty Dukakis.
Rosie Perez as Petra the Ambition Gremlin.
Henry Winkler as Keith from Grief.
John Gemberling as Hormone Monster, Tyler.
Notable guest stars include Dame Helen Mirren who voices a shame wizard named Rita St. Swithens, and Lupita Nyong'o as Asha.
Here is a full list for the guest stars in 'Human Resources':
Hugh Jackman as Dante the addiction angel.
Helen Mirren as Shame Wizard, Rita St. Swithens.
Lupita Nyong'o as Shame Wizard, Asha.
Janelle Monáe as Becca's friend Claudia.
Mike Birbiglia as Barry.
Tim Robinson as Doug.
Ahmed El-Mawas as Amir.
Ulka Simone Mohanty as Nabilah.
Human Resources and Big Mouth are available to watch on Netflix now.
L-R: Maya Rudolph as Connie the Hormone Monstress and Thandiwe Newton as Mona the Hormone Monstress in "Human Resources."Courtesy of Netflix © 2022