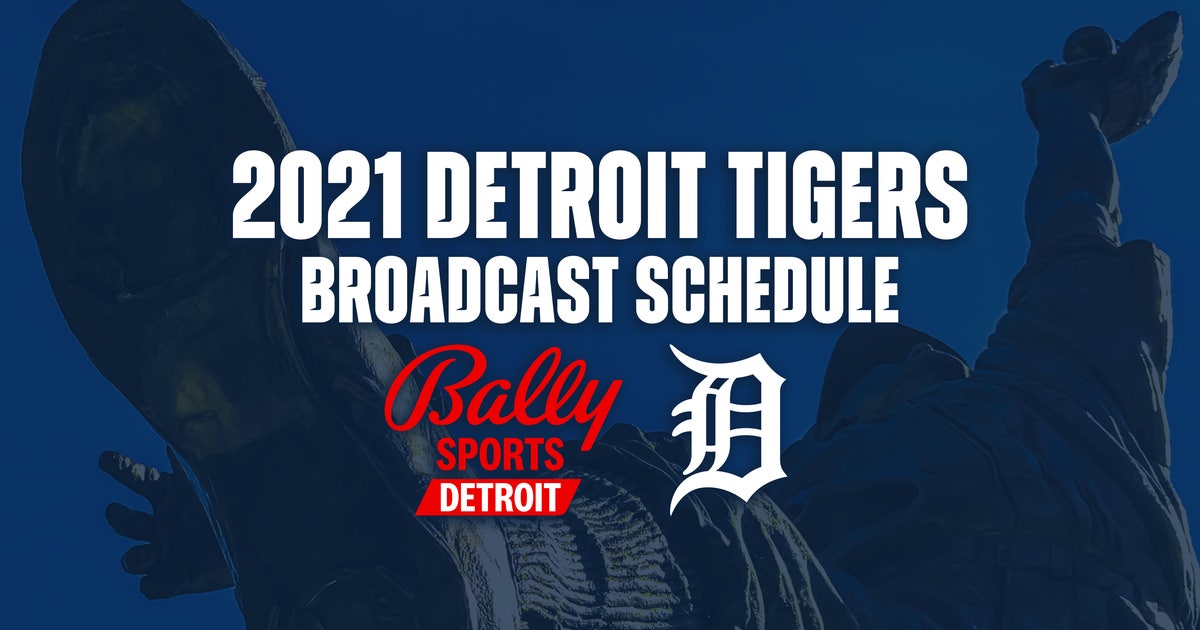 DETROIT Bally Sports Detroit (rebranding from FOX Sports Detroit), home of the Detroit Tigers, today announced its 2021 Tigers regular-season schedule with 161 games. All games not airing exclusively on a national platform, will air on the all-new Bally Sports Detroit regional network starting with Opening Day coverage, April 1 at 12PM vs the Cleveland Indians.
Bally Sports Detroits broadcast of the Tigers Home Opener will also be simulcast on CBS 3 (Grand Rapids), CW 46 (Flint), FOX 2 (Detroit) and NBC 74 (Traverse City).
As previously announced, Matt Shepard will serve as the play-by-play announcer. Kirk Gibson and Jack Morris will share analyst responsibilities.
The network will continue to deliver Tigers Live pregame and postgame coverage, providing fans with unmatched access to the team with interviews, extended analysis, unique features and more. Led by John Keating, rotating at the host position with Mickey York throughout the season, Opening Day coverage on April 1 will feature a special one-hour Tigers Live pregame show ahead of first pitch. Craig Monroe and Dan Petry return to share analyst responsibilities on Tigers Live.
Complementing Opening Day coverage on April 1 and marking a new era of regional sports Bally Sports Big Opening Day will leverage the Bally Sports regional networks to offer fans across the country for the first-time ever a live, whip-around style MLB Opening Day broadcast complete with expert analysis, interviews and more. In coordination with Sinclair-owned sister sports platforms, including Tennis Channel and Stadium, the 1-hour special will offer fans MLB previews as well as NHL, NBA, and pro-tennis updates and highlights.  Leading off at 11AM ET, Bally Sports Big Opening Day will originate from Stadiums studio in Chicago and air across all 19 Bally Sports RSNs, including Bally Sports Detroit.
Tigers programming airing on Bally Sports Detroit will stream live on the all-new Bally Sports app and on ballysports.com when a consumer authenticates through their pay-tv service. Both the app and website will launch in coordination with the network rebrand on March 31, 2021. The Bally Sports app will be available on mobile and tablet devices, including iOS and Android, as well as connected devices including, Amazon Fire TV, Android TV, Apple TV, Google Chromecast, PlayStation, Roku Players and Roku TV, Samsung and LG platforms and Xbox One.The FOX Sports GO app will update to the all-new Bally Sports app upon the rebrand. Fans can also download the app for free from theiTunes App Store,Google Play, Amazon App Store, Roku App Store, XBOX One App Store and Windows App Store.
About Bally Sports Detroit
Bally Sports Detroit (formerly FOX Sports Detroit) is delivered to 2.2 million households throughout Michigan and portions of Northwest Ohio and Northern Indiana. The Sinclair-owned Regional Sports Network is home to more than 350 live, local events per year, including the Detroit Tigers, Red Wings and Pistons; college hockey; and Michigan High School Athletic Association football and basketball championships. We are the cable TV home of the Detroit Lions. For more regional sports content, visit www.ballysports.com and follow @BallySportDET on Twitter, @ballysportsdet on Instagram and BallySportsDetroit on Facebook.