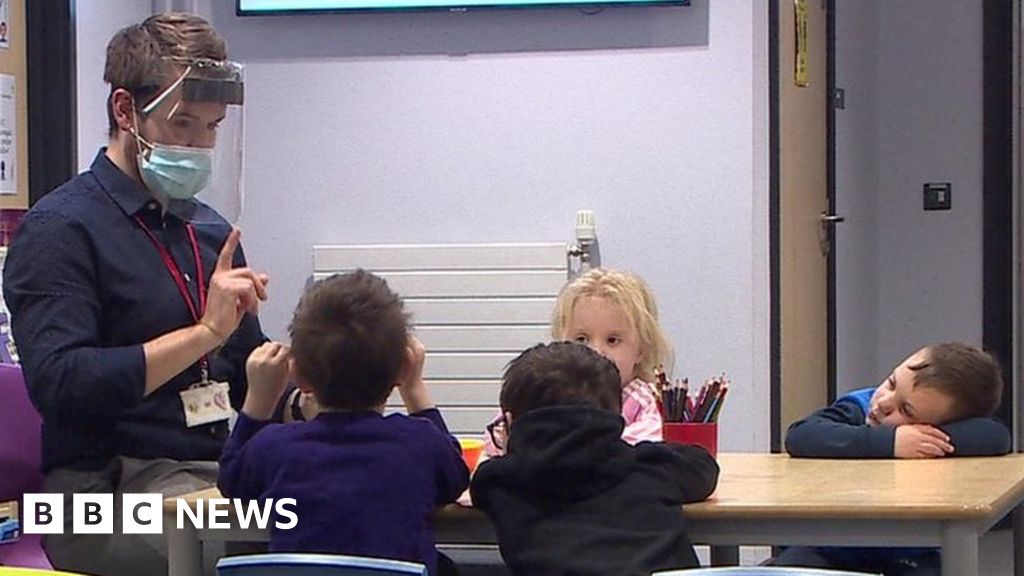 By Bethan LewisBBC Wales News
image copyrightGetty Images
image captionMore pupils will be returning to classrooms over the next few weeks
Support in schools needs to be targeted to avoid trying to get children to "catch up on everything" when classes resume, according to researchers.
Schools are yet to know the impact of months away from face-to-face teaching.
Cardiff University researcher Catherine Foster said children from disadvantaged backgrounds more likely to have fallen behind while learning from home.
The Welsh government said the equivalent of about 2,000 extra full-time teaching staff had been hired.
But opposition parties have said classroom return plans lack detail.
Primary school children and some secondary pupils have returned to school after learning from home since before Christmas, but pupils will not all be back in class full time until 12 April.
On top of the face-to-face teaching missed this term, pupils also had to learn at home from March to July last year and many spent periods having to isolate, even when they were allowed back in class.
Ms Foster said international research suggested children had fallen behind in terms of educational attainment and "the progress lost is even worse for children from more disadvantaged backgrounds".
She said the research suggested many children will not have engaged with their school work and motivation could be a problem when they are back in class, but experiences would differ.
"Everyone has lost something – it varies a lot. But if there's a focus on catching up and trying to say 'well you've got to catch-up on everything you've missed, plus the work you've got to do this year', it's not going to help", she said
"There's a lot of logic in saying that maybe we should just be identifying what young people need to progress and focusing on filling in those particular gaps, rather than trying to chuck everything at them and expecting them to do two years in one."
image captionExecutive head teacher Ty Golding at Ysgol y Ddraig thinks talk of "catching up" is not helpful
At Ysgol y Ddraig in Llantwit Major, Vale of Glamorgan, the school believes that working towards the core aims of Wales' new curriculum will help with addressing the effects of the pandemic on children.
But executive head teacher Ty Golding thinks talk of "catching-up" is not helpful.
He said: "I think we're trying to avoid the term catch-up if I'm honest, because it does suggest that learning is a linear process by which if children miss a chunk of work they'll never be able to engage in that level of learning.
"Really for us at the moment it's about the social reconnection, it's about getting the children back into routines".
image captionGethin Bickerton said some pupils responded well to online learning, but others were the "polar opposite"
At Ysgol Glan Morfa in Cardiff, Gethin Bickerton has been employed as a teaching assistant since autumn 2020, one of hundreds of extra staff employed through the Welsh government's Recruit, Recover and Raise Standards programme.
Before the pandemic, he was an actor travelling around schools helping children learn about figures from Welsh history.
Now he uses those skills to do role play with children to improve communication and help small groups with their reading.
"We have a mixture of pupils here. We have some who have engaged really well with online learning and those who can really engage with the work, but then we have the polar opposite," he said.
image captionMr Bicketon said the schools main focus is getting the children back into routine and socialising in Welsh
Mr Bickerton works with young children in the foundation phase where improving literacy is a key priority.
"The main focus at the moment is getting them back into some sort of routine and getting them back socialising with other people through the medium of Welsh – that's our main aim.
"But also going back to basics with some individuals as well, learning letters, words and forming sentences."
Last summer, the Welsh government announced £29m to fund 900 extra teaching staff, followed by a further £72m investment announced earlier this month.
It said it had outstripped the recruitment target and so far the equivalent of around 2,000 extra full time staff had been employed.
New figures from the government showed that included 472 new full time teaching assistants and 248 new full time teachers, as well as hundreds of part time appointments and existing staff taking on extra hours.
A spokesman said an evaluation of recruitment through Recruit, Recover and Raise Standards would be commissioned this year.
He added: "Initial data suggests the funding has supported the recruitment of mostly new, rather than existing, staff.
"1,508 new full-time equivalent posts have been recruited to, compared to 487 (FTE) posts created from increased hours for existing staff."
But opposition parties have said the plans failed to provide a longer-term vision.
The Welsh Conservatives' education spokeswoman Suzy Davies said without a detailed roadmap for education recovery "nobody's sure of how it will be spent and whether it will be spent effectively".
Plaid Cymru's education spokeswoman Sian Gwenllian said a recovery plan needed to be part of "an ambitious plan to invest in teaching" in the long term.
"What we're hearing from the government is yet more announcements about funding but no plan about how that funding is going to be used."