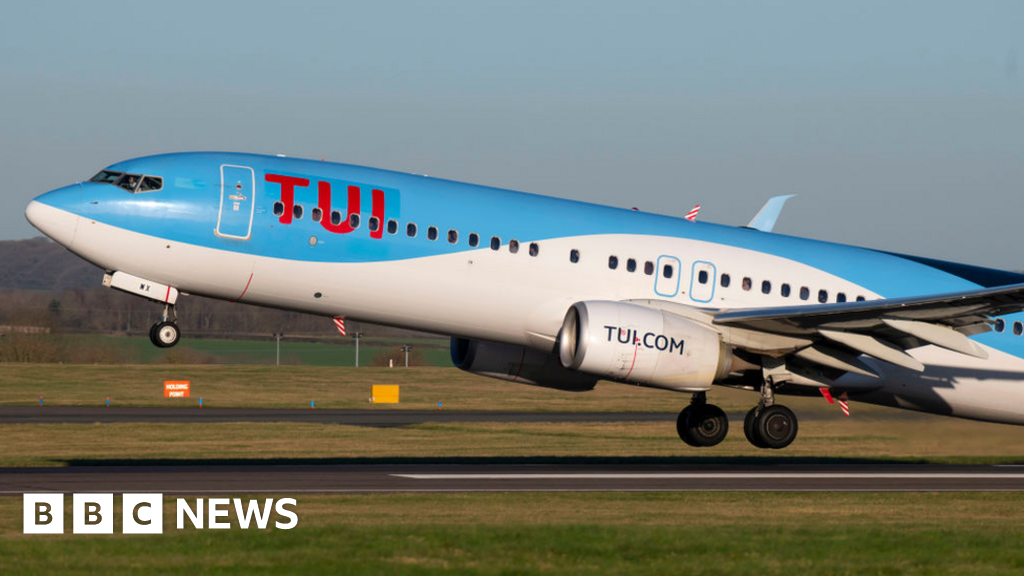 By Simon BrowningBusiness reporter
image copyrightDavid Lothian
image captionAndrew Flintham said different rules for different countries would "clearly not be helpful".
Holidaymakers will head to different UK airports if difficult rules in their country don't allow them to fly, says the boss of the UK's biggest tour firm.
Andrew Flintham, TUI UK managing director, told the BBC "it is quite possible that if Scotland has one rule, that customers will come down to Newcastle and fly out of Newcastle."
International travel will not start until 17 May at the earliest.
The industry is worried about different rules for different parts of the UK.
Firms fears it will damage an already fragile industry reeling from the coronavirus lockdown.
On Tuesday, Nicola Sturgeon warned that international travel would not be possible until at least mid-May and "may well not be possible for a further period after that". Welsh First Minister Mark Drakeford spoke of his concerns last week.
Mr Flintham said different approaches become very complicated as "it alters where we operate too, as customers quite clearly move around when they can travel out of different places".
He said: "I'll be honest – our expectation is that there'll be a different set of rules in different countries because that's our experience so far. It's not helpful, clearly. We'd like it to be aligned."
Other figures in the travel and hospitality industry are concerned that different approaches also impact travellers coming to the UK. Inbound tourists want to then travel to the Scottish Highlands, the North Wales coast or Giant's Causeway in Northern Ireland. They believe differing restrictions will damage the UK's appeal.
Mr Flintham added there is a need for certainty and clarity from the government's Global Travel Taskforce, which is due to report its decisions on the resumption of international travel on 12 April. For a long time, aviation industry leaders have called for a secure roadmap.
"As long as we have security that we're not changing the travel advice every Thursday at 5pm as it was", said Mr Flintham, as he referenced how Transport Secretary Grant Shapps chose to tweet changing international advice on a Thursday afternoon.
image copyrightGetty Images
There is a clamour for information as to how the Global Travel Taskforce is progressing. Mr Flintham said he believes government is listening to industry in the many workshops that are being held, but "we haven't seen any proposals about what they're gathering".
Last week, Mr Shapps reiterated his warning it is too early to book a foreign holiday.
Earlier on Wednesday, the European Union announced that a digital certificate to kick-start foreign travel should be given to citizens across the EU "without discrimination". Tui's boss welcomed the progress, adding "we need to make sure we have all the available tools to allow people to travel."
Since the PM announced that travel could start from 17 May at the earliest, tour operators and travel agents have said bookings have continued to grow. As Cyprus, Greece and Turkey said they will reopen, bookings rose.
image copyrightSophie Baker
image captionTravel agent Sophie Baker said her customers want a clear message from government, not "stop-start".
Sophie Baker is the director of Oyster Travel, in Norwich – she's had a good month.
"We had a really good start to March. During the first week we hit a £150,000 in sales, which pre-Covid I would have been ecstatic about, let alone coming out of lockdown. It has been really really good," said Sophie.
"The Caribbean has been really popular," she added. "People are really looking for escape. Not having a holiday in a year or maybe two – people have saved up."
"A question we're getting all the time is vaccine passports, quarantine and things like that. But we don't know any more than the public, so we're not getting bookings in the immediate future. Lots of bookings are for late summer," she added.
Asked what her customers want from government as the summer approaches, Sophie said "people want a clear message. Last year, it was very stop-start."
She pointed to the late nature of changes last year: "We didn't know from one week to the next, because people would think they were travelling on Friday, but on Thursday night it would change."
On Wednesday, Health Secretary Matt Hancock said that finding a way to show who has been vaccinated will be important for international travel. And the Scottish First Minister has said she's been working hard to get a four nations approach.
But it is still uncertain when all UK holidaymakers will enjoy a Spanish, Greek, Turkish or Italian sunset.