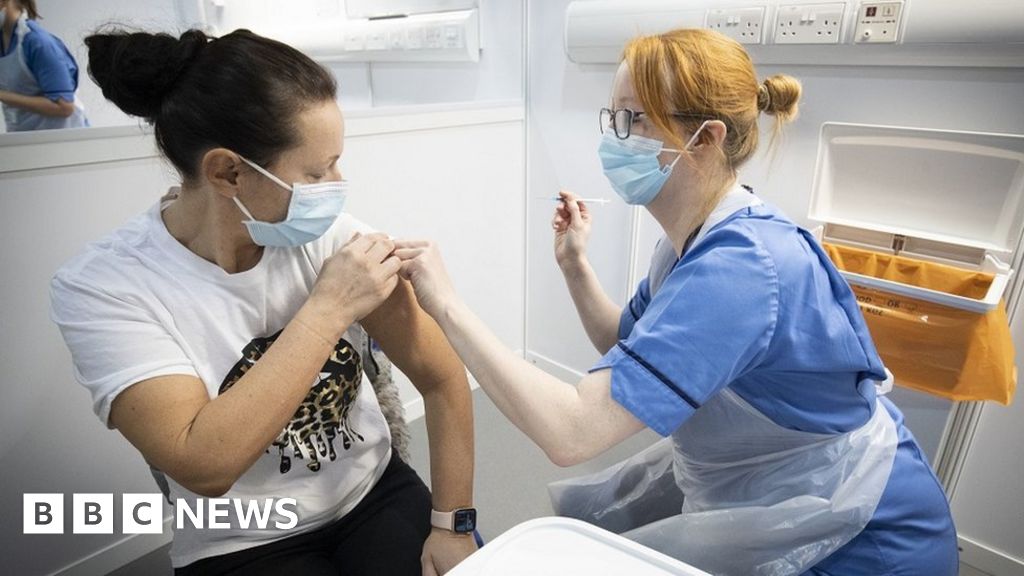 image captionThe Fraser of Allander Institute has been impressed by the speed of the rollout
The rollout of the Covid vaccine has increased expectations of stronger economic growth in 2022, a new report has claimed.
The Fraser of Allander economic institute said the distribution of jabs was taking place at "a pace that we could hardly have imagined".
This means its central forecast for economic growth in 2022 has increased to 5.6%.
The impact of the latest lockdown has dented this year's forecasts.
Economic growth is forecasted to jump by 3.6% in 2021.
The institute's forecast says the economy will get back to pre-pandemic levels in October 2022, two months later than it was forecasting in December.
Mairi Spowage, a director of the institute, said: "On the one hand, the additional hit we have had to our economy due to the post-Christmas lockdowns have led to us revising down growth in 2021, as we know we are likely to have a contraction in the first quarter.
"On the other hand, the rapid vaccination rollout – at a pace that we could hardly have imagined – is boosting the optimism for the second half of 2021 and beyond. This has improved our expectation for growth in 2022."
The institute's most pessimistic forecast projects it will be July 2023 before the economy returns to its pre-pandemic level.
Its report warns that much of the impact on employment is likely to only materialise when UK and Scottish government policy initiatives, such as furlough, end.
Gavin Hood, head of advisory corporate finance for Deloitte in Scotland said: "While uncertainty remains as to what the future holds, with the vaccine deployment continuing at pace and the likelihood of looser restrictions in the coming months, there is a sense of optimism amongst Scotland's business community.
"Those in the hardest hit sectors will be hoping for a smooth roll back of restrictions and a quick rebound in consumer demand to help make back some of the losses from the past 12 months and lay the foundations for a strong recovery."