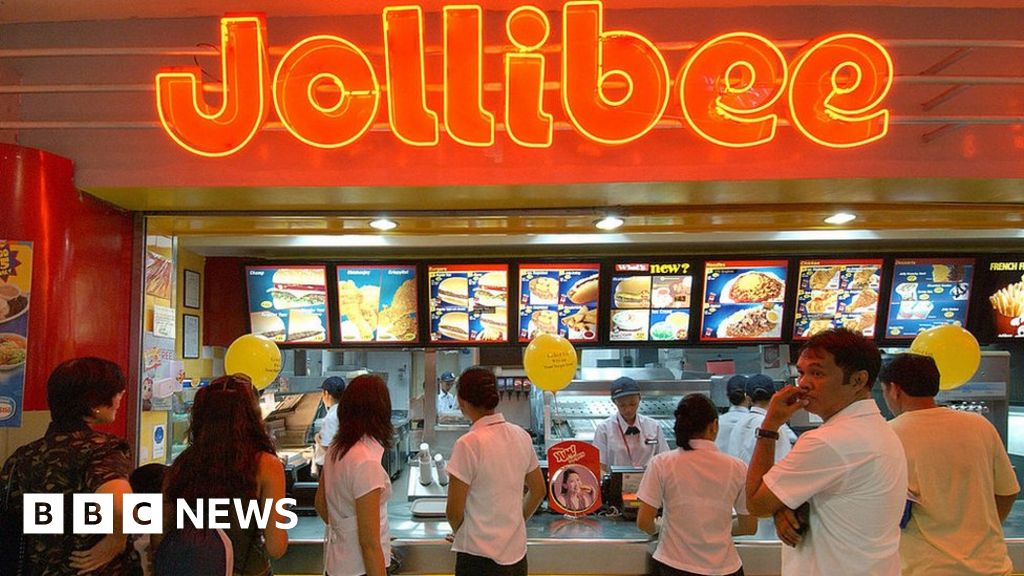 By Justin HarperBusiness reporter, BBC News
image copyrightGetty Images
The Philippines' largest restaurant chain, Jollibee, is eyeing global expansion with 450 new eateries due to open this year.
Famous for its crispy fried chicken, it sees "opportunities" created by Covid-19 as it targets overseas markets.
Jollibee's chief executive said his long-term goal is to become one of the world's top five restaurant chains.
Along with expansion in China, South East Asia and the US, it also has outlets planned for Wales and Scotland.
Jollibee had more than 5,800 eateries in 33 countries at the end of last year. However, this is 147 fewer than at the end of 2019, as it closed almost 500 stores during the pandemic.
Jollibee posted a 11.5bn peso ($240m; £170m) loss last year, its first annual loss in more than three decades, as dining out was hit hard by virus lockdowns.
The Philippines sank into recession in 2020 and the strength of its expected recovery has been hampered by a delayed national vaccination campaign.
This is one of the reasons it is targeting foreign markets, and wants more than half of its sales to come from abroad by 2025.
Jollibee, also known for its sweet spaghetti, has spent 7bn pesos on "business transformations", including upgrades to its food delivery and online sales.
In 2019, it bought the Coffee Bean & Tea Leaf, an American chain, its largest ever purchase at $350m.
Jollibee, seen as Asia's equivalent of KFC, also owns a number of other brands including Greenwich pizza chain and Smashburger.
media captionFilipino fast-food chain Jollibee is best known for its crispy fried chicken
Around 80% of its new stores will be overseas and "equally split" among China, North America and South East Asia, including Vietnam, the Philippines, Singapore and Malaysia.
"This year, we are set to further expand in new areas in the UK by opening our Jollibee store in Scotland in Edinburgh, and in Wales in Cardiff," Jollibee spokesman Ernani Barrientos told the BBC.
Jollibee's signature dish is called the Chickenjoy, a breaded crispy chicken meal, with a marinade it says is a trade secret. This is a bestseller in "every market in the world" the Manila-based company says.
The Yumburger is another signature product.
But for some of the new countries it is opening up in, it will be tweaking its menus.
"While we find that our signature products of Jollibee are popular across the different markets – and Chickenjoy continues to win over fans – we are attuned to the local market," Mr Barrientos added.
At its UK restaurants, it has launched an Asian Slaw, Tropical Burger and Mango Coconut Sundae. For Singapore, it has launched Nasi Lemak Chickenjoy.