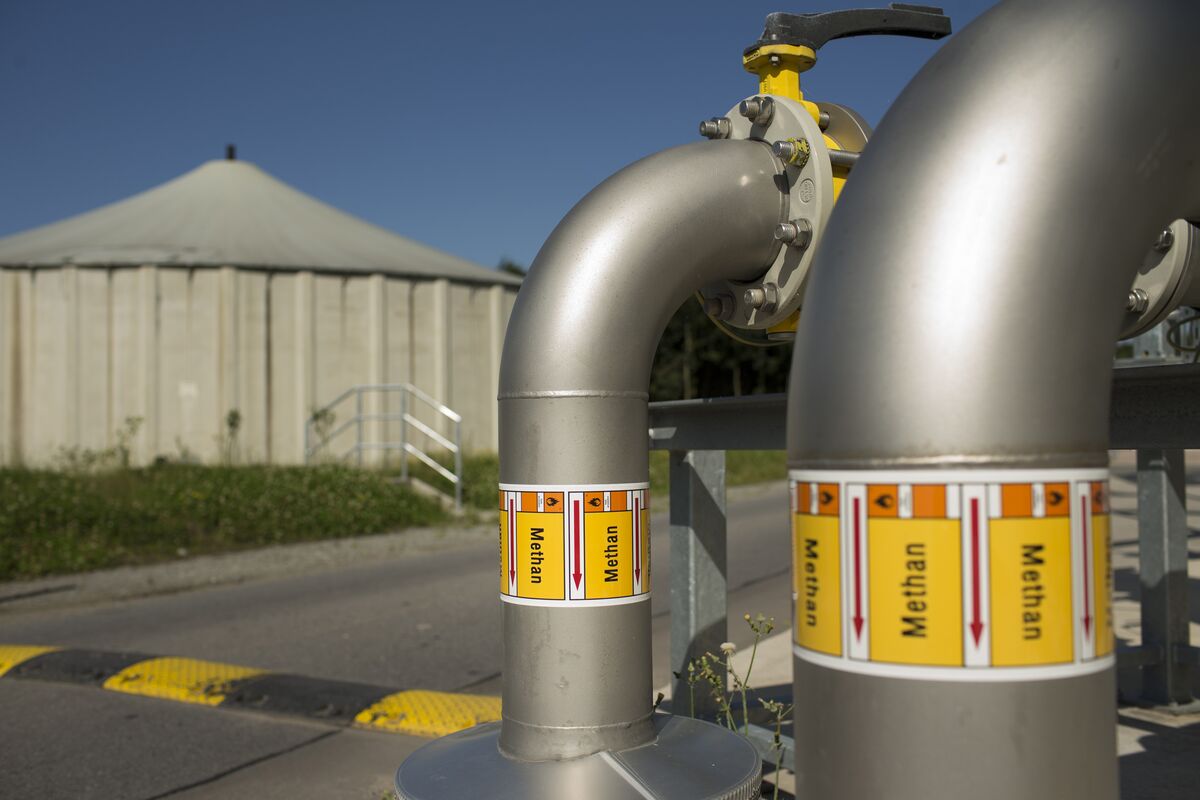 Methane is the second largest source of global warming after CO2.
Photographer: Jasper Juinen/Bloomberg
Most of Europes natural gas industry has announced an ambition to become climate neutral by mid-century at the latest. But a study shows how difficult it will be to turn the goals into reality.
A survey of companies revealed none could definitively measure their methane emissions, relying instead on estimates, and few had concrete plans to reduce them. German environmental groups Urgewald and Deutsch Umwelthilfe polled 19 of Europes biggest natural gas companies, and received replies from seven.
Atmospheric methane constitutes the second largest source of global warming after carbon dioxide. However, European Union law doesnt require companies to gather data on leaks of this colorless and odorless gas. The survey findings raise pressure on EU officials to convert their
strategy for reducing emissions into tough legislation for the natural gas industry.
Wed expect global players to be more aware of their own climate impacts, said Constantin Zerger, head of energy and climate protection at Deutsch Umwelthilfe. Regulatory requirements will be needed to create transparency and concrete reduction measures.
The reply from
EDP – Energias de Portugal SA, the Portuguese utility, illustrates the struggle to get detail on leaks. It was one of a number of respondents that had only estimates of emissions, not measurements. The company didnt immediately reply to a request for comment.
Read more: New Climate Satellite Spotted Huge Methane Leak as It Happened
Germanys Uniper SE, one of the largest utilities in Europe, reported it was investing in data quality and reporting, and that it had plans to obtain information on methane leakage through partners in its supply chain. The company fully supports the introduction of robust monitoring and reporting standards for methane, a spokesman said by telephone. Uniper has a target to reduce its methane emissions by 45% by 2025.
The environmental groups say the information provided in general lacks the quality needed to assess accurately levels of emissions and make progress toward reducing leaks. Some companies, for example, only assess combined emissions of methane and other polluting gasses. Others point to the reduction of gas use as a means of reducing emissions, which doesnt address the need to reduce emissions in remaining operations.
The groups also highlighted that its crucial for companies to address the issue of emissions with their partners throughout their supply chain.
With new technologies such as satellites being developed to improve leak detection, the EU expects its methane strategy
to encourage improvements in reporting in the short term. But environmentalists fear it wont work if it relies on voluntary and business-led progress. Officials say they expect to introduce legislation to improve reporting and monitoring of methane emissions by the second quarter this year.
(Corrects spelling of company name in fifth paragraph.)
Before it's here, it's on the Bloomberg Terminal.
LEARN MORE