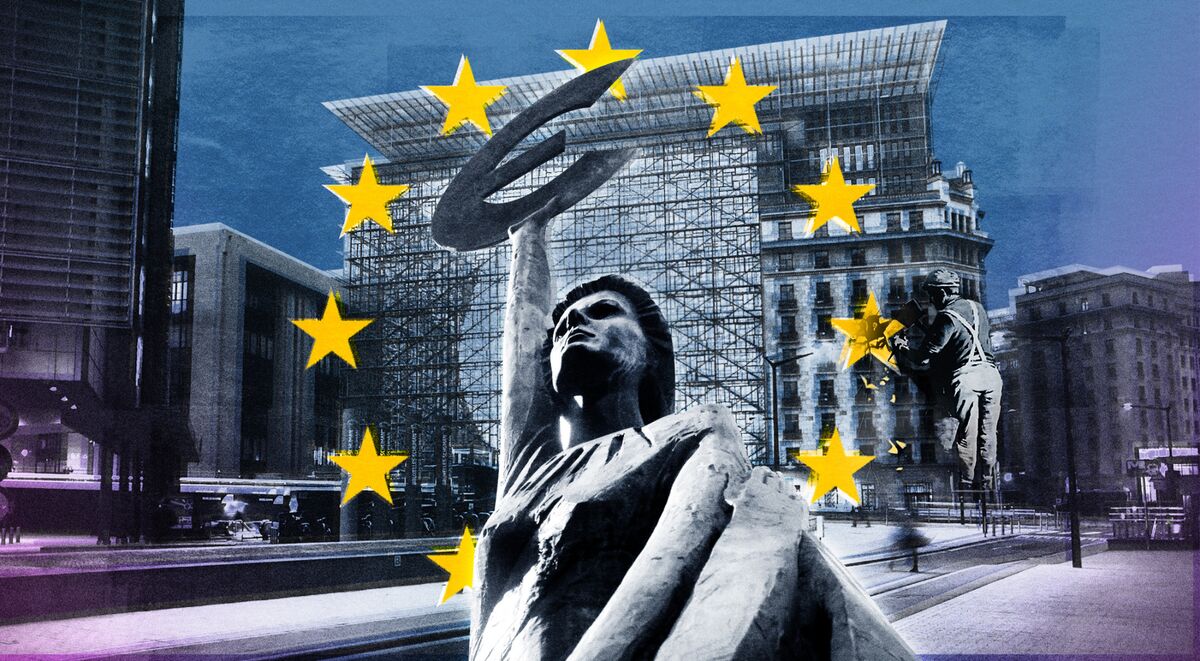 Welcome to the Brussels Edition, Bloombergs daily briefing on what matters most in the heart of the European Union.
First, some EU members said AstraZenecas Covid-19 vaccine shouldnt be given to seniors  despite guidance to the contrary from the blocs drugs regulator  only to change their minds a few days later. Then they suspended administering the shot over alleged blood-clotting side-effects, again in spite of reassurances from the European Medicines Agency. Precious time is being lost, and the EMA warns that the publics trust in vaccines is being shaken. The EU is also seen as hoarding a vaccine it doesnt use,
depriving poorer nations that need it desperately. Governments like to blame the underwhelming rollout on everyone else  including delays in deliveries, procurement, and market authorization. But the data show that they are
sitting on millions of unused doses, partly because their rhetoric has made people wary of getting the jab. Expect yet more finger-pointing if, in the end, other developed economies get fully immunized, and can reopen, much faster.
Nikos Chrysoloras
Whats Happening
Reopening Plan | Meanwhile, the European Commission will today unveil a plan for a managed, coordinated easing of restrictions once the epidemiological situation allows. Read the details here already. 
Vaccine Certificates | A key component of the plan is the introduction of digital passes that will allow those who have been inoculated, have recovered from the virus, or have proof of a negative test to travel more easily. Crucially, such passes will be acceptable for vaccines that havent been approved by the EMA and may pave the way for tourism from outside the EU. Again,
you read it here first.
Dutch Vote | Dutch voters go to the polls on Wednesday with Prime Minister Mark Rutte looking to clinch
a fourth consecutive term, a result that would set him up to become the countrys longest-serving premier and a senior statesman in Europe. The biggest question facing voters is not so much who will come out on top, but what sort of coalition Rutte will be able to put together afterward.
Greek Auction | Greece is
set to issue its longest-maturity bonds since 2008, completing the countrys full return to debt markets and following others in the region in seizing on low borrowing costs to finance its pandemic recovery. The nation is selling 30-year bonds via banks, which could be an opportunity for investors to pick up yields that are likely to be the highest in the euro area.
China Sanctions | The EU plans to sanction four Chinese nationals and a Chinese entity over Beijings treatment of its Muslim minority in the northwestern region of Xinjiang. Judging from
the warnings of the Chinese ambassador to the EU, Beijings reaction may be furious.
Dirty Power | Even a rally in the EUs carbon emission permit prices to record levels hasnt been enough to curb output from the dirtiest fossil fuel in Germany. Electricity generated by lignite plants in the country has increased by 35 percent so far this year, compared with same period in 2020.
Heres why.
In Case You Missed It
Borrowing Costs | The European Central Bank is shielding the euro-zone economy from higher bond yields partly because the region is rolling out its fiscal stimulus too slowly,
according to Peter Kazimir. The Slovakian central bank governor told us that the ECB wants to shore up confidence that the region wont suffer from higher borrowing costs sparked by the $1.9 trillion U.S. fiscal package.
Latvian Trust | And in our
second interview with a central banker, Latvian Governor Martins Kazaks says hes succeeding in rebuilding public trust after his predecessor was charged with bribery and a string of local lenders were closed following money-laundering scandals. Faced with tougher regulation and pressure from the U.S. to adhere to its cleanup, Kazaks says theres no way back to old habits for Latvia.
Dwindling Support | Angela Merkels conservative CDU/CSU bloc, which suffered
stinging setbacks in two state elections on Sunday, is also losing support at the national level, according to a new poll. Backing for the group dropped by four percentage points compared with a week earlier, and it would win a 29% share of votes if a national election were held now, according to the
Forsa poll for broadcaster RTL.
EU Loss | Hungary and Poland won the final round of separate tax disputes with the EU after the two nations were caught up in Competition Commissioner Margrethe Vestagers crackdown on allegedly unfair fiscal arrangements. It seems Vestager
keeps losing tax fights in court. 
Nuclear Overhaul | The U.K. plans to bolster its stockpile of nuclear weapons to counter growing threats around the world, Prime Minister Boris Johnson announced as he unveiled a major overhaul of defense and foreign policy. The decision to bolster the U.K.s nuclear capability
immediately proved controversial, calling time on the gradual disarmament that marked the end of the Cold War.
Chart of the Day
NATO members
boosted military expenditures last year, with 11 countries meeting a target of 2% of output. The U.S. still accounts for more than 70% of NATOs combined expenditure, while total outlays across the alliance increased 3.9% in real terms from 2019.
Todays Agenda
All times CET.
11 a.m. Eurostat publishes final euro-area inflation reading for February
11 a.m. Germany's council of economic advisers publishes updated forecasts
12 p.m. Press conference by EU Commission President von der Leyen and Commissioners Reynders and Breton to unveil proposal for vaccine passports, strategy for easing lockdowns
3 p.m. EU Council President Michel speaks at European Committee of the Regions 143rd plenary session
3:30 p.m. German Foreign Minister Maas, Lithuanian counterpart news conference after talks
Dutch general election
Like the Brussels Edition?
Dont keep it to yourself.Colleagues and friends can
sign up here.
For even more: Subscribe to Bloomberg.com for
unlimited access to trusted, data-driven journalism and gain expert analysis from exclusive subscriber-only newsletters.
How are we doing? We want to hear what you think about this newsletter. 
Let our Brussels bureau chief know.