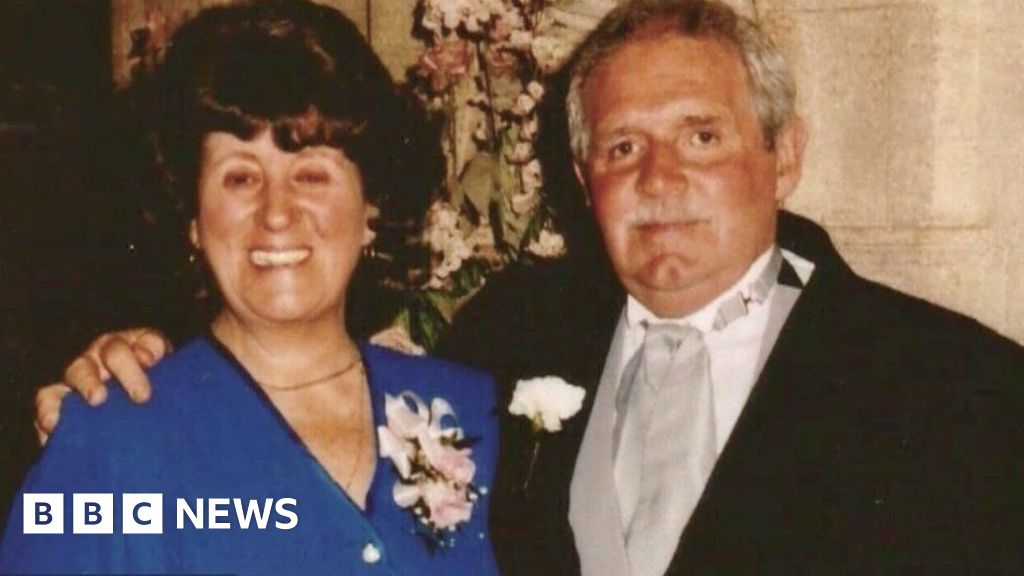 image captionThe inquest comes after one of Wales' biggest inquiries into care home neglect at Brithdir care home in Caerphilly county
Residents at a care home were "dehumanised" by staff and the standards of care were "wholly inadequate", an inquest has found.
The deaths of six residents at Brithdir Nursing Home from 2003-2005 in New Tredegar, Caerphilly, eventually triggered a police investigation.
Coroner Geraint Williams said residents were "warehoused", meaning they are "simply kept, fed and watered".
The evidence suggested "even the feeding and watering was inadequate".
Stanley James, 89, June Hamer, 71, Stanley Bradford, 76, Edith Evans, 85, Evelyn Jones, 87, and William Hickman, 71 were all residents at the home.
image copyrightFamily photo
image captionJune Hamer lost three stone and had a serious pressure sore while at the care home
The coroner said their families were "deliberately" kept in the dark about the existence of pressure sores, and families were "deceived"
"This was a gross betrayal of the trust relatives placed in Brithdir," he told the court.
Documentation, including care plans and feeding charts were "in some cases clearly fabricated".
The coroner said the "lowest point" was how residents were "dehumanised", including when incontinence pads were changed in the home's lounge in front of other residents.
The manager Peter Smith's statement said he believed they would not have realised because they had dementia.
image captionCare home owner Prana Das died in 2020 after suffering a brain injury in 2012 in an assault
Geraint Williams said the points outlined "contributed significantly" to the deaths of the six residents.
The inquest, which began in January, is continuing.
Following Operation Jasmine, a policy inquiry into deaths at six care homes in south Wales, Puretruce Health Care director Dr Prana Das was due to stand trial on neglect and fraud charges, but the trial was called off after he suffered brain injuries following an assault at his home in 2012.
He died in January 2020.
An inquest into the death of a seventh resident, Matthew Higgins, 86, will be held following the conclusion of the current hearing.