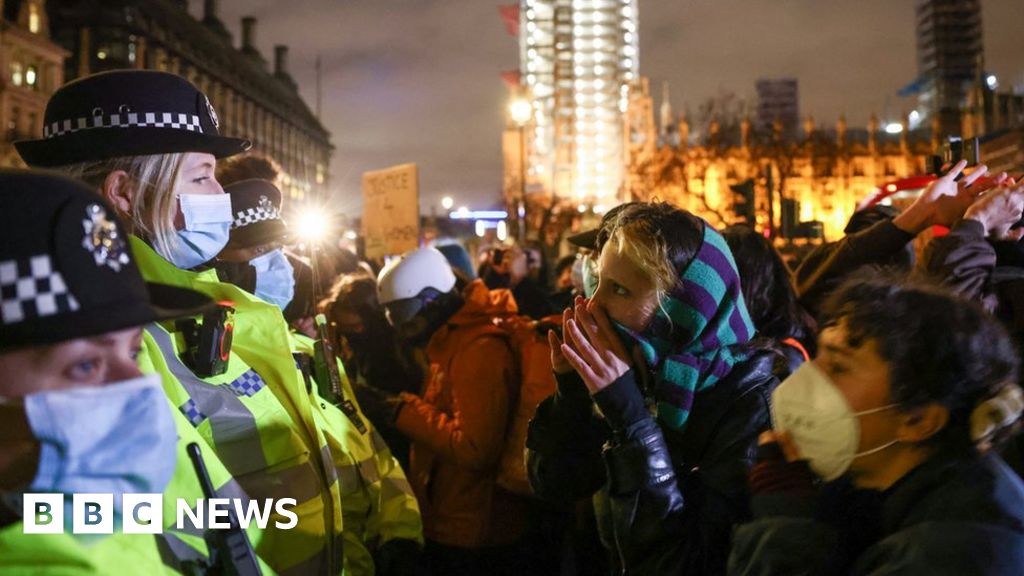 image captionPolice arrested four people and handed out two fines at the event in central London
Police have arrested four people at a vigil for Sarah Everard in central London on Monday.
Hundreds gathered outside Parliament and New Scotland Yard to pay tribute to Sarah Everard, the 33-year-old woman killed as she walked home from Clapham.
One person remains in custody after being arrested on suspicion of assaulting an emergency worker.
Three people were held on suspicion of breaching the Health Protection Regulations, police said.
Police issued two people with fixed penalty notices for breaching lockdown rules.
The Met faced widespread criticism for its handling of the Clapham Common vigil on Saturday where officers handcuffed and removed several women.
The force's commissioner, Dame Cressida Dick, has rejected a call to step down.
image captionHundreds of people gathered at Parliament Square to pay tribute to Sarah Everard from Monday afternoon.
image captionProtesters has blocked "a number of roads" and caused traffic disruption
Demonstrators again took to the streets of the capital on Monday afternoon and evening to continue to protest over the police's handling of the vigil.
Some attendees also protested against the government's Police, Crime, Sentencing and Courts Bill, which was having its second reading in Parliament.
The Met said it had "maintained an appropriate policing plan" during the protest action around Parliament Square, Trafalgar Square and parts of the West End.
Protesters blocked "a number of roads" and caused traffic disruption, the force added.