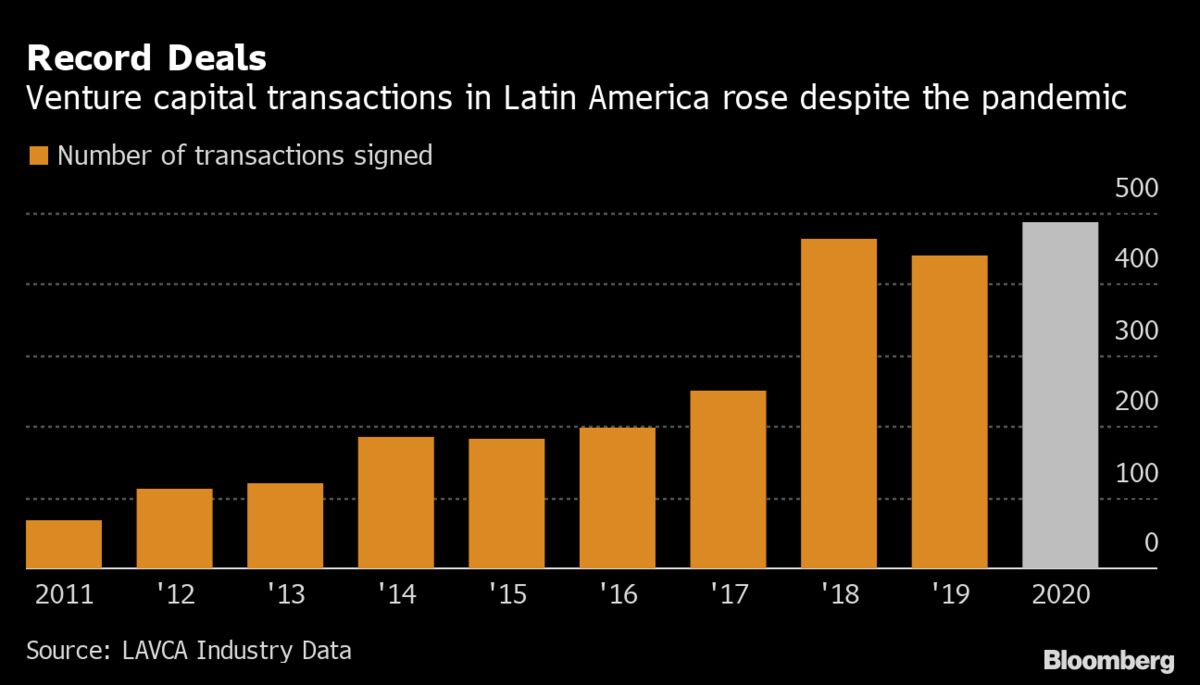 Latin Americas burgeoning tech industry struck a record number of venture capital deals last year as some of the regions most-valuable startups saw their businesses blossom despite — and in some cases due to — the pandemic.
Investors inked 488 deals with entrepreneurs, topping the previous mark set in 2018, according to the Latin American Private Equity & Venture Capital Association known as LAVCA. While the amount raised — $4.1 billion — was about 10% below 2019, international funds like
SoftBank Group Corp. continued to invest, said Ivonne Cuello, LAVCAs chief executive.
Private capital in the region was remarkably resilient and strong, Cuello said in an interview. We still saw a lot of international investors coming into these rounds.
Latin Americas startup scene has grown in recent years, attracting foreign funds that once considered it a tech backwater with few companies with enough potential worthy of investments. Brazil-based fintech
Nubank, the regions largest private startup, is now valued at $25 billion, while Colombian delivery app
Rappi Inc. raised some $300 million last year amid pandemic-induced growth and is now valued at at least $3.5 billion.
Many financial companies, e-commerce startups and property technology companies, like Colombias Zillow-inspired
La Haus, grew last year, Cuello said, even as the region suffered one of its deepest economic contractions ever.
Venture capital last year helped create a handful of new unicorns — startups that have reached valuations of $1 billion or more. Payment provider dLocal raised $200 million in a round led by General Atlantic to become the first unicorn to hail from Uruguay.
Mexico got its first unicorn as used-car platform Kavaks valuation reached $1.1 billion. The company has received funding from
DST Global,
KaszeK Ventures and
SoftBank, which in 2019 launched a $5 billion Latin America fund.
Meanwhile, Brazilian proptech Loft received $175 million from funds including Andreessen Horowitz, putting it above the $1 billion valuation mark. And online lender Creditas
raised $255 million, led by LGT Lightstone, to boost its valuation to $1.75 billion.
$11 Billion of Exits
Investors were able to cash out at a record rate as well, with $11 billion worth of so-called exits, which include initial public offerings and private equity acquisitions. That trend was fueled by a hot Brazilian stock market, through which companies and their shareholders raised more than $8 billion in IPOs.
Foreign companies such as
Advent International Corp., the
Carlyle Group and
Warburg Pincus LLC sold stakes in companies that went public, according to LAVCA.
Low interest rates that have pushed investors to equities for higher returns have driven the global IPO bonanza. Despite more volatility in markets recently, Cuello said the fundamentals are in place for the trend to continue this year.
Theres demand from local investors and international investors who are looking at the liquidity in these markets, its mirroring the trends we see in the global and U.S. markets, she said. That definitely will continue coming into 2021.
With assistance by Felipe Marques
Before it's here, it's on the Bloomberg Terminal.
LEARN MORE