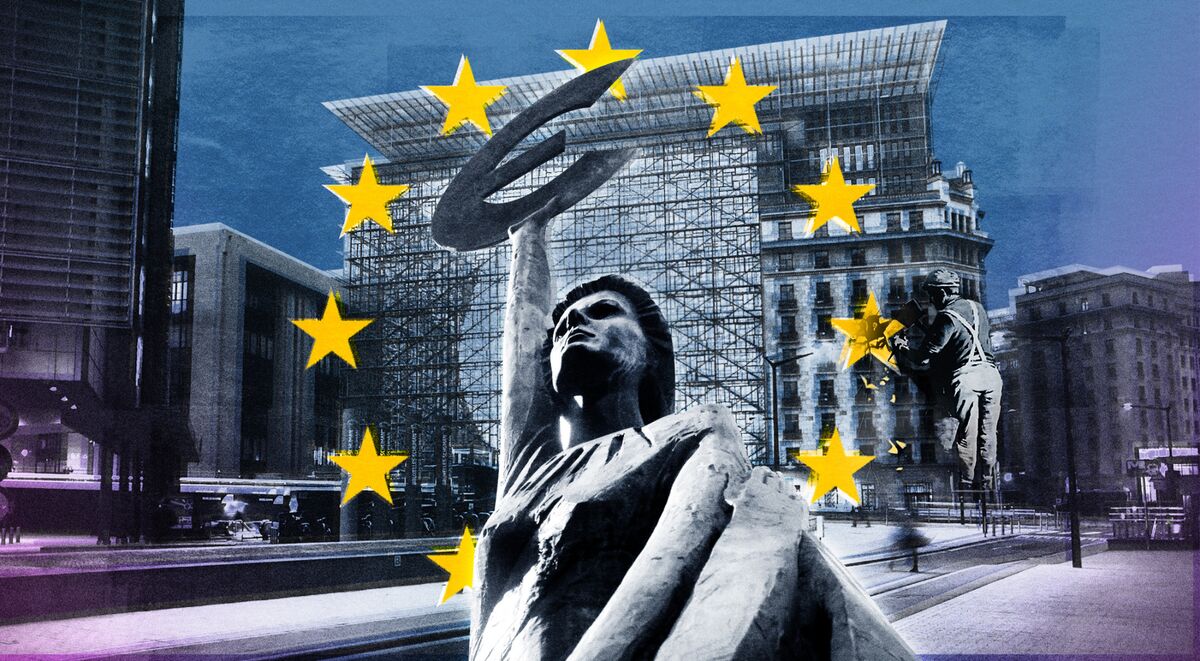 Welcome to the Brussels Edition, Bloombergs daily briefing on what matters most in the heart of the European Union.
As rising coronavirus cases force EU governments to prolong or reimpose restrictions, the bloc's executive arm is plotting a managed re-opening of its battered economies. It may not look like it right now, but "EU citizens have good reason to expect the situation to improve," the European Commission will say in a policy paper tomorrow. The coordinated lifting of lockdowns will be based on a tier system "reflecting the epidemiological situation in each member state,"
according to the draft we've seen. The system to be proposed by the European Centre for Disease Prevention and Control will simulate how much latitude each government has to lighten the measures "without risking a reversal in the spread of the virus." Crucially, the plan is based on the adoption of
vaccine certificates allowing those who are inoculated or recovered from the illness to travel more easily. And that may eventually include
tourists from outside the EU. 
Nikos Chrysoloras and
Alberto Nardelli
Whats Happening
Astra Chaos | Of course, the Commission will note that re-opening the economies is dependent on progress with vaccinations. And the growing list of EU governments that have 
halted administering AstraZeneca shots following reports of serious blood clotting doesn't help. The botched EU vaccine rollout campaign will dominate the call of the bloc's
health ministers this morning. 
Tech Taxes | EU finance ministers today will discuss progress toward taxing tech giants like Google for revenue they generate in Europe, no matter where they book it. The issue will also be discussed by leaders next week (
you read it here first), but a Portuguese presidency note sent to national delegations says that even if there's a deal among developed economies this summer, a long legislative process will follow. 
Dutch Turn | One concrete outcome we can expect from the Dutch election tomorrow is an
overhaul of the sweetheart tax rules that gave the country a bad name. Some see the leftward swerve as a politically savvy move by incumbent premier Mark Rutte, whos all but certain to win a fourth term to become the longest-serving Dutch prime minister in history.
Green Fights | Its a question of when, not if, the global economy will shift away from fossil fuels. But if nations don't need to go to war any longer over access to oil and gas, what will they be fighting over? Marc Champion
has some answers.
In Case You Missed It
German Landscape | Chancellor Angela Merkels party vowed to battle for its role in Germanys next government
after suffering historic defeats in two former strongholds. Sundays results are a sign of the long-term challenges facing the CDU once Merkel steps aside after 16 years.
Post-Brexit Row | The EU started legal action against the U.K. in a major escalation of tensions between the two sides less than three months after Brexit was formally completed. The move could ultimately lead to financial penalties or trade tariffs being imposed on the U.K. 
Czech Elections | Support for the Czech Republics billionaire prime minister plunged to a record low as his minority government struggles to contain one of the worlds worst coronavirus crises before elections in October. The position of the agriculture, chemical and media magnate looks even more precarious when considering potential coalition alliances as opposition parties
mull uniting against him. 
Jack Daniels | American rum distillers and French winemakers celebrated this month when the U.S. and EU suspended tariffs on billions of dollars of each others exports. But for U.S. whiskey producers, the detente brought no relief,
Eric Martin explains. 
Chart of the Day
A gauge of European travel and leisure stocks erased the last of its pandemic losses, as optimism over a potential rebound in demand spurs a
rally in airlines and tour firms. Investors seem to be looking through the lockdowns and pricing in a vacation for all of us this summer. We hope they're right. 
Todays Agenda
All times CET.
9:30 a.m. China's EU Ambassador Zhang Ming speaks at EPC event
9:30 a.m. EU's top court rules on European Commission dispute with Hungary and Poland over whether the nations' tax rules fell foul of the bloc's state aid rules
9:30 a.m. EU President Ursula von der Leyen, German Economy Minister Peter Altmaier, IEA Executive Director Fatih Birol, U.S. climate envoy John Kerry and Saudi Energy Minister Abdulaziz bin Salman Al Saud speak at Energy Transition Dialogue
10 a.m. EU health ministers hold video conference
11 a.m. EU Justice Commissioner Didier Reynders speaks about data adequacy at the European Parliament 
11:15 a.m. NATO Secretary General press conference on the alliance's 2020 annual report 
2 p.m. IMF chief Kristalina Georgieva, U.S. Senator Amy Klobuchar, and EU antitrust chief Margrethe Vestager speak at Bruegel event
EU finance ministers hold video conference 
Like the Brussels Edition?
Dont keep it to yourself.Colleagues and friends can
sign up here.
For even more: Subscribe to Bloomberg.com for
unlimited access to trusted, data-driven journalism and gain expert analysis from exclusive subscriber-only newsletters.
How are we doing? We want to hear what you think about this newsletter. 
Let our Brussels bureau chief know.