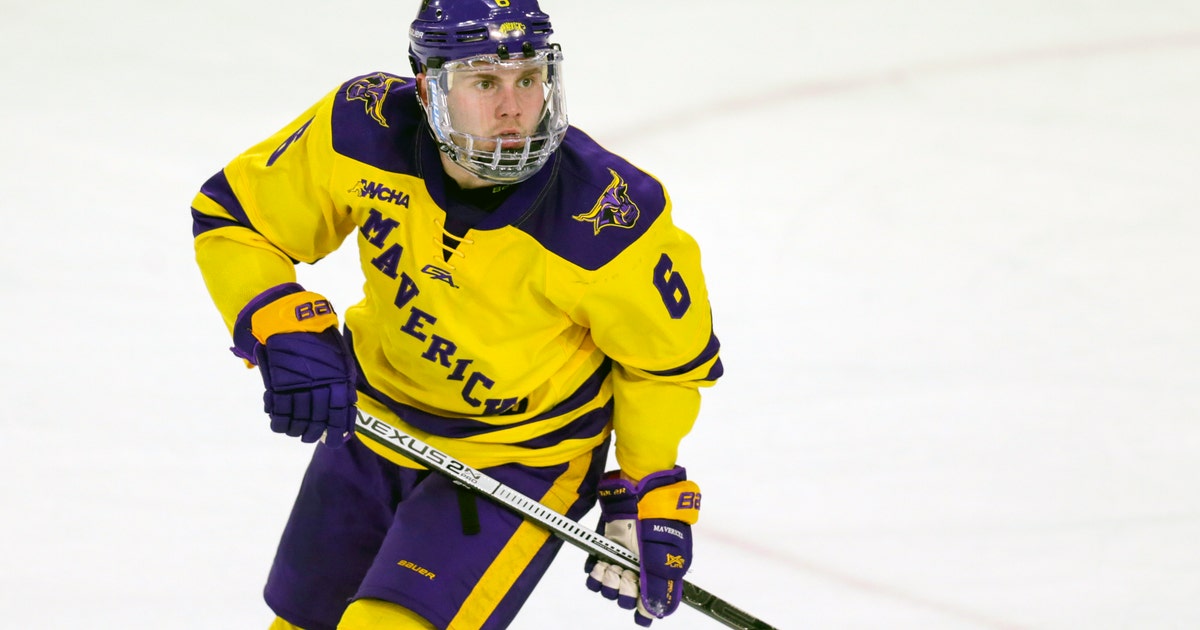 Parker Tuomie and his Minnesota State hockey team were thriving last season, pursuing the program's first NCAA Tournament victory with a fervor that suggested a bigger goal than that.
As the winter transpired, news from Tuomie's father coaching overseas about the virus outbreak portended a major roadblock lurking further down the path. First, the top-tier league in Tuomie's native Germany had banned postgame handshake lines. Then, the season was canceled.
I knew that we weren't far away from that possibility, Tuomie said, but it did happen quicker than I thought it would.
March 12, 2020, that tipping-point day of dread for so many as the dark clouds of COVID-19 drifted in, was the end of the run for the second-ranked Mavericks and their 31-5-2 record. The plug was pulled on the rest of the WCHA playoffs, then hours later on the entire NCAA Tournament. Tuomie and his teammates gathered for goodbyes to their national championship chase and one another.
A lot of tears were flowing. It was just a very emotional day, said Tuomie, one of seven seniors on the 2019-20 squad. "Every year you have a feeling that you can do it, but right from the get-go we had that feeling that this was our year and we were going to be the first to do it.
Life often strays from the preferred script, as much of the world was reminded by the pandemic.
By summertime, with opportunities to play professionally in the U.S. drying up, Tuomie was back in Germany. He signed with Eisbären Berlin in the Deutsche Eishockey Liga, where his dad is the head coach of a different team. This was a goal of his all along, not some last-ditch idea, but the way it unfolded wasn't ideal.
What a time he had on American ice, though. Three years of junior hockey. Four seasons at Minnesota State, with a 114-36-9 career record. Being part of the WCHA, the same storied league his dad once skated in for St. Cloud State and Wisconsin. Playing in front of relatives of his Minnesota native father, Tray Tuomie, who married a German while playing there and stayed to raise a family.
Marc Michaelis became one of Parker Tuomie's close pals, a fellow German and four-year roommate in that class of Mavericks seniors last year who recently made his NHL debut with Vancouver. Tuomie was returning home around 4 a.m. from a road trip with his team, so he took advantage of the time difference and turned on the Canucks game live. He fell asleep on the couch after the first period and caught up to the action with his friend in the morning.
Maybe next month Tuomie, Michaelis and the others who used to wear the purple and gold will be able to tune in to the NCAA Frozen Four and cheer for the Mavericks from afar. They're currently ranked third, poised again for a postseason run. Perhaps there'll be a twinge of envy or regret, but mostly they'll feel pride in the program they left behind and a sense of identity as the class that got stonewalled by a pandemic.
I got a chance to see how special it can be to be around a group of guys for four years and really make those friendships and those bonds that will last forever, Tuomie said.
___
"IN THE MOMENT"
As the Farmington Tigers girls basketball team prepared last year for the program's first appearance in the Minnesota state high school tournament, head coach Liz Carpentier passed out a journal to each of her players. Not for game-planning, just for memory-keeping.
The good-luck cards from the kindergarteners. The pep fest. The team restaurant outings. The police car-and-fire truck escort out of town, on the way to the quarterfinal game. The get-out-of-school early excuse.
I really wanted them to be in the moment, Carpentier said, just so they could enjoy the week and look back on it.
After fighting through a couple of significant injuries to important players earlier in the season, the Tigers were crushing it as the No. 2 seed in the Class 4A bracket. They cruised to victory in the semifinals on March 12 and into the title game against Hopkins, which boasted a 62-game winning streak and UConn-bound guard Paige Bueckers.
The sports world was swiftly shutting down amid the COVID-19 outbreak, and an attendance limit had been set for the finals for March 14. Still, Carpentier figured they'd be able to finish the tournament. Between celebrating the feat, handling ticket logistics and strategizing for the championship, she didn't have time to dwell on this worst-case scenario.
The cancellation announcement came before practice on March 13. That end-of-season speech Carpentier had rehearsed in her head was moved up a day. As the girls gathered as an official team one last time, they made a quintessential stop at Dairy Queen before re-watching the semifinal game at a teammate's house.
One year later, the Tigers are undefeated. Ultimately beaten by an invisible opponent in 2020, they're determined to avoid going down on the court in 2021 and grateful for each moment together in this tenuous season. A couple of positive cases could bring their games to another halt.
The five seniors from last season's team, four of whom are playing NCAA sports, are among their biggest fans. Carpentier will always remember the day she had to tell them they were done playing.
I told them, Youre going to go through a lot tougher things in life than not getting to play a basketball game, but it meant a lot to them, Carpentier said. I think they look back on it now and say: That was the best week of our life. That was the greatest.