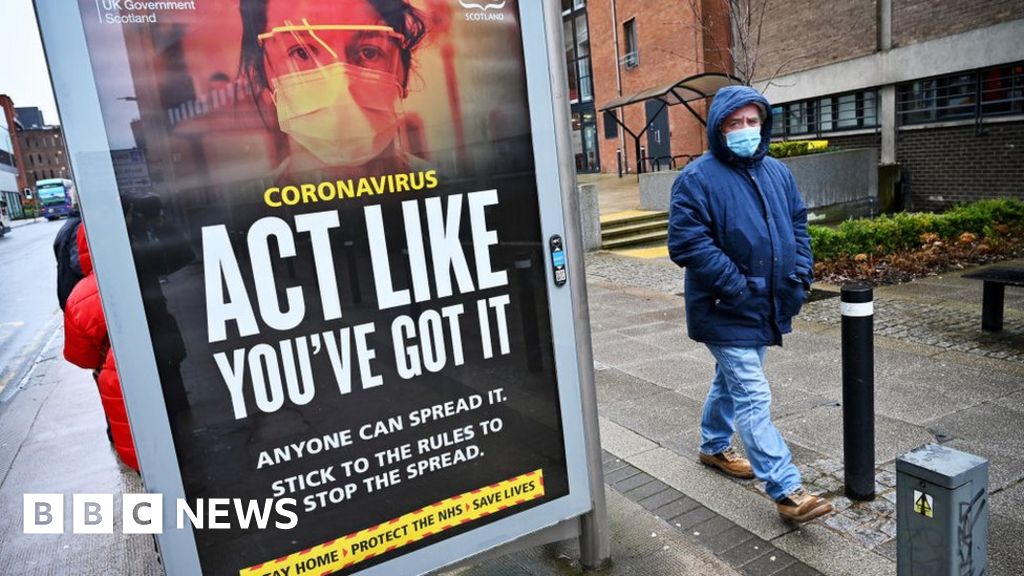 image copyrightGetty Images
Nicola Sturgeon is to set out dates for the end of the "stay at home" rule and the reopening of shops and hospitality in Scotland, in a speech at Holyrood.
Some measures could be phased in from 5 April, with further changes later in the month and more to follow in May.
The first minister said things were set to "get a fair bit better in the weeks and months ahead" as restrictions ease.
However, she warned that she would not "throw caution to the wind" and risk Covid-19 cases running out of control.
Ms Sturgeon will address MSPs on Tuesday afternoon after discussing the latest scientific evidence and advice with her cabinet in the morning.
Opposition parties have called for greater clarity about what changes will be made and for the government to give people more hope for the future.
Some lockdown restrictions have already begun to be eased, with people allowed to meet in larger groups outdoors and pupils returning to Scotland's schools.
A "stay at home" rule remains in force, but Ms Sturgeon said she would announce the proposed date for this to be lifted in her speech on Tuesday.
She has also pledged to set dates for the reopening of non-essential shops, the return of first outdoor and then indoor hospitality, and further relaxations to the rules around meeting other households.
These changes are likely to be staggered over a number of weeks, or even months, with Ms Sturgeon stressing the importance of pausing to evaluate the impact of easing measures on the spread of the virus.
There has been a slight increase in new infections over the past week, and the first minister said she could not rule out that this was linked to the easing of restrictions and schools reopening.
image copyrightGetty Images
Ms Sturgeon has previously said that Scotland will go back into a regional levels-based system of local restrictions once the national lockdown is lifted.
Meanwhile, leading public health expert Prof Linda Bauld, of Edinburgh University, has said she is "optimistic that much of what we have lost over the last few months we will regain by mid-June".
Speaking at a Covid briefing on Monday, the first minister said "hope for the future" would need to be "tempered a bit with continued caution".
She said: "That relaxation of restrictions is something that all of us desperately want to see. But we can't afford to simply throw caution to the wind.
"The virus is still out there. We've seen that in the past week with a slight increase in cases, and of course the virus is more infectious now than when we came out of lockdown last year,
"So taking care, being cautious, being sensible really matters if we are to avoid letting the virus run ahead of the vaccine."
Opposition parties will have the chance to question Ms Sturgeon following her statement, and have been pushing for more detail about her plans.
Scottish Conservative leader Douglas Ross has challenged Ms Sturgeon to "stop putting Scotland's future on hold" and "publish the full plan that we're all waiting for".
He said: "We expect a roadmap that tells everyone to get ready – because we're getting our normal lives back.
"The Scottish people expect to be treated as adults, and honestly told – here's what to expect. They know that dates aren't chiselled in stone, but they deserve more clarity."
Scottish Labour leader Anas Sarwar, meanwhile, has said the government must focus on improving the test and trace system as well as the vaccine programme if the virus is to be contained at low levels.
And he has called for better recovery plans for the post-pandemic period, saying: "Even when lockdown ends, and the virus is almost eliminated, we will still have to pick up the pieces and rebuild the country we love.
"Because the last year has torn through the very fabric of our society. The effects of the pandemic have hit us all, but it has also exposed the deep inequalities in our communities."