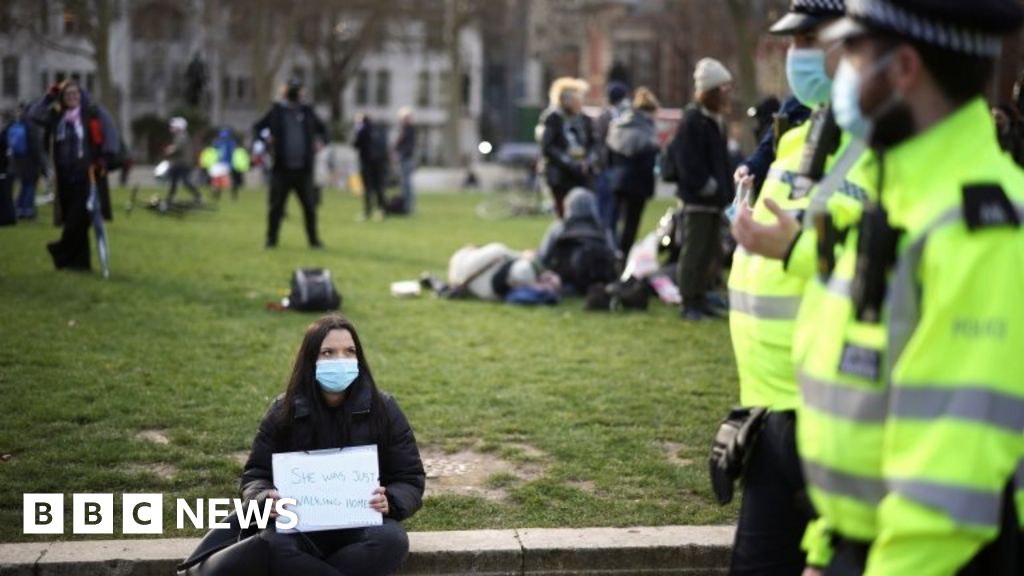 media captionThe home secretary speaks of the fear women have every day while walking home alone.
The home secretary says she understands public anger over Sarah Everard's death, but warned against protests while Covid restrictions are in place.
Priti Patel told MPs her heartache and that of others could be summed up as "she was just walking home".
She stressed that she was listening to women and girls.
She has started a review into policing of Saturday's vigil for Ms Everard.
Officers removed a number of women from Saturday's gathering on Clapham Common in south London.
Four people were arrested for public order and Covid offences.
In a statement to the House of Commons, Ms Patel said the case had "rightly ignited anger at the danger posed to women by predatory men, and anger I feel as strongly as anyone."
She said she was committed to listening to women and girls, but urged people not to "participate in large gatherings or protests".
Ms Patel added that while the right to protest was a "cornerstone of our democracy, the government's duty remains to prevent more lives being lost during the pandemic".
The home secretary said she recognised why the death of the 33-year-old marketing executive had upset so many people, insisting that women and girls "must feel safe" walking the streets.
"Too many of us have walked home from school or work alone only to hear footsteps uncomfortably close behind us. Too many of us have pretended to be on the phone to a friend to scare someone off.
"Too many of us have clutched our keys in our fist in case we need to defend ourselves and that is not OK.
"Women and girls must feel safe whilst walking our streets, that is why we have continued to take action."
She added that the Domestic Abuse bill was on track to receive royal assent by the end of April, which would "transform our collective response to this abhorrent crime".