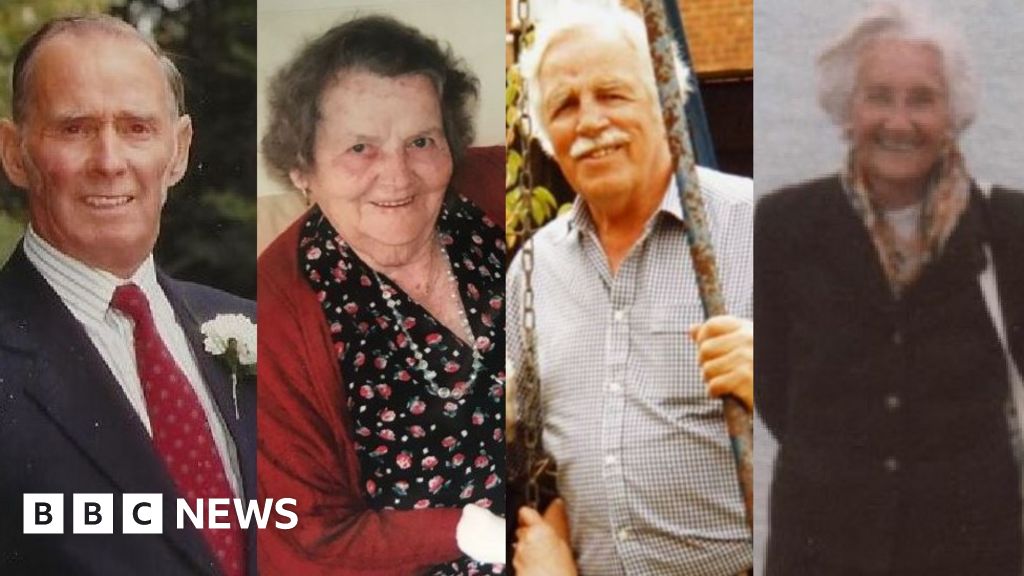 image copyrightFamily handouts
image captionThe families of Cliff Houghton, Dulcie Middleton, Brian Cunningham and Eva Page are calling for new inquests
More than 15,000 death certificates are being examined by police investigating deaths of patients at a hospital.
An inquiry found 456 patients died after being given opiates at Gosport War Memorial Hospital between 1987 and 2001, but no charges have been brought.
An independent investigation, led by Kent and Essex Serious Crime Directorate, is reviewing millions of pages of evidence.
About 150 detectives and staff are expected to be involved in the probe.
Police began the inquiry in 2019 into 700 deaths after the Gosport Independent Review Panel found there was a "disregard for human life" at the hospital in Hampshire.
Coroner-led inquests in 2009 found drugs administered at the hospital contributed to five deaths.
media captionTimeline: Concerns were first raised about the treatment of patients in 1998
Serving and retired detectives involved in the police investigation, codenamed Operation Magenta, will examine 700 patient records.
Deputy Assistant Commissioner Neil Jerome said the investigation was "one of the largest and most complex of its nature in the history of UK policing".
He said: "Having such a large and experienced team enables us to progress at pace with the investigation.
"We have so far taken at least one statement from every family currently engaged with the investigation and this work will continue when it is safe to do so and in line with the national Covid-19 restrictions."
Mr Jerome said non-family witnesses were also being contacted.
Relatives of patients who died have called for new "Hillsborough-style" inquests, with a judge and jury.
The Attorney General's Office said it was reviewing the application.
Follow BBC South on Facebook, Twitter, or Instagram. Send your story ideas to [email protected]
The BBC is not responsible for the content of external sites.