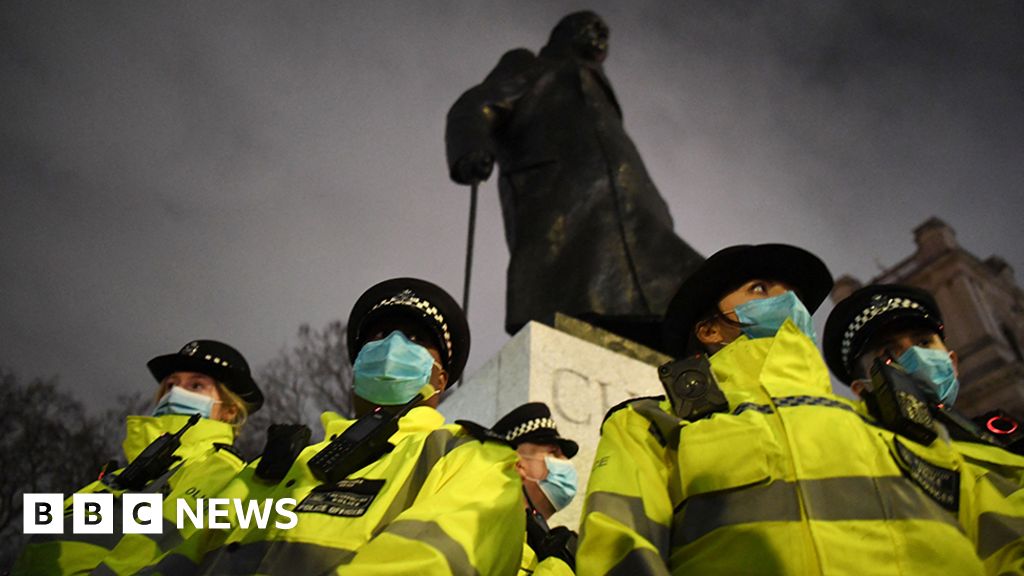 By Dominic CascianiHome and legal correspondent
image copyrightGetty Images
Policing of the Sarah Everard vigil has increased interest in plans to give officers more precise powers to restrict demonstrations.
The controversial Police, Crime, Sentencing and Courts Bill – which also includes other government proposals on crime and justice – is being debated by MPs.
If the police want to place restrictions on a protest, they generally have to show it may result in "serious public disorder, serious damage to property or serious disruption to the life of the community".
They can also impose specific measures on the routes of marches.
When it comes to major events, such details are typically thrashed out with the organisers weeks in advance.
Police chiefs will be able to put more conditions on static protests.
They will be able to:
Impose a start and finish time
Set noise limits
Apply these rules to a demonstration by just one person
Taken to an extreme, let's say there's an individual holding a protest placard, while blasting out their views on a speaker.
If the individual refuses to follow police directions over how they should conduct that protest, they could be fined up to £2,500.
It will also become a crime to fail to follow restrictions the protesters "ought" to have known about, even if they have not received a direct order from an officer.
At present, police need to prove protesters knew they had been told to move on, before they can be said to have broken the law.
The proposed law includes an offence of "intentionally or recklessly causing public nuisance".
This is designed to stop people occupying public spaces, hanging off bridges, gluing themselves to windows, or employing other protest tactics to make themselves both seen and heard.
One final measure clarifies that damage to memorials could lead to up to 10 years in prison. This follows the toppling of a statue of slave trader Edward Colston in Bristol.
Ministers and police have worked together on the proposals covering protests.
Police chiefs including Dame Cressida Dick, the Metropolitan Police commissioner, were frustrated they could not do more to lessen the impact of Extinction Rebellion demonstrations in 2019.
Mass occupations of roads and bridges in London and elsewhere stretched the police to the limit.
image copyrightGetty Images
image captionExtinction Rebellion protests brought much of central London to a standstill in 2019
The right to protest and express yourself is enshrined in the Human Rights Act. Police commanders have to show they have taken this into account.
But that right is not absolute. Protests can be limited by police if they believe they have good reason to impose restrictions on an event to ensure public safety, or to prevent crime.
The Home Office insists its proposals will respect human rights.
But the problem is the history of public protest is littered with long and complex legal battles over whether police have used their powers properly.
One of the most important cases – about the police's power to contain a crowd for an indefinite period – took 11 years of courtroom arguments to reach the conclusion that the tactic was lawful.
The Labour Party opposes the protest measures.
Shadow justice secretary David Lammy says the legislation is "a mess". He says the government is trying to rush through Parliament "poorly thought-out measures to impose disproportionate controls on free expression and the right to protest".
Rights of Women, a campaign group, says the bill's focus is all wrong, and it fails to introduce long-called-for measures that could reduce violence against women and girls.
Amnesty International UK predicts that if the measures become law, there will be more scenes like those at the Clapham Common vigil for Sarah Everard.