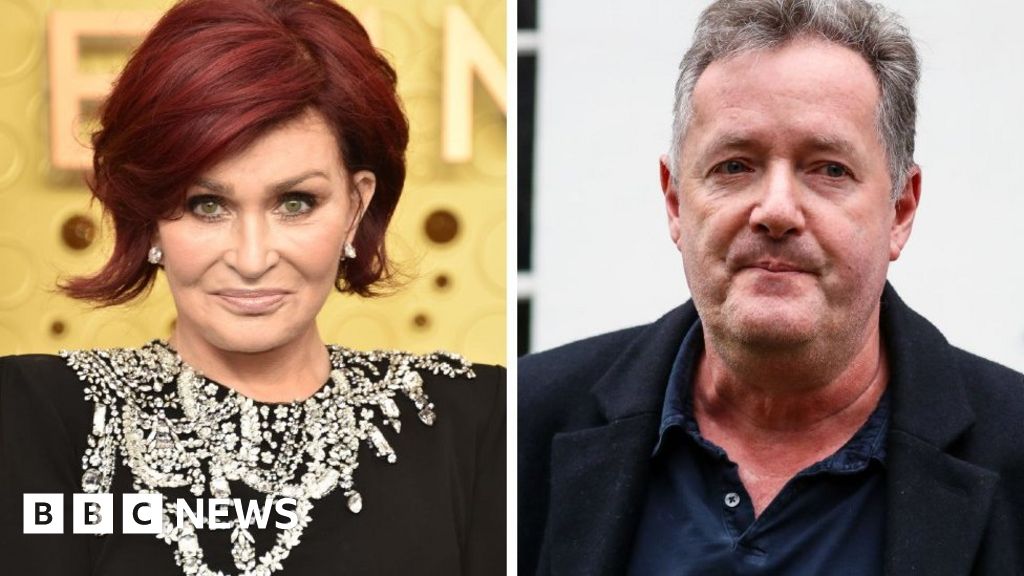 image copyrightGetty Images
image captionOsbourne and Morgan were both judges on America's Got Talent
US chat show The Talk has been taken off air for two days following a row between Sharon Osbourne and one of her co-hosts about Piers Morgan.
Osbourne was one of the first people to voice support for Morgan over his criticism of the Duchess of Sussex.
That led to a clash with Sheryl Underwood, who claimed Osbourne "gave validation" to his "racist" views.
TV network CBS has launched an internal investigation, and has taken the show off air on Monday and Tuesday.
Osbourne has apologised for her part in the heated exchange, saying she "panicked, felt blindsided [and] got defensive" when she felt she was accused of being racist for defending Morgan.
Meanwhile, he has demanded an apology from the show for "their disgraceful slurs".
The situation followed Morgan's departure from Good Morning Britain after saying he "didn't believe a word" of what Meghan had told Oprah Winfrey in their recent interview.
On Wednesday's episode of The Talk, Osbourne challenged Underwood: "Tell me when you have heard him say racist things. Educate me."
image captionOsbourne and Underwood had a heated exchange
She added: "I feel like I'm about to be put in the electric chair because I have a friend who many people think is racist, so that makes me a racist.
"For me at 68 years of age to have to turn around and say, 'I ain't racist', what's it got to do with me? How can I be racist about anybody or anything in my life?"
As she grew increasingly frustrated, her language was bleeped out and Underwood took the programme to a commercial break.
In a statement on Friday, Osbourne apologised to "anyone of colour that I offended and/or to anyone that feels confused, or let down by what I said". She added: "I panicked, felt blindsided, got defensive and allowed my fear and horror of being accused of being racist take over."
media captionSharon Osbourne told BBC News: "He has a right to his opinion."
Morgan himself was not impressed. "Sharon's been shamed and bullied into apologising for defending me against colleagues accusing me of racism because I don't believe Meghan Markle," he tweeted.
"I demand an apology from those @TheTalkCBS bullies for their disgraceful slurs against ME."
In a statement announcing its investigation, CBS said on Friday: "We are committed to a diverse, inclusive and respectful workplace. All matters related to the Wednesday episode of The Talk are currently under internal review."
Meanwhile, Osbourne has denied a claim that she described former The Talk co-presenter Holly Robinson Peete as "too ghetto", which Robinson Peete suggested led to her departure from the show in 2011.
"I'm old enough to remember when Sharon complained that I was too "ghetto" for #theTalk …then I was gone," she wrote on Twitter.
Osbourne responded that she has "never had the ability/authority to get anyone fired from The Talk" and never said her former colleague was "too ghetto".
Follow us on Facebook, or on Twitter @BBCNewsEnts. If you have a story suggestion email [email protected]