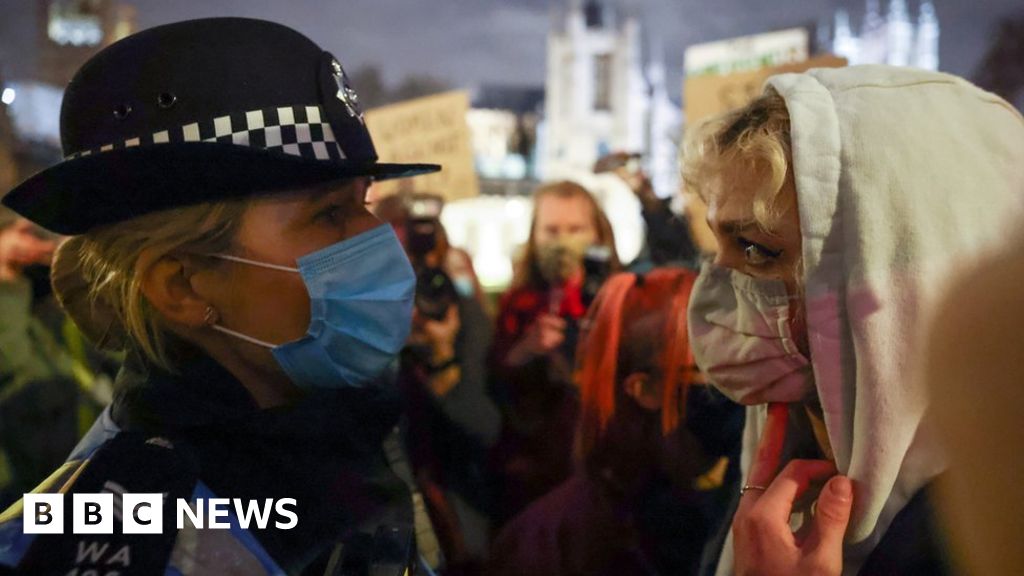 image captionThe bill also includes new conditions on protests, which have been criticised by opposition parties
A government minister has defended a new policing bill after accusations it does not go far enough to address violence against women and girls.
The Police, Crime, Sentencing and Courts Bill will be debated by MPs later in the aftermath of the killing of 33-year-old Sarah Everard.
Labour said they would vote against it for "ignoring violence against women".
But Policing Minister Kit Matlhouse said the legislation would "confront violence that affects everybody".
There are also calls to remove clauses from the bill which critics say would "curb the right of peaceful protests".
The government said the legislation would allow police to "impose conditions such as start and finish times and maximum noise levels on static protests" of whatever size – which Mr Malthouse described as "mild streamlining" of the law introduced in 1986.
But Liberal Democrat leader Sir Ed Davey called the measures "shocking" and "offensive anti-democratic proposals".
It comes after a vigil to Ms Everard at Clapham Common on Saturday ended with women being handcuffed on the floor and removed from the gathering.
Mr Malthouse told BBC Breakfast the new bill would introduce a "serious violence duty" on local authorities, so they could work with police to "diagnose the causes of violence in the area and then produce a strategy to deal with it".
He added: "That will confront violence that affects everybody, including women and girls."
But his Labour counterpart, Sarah Jones, told the programme it was "unacceptable" that there was no specific mention of women and girls in the 300-page bill – especially in light of Ms Everard's killing – and there was now an "opportunity for action".
The shadow policing minister said: "The time has come to do something about violence against women and girls because all the numbers are going in the wrong direction. We don't feel safe.
"There is a question for the government… will they join with us to get something done in this bill to tackle violence against women and girls? Because at the moment they are not being tough of crime [and] they are ignoring violence against women."
She added: "We have suffered as women for long enough and need to get something done."
Labour said it had put forward proposals to include measures around tackling street harassment and making misogyny a hate crime, and would be continuing discussions with members across the House.
But Mr Malthouse said the party had only given a "partial view" of the bill and it was the right course of action.