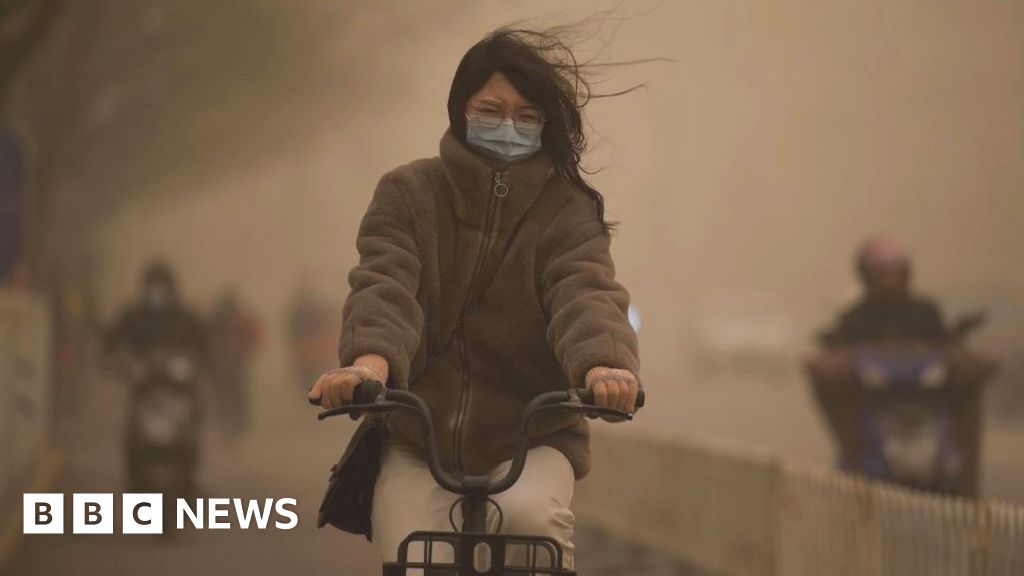 media captionWorst sandstorm in a decade turns Beijing orange
The Chinese capital of Beijing was covered in thick smog on Monday as it experienced what its weather bureau has called the worst sandstorm in a decade.
The storm caused an unprecedented spike in air pollution measurements – with pollution levels in some districts at 160 times the recommended limit.
Hundreds of flights have been cancelled or grounded as the sky turned into an apocalyptic-looking haze of dust.
The sand is being brought in due to strong winds from Mongolia.
Mongolia is experiencing severe sandstorms, which have already resulted in six deaths while dozens remain missing.
image copyrightGetty Images
image captionCitizens ride motorbikes in inner Mongolia
China's Global Times media outlet reported that at least 12 provinces in the country, including the capital, have been affected. The weather is likely to continue through the day on Monday and improve at night, it added.
"It looks like the end of the world," Beijing resident Flora Zou told news agency Reuters. "In this kind of weather I really, really don't want to be outside."
image copyrightGetty Images
image captionThe skies of Beijing have turned murky
The WHO currently sets safe levels of air quality based on the concentration of polluting particles called particulate matter (PM) found in the air.
image copyrightGetty Images
image captionLocal residents in Beijing are experiencing high pollution levels
According to news wire AFP quoting the Global Times, the PM 10 pollution in six downtown districts reached "over 8,100 micrograms per cubic metre" on Monday. The WHO considers levels between 0-54 as "good" and 55-154″ as "moderate" levels of PM 10.
AFP added that schools were told to cancel outdoor events, and those with respiratory diseases advised to stay indoors.
In previous years, Beijing was hit by sandstorms on a much more regular basis. However, amelioration projects in China have greatly improved the situation.
But Beijing and surrounding regions have suffered from high levels of pollution in recent weeks, with one Greenpeace activist telling AFP that it was a result of "intense" industrial activities.
These, he said, exacerbated sandstorm conditions, which were the "result of extreme weather conditions and desertification".