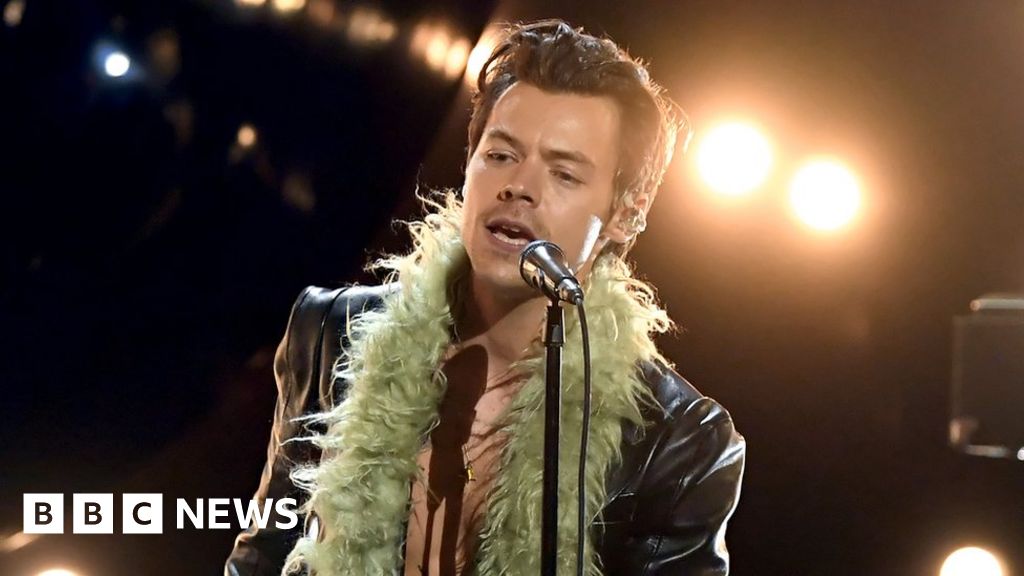 By Paul GlynnEntertainment reporter
The 63rd Grammy Awards were unlike any other, as socially-distanced stars sat in a big, anonymous marque outside the LA Convention Center.
But when they were allowed to briefly de-mask and hit the stage, they made it a night remember.
Here are five highlights:
image copyrightGetty Images/ Recording Academy
UK singer Harry Styles got the 2021 Grammys off to a fur old start by performing his hit Watermelon Sugar with a giant feather boa draped over his leather suit.
Styles by name, and Styles by nature,
The track won best pop performance making him the only One Direction-er ever to be recognised by the Recording Academy.
But the Cheshire-raised star was clearly so excited to get on-stage in Los Angeles that he forgot to put his shirt on underneath his suit.
Silly sausage.
As a news service that must adhere to strict editorial standards, we can't tell you what WAP stands for; and we can't really say what Megan Thee Stallion and Cardi B were rapping about or simulating during their performance.
Let's just say that the debut live TV performance of their X-rated hit took place on a giant bed and they did not look at all tired.
Megan was one of thee big winners on the night, bagging the award for best new artist as well the respect of Billie Eilish – who said she should've won record of the year too.
image copyrightGetty Images/ Recording Academy
Now, these next two guys you will know individually as pop stars Bruno Mars and Anderson .Paak.
But did you know that when they come together, as they did on Grammys night, they morph into something else entirely? Namely the supergroup Silk Sonic.
The new band performed their debut retro smooth jam, Leave the Door Open, backed by an impressively tight band and backing singers – while sporting some equally impressive Stylistics-style suits.
image copyrightGetty Images/ Recording Academy
The talented pair returned later in the show for a much rockier tribute to Little Richard, as part of the Grammys' in memoriam section.
Their medley of the late rock'n'roller's songs included a rousing rendition of Good Golly, Miss Molly.
"We love you Little Richard," declared Mars.
Other stars we lost in 2020, including Bill Withers, Eddie Van Halen, Mary Wilson and John Prine were also remembered on the night; while Brittany Howard and Chris Martin sang You'll Never Walk Alone in tribute to Gerry Marsden.
Organisers said so many musicians had died during the Covid-19 pandemic that it could only pay tribute to them all on the Grammys website – where more than 1,000 names are listed.
image copyrightGetty Images/Recording Academy
Dua Lipa rapidly worked her way through tracks from her hit lockdown album Future Nostalgia – including Levitating and Don't Start Now – as well as several costume changes in a high-octane session that would've put celebrity fitness guru Joe Wicks to shame.
The Brit, who won the award for best pop vocal album, was also joined on-stage by the rapper DaBaby – up well after his bed time but fresh from his own performance of record of the year-nominee Rockstar.
image copyrightGetty Images/Recording Academy
Due to current travel restrictions, seven-piece K-Pop band BTS couldn't make it to the California for their big night.
So they did the next best thing, and mocked up the entire Grammys stage in a studio in their native Seoul, for a fun-filled performance of their cross-over hit Dynamite – which was nominated for best pop duo/group performance.
While they were ultimately overlooked for the award – which went to Lady Gaga and Ariana Grande for Rain on Me – their performance finished with them on the roof overlooking the South Korean capital.
Win or lose – there's no place like home.
Follow us on Facebook, or on Twitter @BBCNewsEnts. If you have a story suggestion email [email protected]