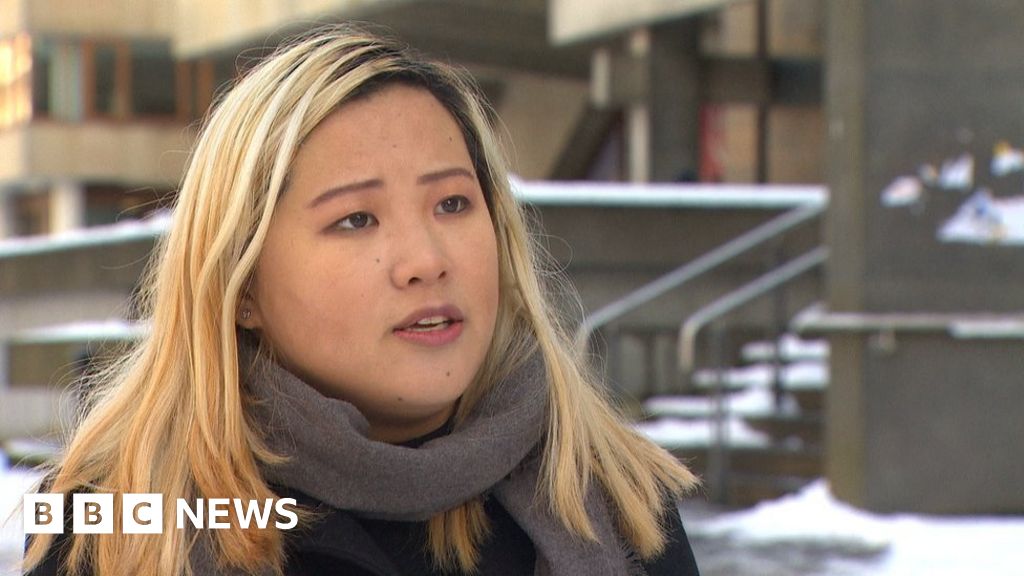 image captionWei Saik was the victim of a racial assault by a group of boys in Edinburgh
An Edinburgh mum has told BBC Scotland she was physically assaulted as she walked home with her two young children because of the coronavirus pandemic.
As Wei Saik crossed Rose Street in the capital one night last November as a group of teenage boys came from the opposite side of the road.
As she pushed her pram, with her son riding ahead on his balance bike, they moved around her and the last boy to pass smacked her on the head and shouted "Covid" before they all rode off at speed.
"It was scary because there were about 10 of them," she said.
"It was dark and there were not many people about, so with the kids I thought I had better not risk doing anything or shouting at them."
image captionThe incident happened on Rose Street in the centre of Edinburgh
The incident is not an isolated one. Many East and South East Asian (ESEA) Scots say they have faced verbal and physical abuse since the start of the pandemic.
Wei said: "I think I look really Asian and people like to make fun of people from China, thinking anything Chinese is related to Covid.
"These boys were laughing really hard."
The first recorded cases of coronavirus in the UK were in January 2020. The virus first emerged in late 2019 in the Chinese city of Wuhan.
Police Scotland say 474 hate crimes against Chinese and Asian and South East Asian people were reported between January and Dec 2020, compared to 316 the year previous. That is an increase of about 50%.
But according to community campaigners, the real figure is much higher.
Racism Unmasked and ESA Scotland are part of a growing movement of grassroots organisations taking a stand against racism towards the ESEA community.
image captionAllie De Lacy helped start a campaign group after rising numbers of attacks
Allie De Lacy co-founded Racism Unmasked in Edinburgh which organised a protest in response to an alleged attack outside Edinburgh University's main library last year.
She has also experienced Covid-related abuse.
"I would walk into places and people would scream at me to leave because they don't want coronavirus," she said.
"I am a British citizen and have lived here basically all my life and I've never even been to Wuhan. People are starting to treat us like a disease and an extension of the disease.
"Someone threw rocks at me in one of the most privileged and wealthy areas of Edinburgh – these people are not uneducated so there is really no excuse for this level of ignorance."
Allie said incidents like the one that happened to Wei, on top of what she said is the existing marginalisation and silencing of the community as a whole, meant she and others wanted to give people a voice.
image captionRacism Unmasked organised an anti-racism demonstration in Edinburgh in December
Allie said: "So many incidents aren't reported to police. We don't even know the true statistics. We have an estimate that racial attacks have increased by up to 300% within the UK but that's just the cases that have been reported. The true figures are likely to be much higher.
"People view these issues as one-off events but how many of those can there really be before it becomes a pattern?"
Racism Unmasked has been producing information to inform people about what counts as a hate crime.
Escalating tension has also prompted the creation of the East and South East Asian Scotland (ESAS) group.
image captionKimi Jolly says people are "very against" Chinese people at the moment
Co-founder Kimi Jolly said: "People are very against Chinese people at the moment, so anyone who is Chinese-presenting will be experiencing the same discrimination and racism.
"We want to make sure everybody has representation – people from Malaysia, Japan, Korea and all the other parts of East and South East Asia."
Police Scotland said it was aware there has been an increase in anti-Chinese sentiment towards members of the East and South East Asian communities in Scotland throughout the coronavirus pandemic and that this was "completely unacceptable".
A spokeswoman said: "Police Scotland is committed to making sure all of Scotland's citizens are protected and feel safe.
"We monitor reports of hate crime and signs of community tensions on a daily basis, as we're aware of the impact and harm this kind of behaviour can have on individuals, their families and wider community."
She added that anyone who has been a victim of hate crime should report it to the police.