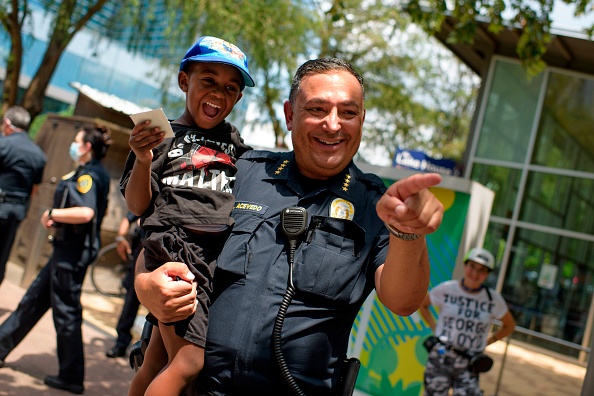 Houston Police Chief Art Acevedo has become a national name by spewing against his own governor, and then defying the president. He walked with interlocked arms with protestors against police brutality. Now, he's headed to South Florida, way closer to his roots.
Acevedo will leave his post in Texas to take over the same responsibilities in Miami. The move was revealed late Sunday night through both news outlets and social media.
Acevedo, who has guided the Houston department through Hurricane Harvey (2017), social justice marches, a Super Bowl, a World Series victory celebration and recent ice storm, will be formally announced Monday morning in Miami.
Previously to his Houston position, Acevedo was the Austin chief of police and a chief for the California Highway Patrol in Los Angeles.
For Acevedo, going to Miami is kind of like coming home. The 56-year-old was born in Cuba, and his family emigrated to the United States in 1968.
His time in Houston is when he became a national figure, though. There were times he was on national TV because of Hurricane Harvey's wrath. Then there was the time he spoke out against one of his officers, who killed a naked, unarmed teenager.
"If you can't handle a kid in broad daylight, naked, and your first instinct is to come out with your gun, and your next instinct is to shoot the kid dead, you don't need to be a cop," Acevedo said at the time. "I don't give a s— how nice you are."
During the social justice marches of 2020, Acevedo was seen walking down the streets to protest police brutality against minorites, often with his arms interlocked with fellow marchers.
Acevedo has butted heads with top elected figures in both Texas and the White House—most notoriously when Donald Trump was president.
Now, Acevedo is set to become the top cop in Miami, just a day trip south of Trump's new home in West Palm Beach.
Houston police chief Art Acevedo talks with members of the community gathered to mourn the death of George Floyd during a march across downtown Houston, Texas on Tuesday, June 2, 2020. – Anti-racism protests have put several US cities under curfew to suppress rioting, following the death of George Floyd while in police custody. Photo by MARK FELIX/AFP via Getty Images
Acevedo's selection to Miami's police chief was somewhat of a surprise after City Manager Art Noriega conducted months of interviews to replace Chief Jorge Colina, who retired last month after just three years on the job.
It took the city longer than expected, but the hiring will happen finally. This comes after a tussle between city and police leaders. The mayor said that Acevedo's history helped in the hiring.
"It helps to have a mayor that has the profile that he does," Noriega said. "We just landed a change agent for the city in terms of just policing and law enforcement."
During the summer of 2020 when protests broke out across America in the aftermath of George Floyd's death, Acevedo responded to both President Donald Trump and Texas Gov. Greg Abbott on how to control his city when they both suggested troops into large cities.
"I think our governor has already responded to that, and this is Texas," Acevedo said. "We have our cities well, we're keeping them safe. Things are going well here and we don't need any support in terms of federal troops."
Miami Mayor Francis Suarez called Acevedo the best person to fill the job in Miami.
"I think this is like getting the Tom Brady or the Michael Jordan of police chiefs," Suarez said.