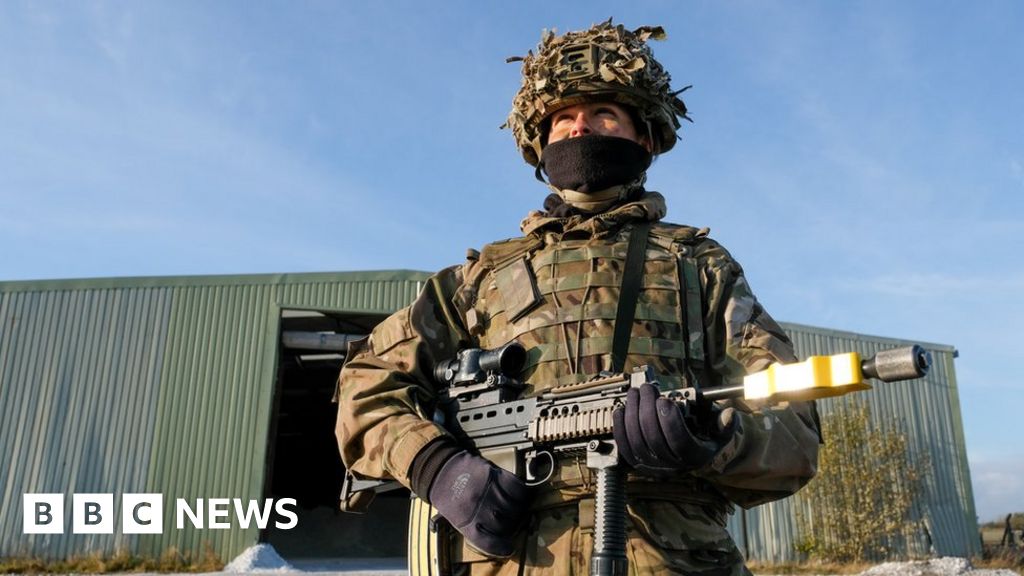 image copyrightGetty Images
Boris Johnson has promised to help make the UK "match-fit" when he unveils his plan for modernising the armed forces and foreign policy.
The prime minister said there would be "more investment" in infrastructure and skills around the country.
He also announced that 500 Foreign Office jobs would be moving from London to East Kilbride.
The government publishes its Integrated Review of the UK's defence and foreign relations capabilities on Tuesday.
But a group of MPs has warned that "general ineptitude" over the last 20 years has undermined attempts to re-equip the Army.
The Integrated Review, first announced in 2019, will set out the UK's defence and foreign affairs priorities for the next decade or so, during which cyber warfare in particular is expected to become a greater threat.
Some details are being pre-released, including the plan to move 500 jobs to the Foreign Office's East Kilbride hub – which follows news that the Cabinet Office will transfer at least 500 civil servants to nearby Glasgow by 2024.
The government has promised "further commitments" to "strengthening the UK's core industrial base" in the Integrated Review, including building ships in Scotland and armoured vehicles in Wales.
There will also be a focus on lithium mining in Cornwall and manufacturing satellites in Northern Ireland, it added.
Mr Johnson said: "The foundation of our foreign policy is who we are as a country: our values, our strengths and – most importantly – our people.
"So I am determined to ensure we have a foreign policy that delivers for those people."
He added that the UK's "international ambitions must start at home", with investment in regional industry "ensuring the UK is on the cutting-edge of innovation and creating an entire country that is match-fit for a more competitive world".
The government has said "further jobs" will be created outside London by the establishment of the National Cyber Security Force HQ in the North of England.
It has also promised an increase in spending on defence of 2.6% above the rate of inflation between 2019/20 and 2020/21, with the overall figure expected to rise to £41.5bn during this time.
From 2010 to 2017, annual defence spending fell by £6.6bn in real terms, but, since then, it has increased by £3bn in real terms.
A report by the Commons Defence Committee, published on Sunday, warned that the Army was at "serious risk" of being outmatched by the UK's adversaries.
It described efforts to modernise its fleet of armoured fighting vehicles as "woeful" and criticised what it called "bureaucratic procrastination" and "general ineptitude" over the past two decades.
In a speech last month, Labour's shadow defence secretary, John Healey, said the Integrated Review should "refocus our defence efforts on where the threats are".
He added that unless it confirmed a reduction in potential dangers to the UK, it would be "very hard to accept the case for reducing the strength of our full-time forces".