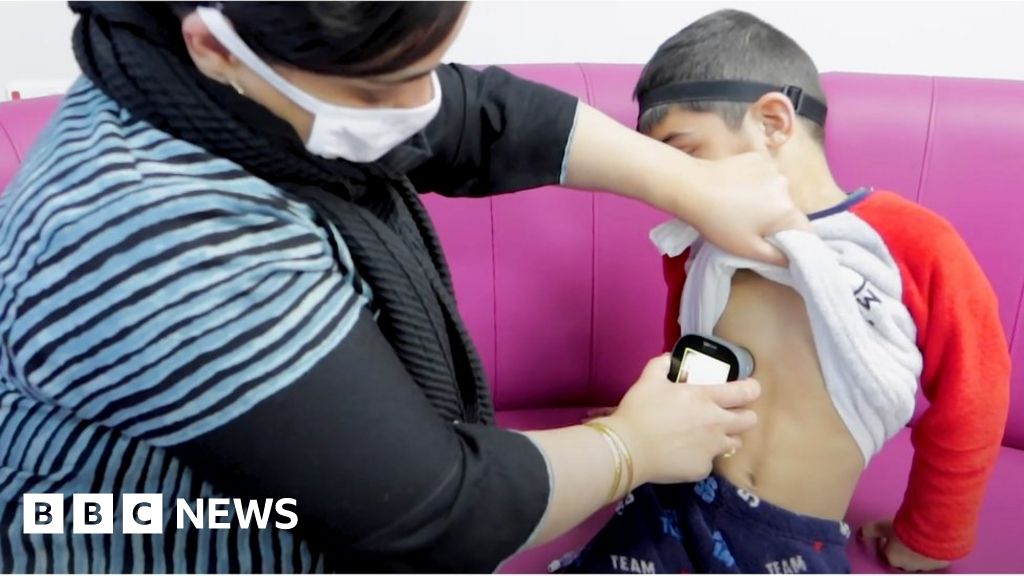 image captionA mother holds a device called a Tyto to her son's chest, enabling doctors in the hospital to listen in
The pandemic has been a catalyst for innovation in the NHS and some changes will have a lasting effect, says Dr John Wright of Bradford Royal Infirmary.
The Covid pandemic has transformed our hospitals. Car parks are empty, once-bustling corridors are quiet, and these days you won't see any staff making fashion statements – we're all in scrubs and masks.
Changes made to reduce spread of infection are here to stay and will help us live with future outbreaks of Covid and other infectious diseases. But there is also much to learn from how we have adapted to non-Covid care – with drive-through PCR swabs and blood tests, for example, or the use of oximeters to monitor oxygen levels in the blood of Covid patients in their homes, providing warning if they need to be admitted to hospital.
But the biggest change has been in the way hospital consultations are carried out. Before the pandemic nearly all appointments took place face-to-face. Last year probably 90% occurred via telephone or video call, and most of my colleagues at Bradford Royal Infirmary are still running remote clinics today.
This is much more convenient for patients. In the past a typical consultation might have involved a half-day of travel, the search for a parking place, and then sitting in a waiting room. Now we've had patients who have talked to their consultant while doing the supermarket shopping. This innovation has been particularly helpful for those who are disabled or shielding.
image copyrightHulton Archive
image captionWhen Bradford Royal Infirmary opened in 1936 one innovation was a gym for patients (though a photographer asked nurses to pose for the cameras)
Remote consultations do have their drawbacks. Patients tend to underplay their symptoms on the phone and it is easier to avoid discussing challenging issues. Life-changing diagnoses require sensitive, face-to-face communication. In this respect, at least, video calls are better, though the Attend Anywhere platform, which has been rolled out rapidly across the NHS, has suffered from software glitches and often poor quality images. Another problem is that some patients struggle with technology. Remote consultations tend to work best if you are young, healthy, educated and have English as your first language.
The main drawback, though, is that clinicians are unable to undertake physical examination remotely. Clinical histories are the yin of the consultation but physical examinations are the yang, and video consultations only provide half the picture.
Our paediatric team has been testing and evaluating a device that could help plug the gap. It allows the doctor to examine acutely ill children in their own home – a parent or paramedic holds the device against part of the child's body and the readout from it appears on the doctor's computer screen, next to the image of the patient.
It works as a stethoscope, a thermometer and a camera (with an attachment that can be used for photographing the inside of the ear) and has proved very helpful at reducing hospital appointments.
image copyrightPishdaad Modaressi Chahardehi
Prof John Wright, a doctor and epidemiologist, is head of the Bradford Institute for Health Research, and a veteran of cholera, HIV and Ebola epidemics in sub-Saharan Africa. He is writing this diary for BBC News and recording from the hospital wards for BBC Radio.
Zahida Ali, who has two children with cystic fibrosis and one with cerebral palsy, says she uses it regularly. "Before we'd go to clinic and now we do it in the living room and doctors can listen into the girls' chests, and we have also used it for treatments like looking in the mouth or ears," she says. Recently one of Zahida's daughters was on the verge of being admitted to hospital, but she was allowed to go home because the device enabled doctors to monitor her condition.
Consultant paediatrician Mathew Mathai says the device has been issued to a number of vulnerable families who face difficulties accessing healthcare. One family hadn't used email before, he says, but they adapted to it quickly. All feel that it improved their access to healthcare.
image captionZahida Ali's daughter Iraj has cystic fibrosis, like one of her older sisters – the device gives them access to healthcare from home
The device also used by specialist respiratory nurses, who visit patients' homes. If children need regular physiotherapy to enable their lungs to work efficiently the device can be used to listen to the chest and determine whether the therapy has been effective and more needs to be done.
"Covid has given us permission to experiment, and also permission to fail, and to share our failures and our successes," says Dr Mathai.
He had been unsuccessfully seeking funding to try out this device before the pandemic, but Covid suddenly fixed that problem.
The paediatric team has also been giving diabetic children biosensors, worn on the arm, which provide information about their glucose levels.
image captionHealthcare staff can see the patient, and usually the families taking part in Mathew Mathai's pilot can see the healthcare staff too, via an iPad
"There are lots of other technologies," he says. "People are using things like smartphones and apps and wearables and biosensors, and I think Covid has made us realise actually, all these technologies are there. Let's start using them."
He points out that Covid has also highlighted inequities, hitting disadvantaged people and ethnic minorities hardest. "So how we use these new technologies is going to be really important to think through, because it has to be for everyone. We can't leave out certain groups of people."
Some changes may have happened anyway, but Covid has accelerated them. The NHS has made great efforts to maintain cancer treatment throughout the pandemic, but endoscopies – when a camera in a tube is inserted into a patient's throat and down into the gut – take longer in a Covid-secure setting. So the use of "pillcams", tiny cameras that are swallowed to check for signs of bowel cancer or Crohn's disease, is now being quickly expanded.
image copyrightGetty Images
image captionA 2019 version of the PillCam – it photographs the gut every two seconds when swallowed
The NHS has set up a "beneficial changes" programme to capture how rapidly we have moved to virtual appointments, and to share information on other helpful innovations.
In some cases a virtual appointment is no replacement for a hospital visit, but if we can safely reduce ambulance trips and car journeys, then we can improve convenience for patients and reduce harm to our environment.
Bradford Teaching Hospitals NHS Foundation Trust made this video to demonstrate the use of the device being piloted by the Dr Mathai and the paediatric department
Follow @docjohnwright, radio producer @SueM1tchell on Twitter