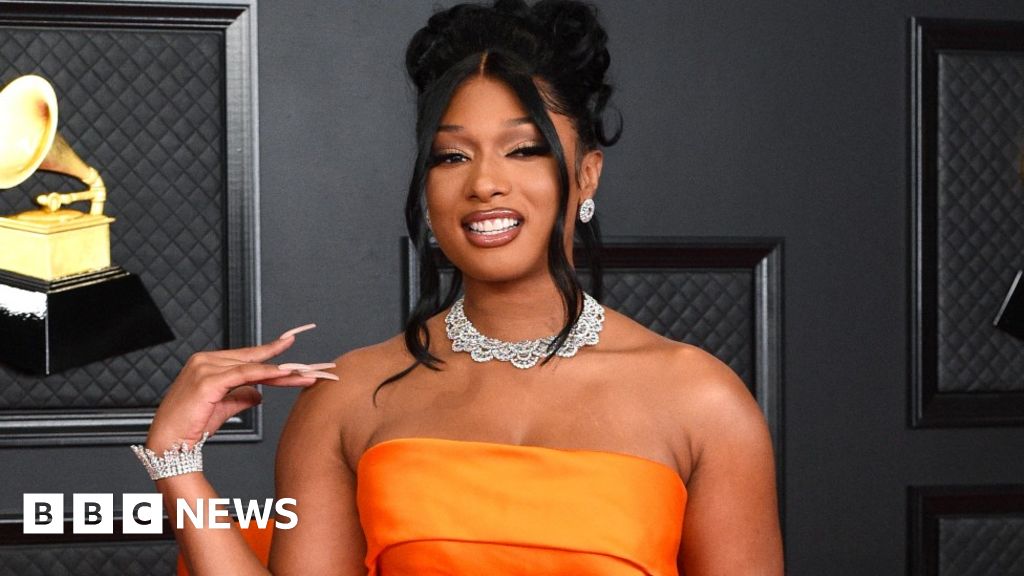 image copyrightGetty Images
image captionMegan Thee Stallion
The stars have swapped their lockdown comfies for gladrags on "music's biggest night".
Arriving in style, Megan Thee Stallion confirmed that the future of rap music is indeed orange.
"I just really wanted to pop. Like, I wanted to look like a Grammy," she said. "So I manifested this."
The star has already won several awards, including best new artist and best rap song, for Savage (Remix).
image copyrightGetty Images
image captionGrammys 2021 host Trevor Noah
Host and comedian Trevor Noah promised the show wouldn't be "pandemic-y", with some of the biggest nominees and performers in a (socially distanced) tent in Los Angeles – and everyone else tuning in online.
"This isn't a zoom background," he assured viewers in his opening monologue. "My uncle isn't gonna walk behind me naked".
image copyrightGetty Images
image captionBillie Eilish
Billie Eilish stylishly matched her bucket hat with her face mask – fashionable yet practical.
She soon changed into something more comfortable to dance on top of a car during her performance of the ballad Everything I Wanted.
The set replicated her self-directed video for the song, which is up for both record and song of the year.
image copyrightGetty Images
image captionDaBaby
You can do anything at the Grammys but lay off DaBaby's green suede shoes.
The colourfully-suited rapper has been nominated in four categories, including best record for Rockstar. He also performed with Dua Lipa, during her medley of the hits Levitating and Don't Start Now.
image copyrightGetty Images
image captionPhoebe Bridgers
Indie singer-songwriter and LA local Phoebe Bridgers was up for best new artist; and she took the chance to make a great first impression with this embroidered skeleton dress.
It's a fancier version of the T-shirt she's worn throughout the promotional campaign for her album of the year nominee, Punisher.
Asked by reporters what she'd do if she won, she replied: "I mean, you know very Covid-ish. Go and have an orange juice in my house with my mom."
image copyrightGetty Images
image captionLizzo
Lizzo picked up three awards at last year's ceremony, and returned looking like a winner on Sunday in a gown with added diamonds.
The singer was on hand to dish out best new artist at the start of the ceremony – but had difficulty opening the envelope.
image copyrightGetty Images
image captionDoja Cat
Doja Cat was also nominated for best new artist and she rolled into the awards in a fitted motorcycle jacket.
"I like something that's out there," she told reporters. "I have been very toned down lately. This is like something I have always wanted to do."
It could get chilly on the freeway later.
image copyrightGetty Images
image captionH.E.R
US singer-songwriting queen H.E.R turned up in the colour of kings – purple.
She is nominated for song of the year for I Can't Breathe, which was written in response to George Floyd's death in police custody last year.
"I wanted to talk about the pain that only the black community experiences," she said.
Follow us on Facebook, or on Twitter @BBCNewsEnts. If you have a story suggestion email [email protected]