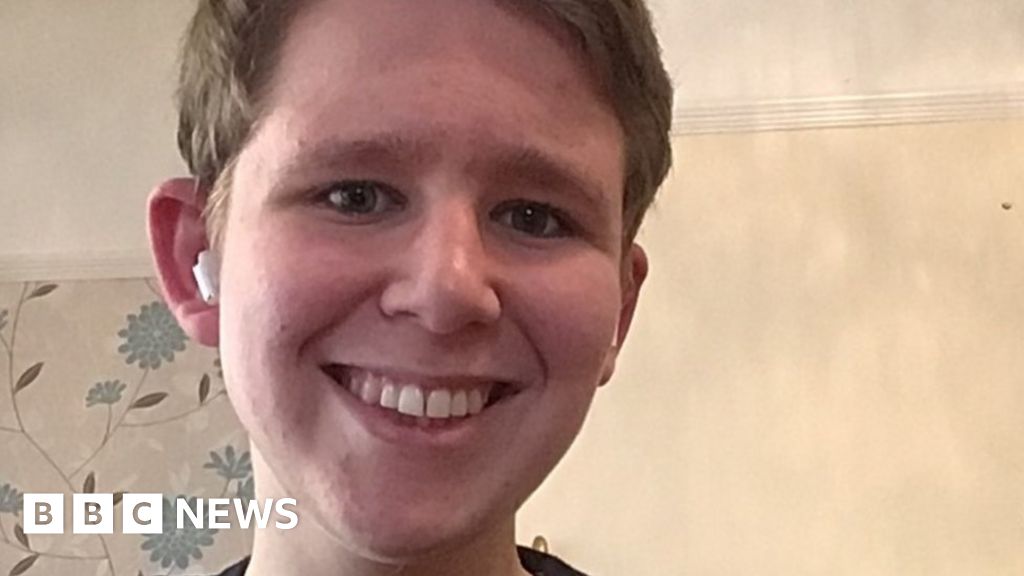 image captionFinley says he is looking forward to returning to school after the "massive culture shock" of home learning
More pupils in Wales are returning to the classroom for the first time since December, prompting feelings of nervousness and excitement.
All remaining primary school children, pupils in Years 11 and 13 and many college students will head back to class on Monday.
Those in Year 10 and above will be "strongly encouraged" to take rapid Covid tests twice a week.
Face coverings must be worn in class if social distancing is not possible.
The youngest children, aged three to seven, have been back since February.
Schools have the flexibility to bring back pupils in Years 10 and 12, while offering wellbeing check-in sessions to those in Year 7, 8 and 9.
The Welsh government plans for all secondary-aged pupils to be back in full-time from 12 April.
Finley, a Year 11 student from Rhyl, Denbighshire, said he was looking forward to going back after the "massive culture shock" of learning from home.
"On reflection it's shown how much I value school and how much of an important part of my life school is," he said.
"It will be great to be back in the classroom with my mates and with the teachers.
"The difference between sitting in front of a screen for six hours a day compared to sitting in a classroom for six hours a day is immeasurable.
"It's the most excited I've ever been to visit the building to be honest, but also I'm nervous in hoping that everything goes all right."
Finley said he was hoped fellow students would take up the offer of lateral flow tests.
"There'll definitely be some resistance because some people have never experienced anything like this," he said.
"At the end of the day though, if it's going to keep us all safe then it's necessary.
"I'm definitely going to take it up, if it's going to protect people that I know and my mates."
Dr Linos Jones, head of Welsh medium comprehensive, Ysgol Bro Myrddin in Carmarthen said it had been a very exciting time preparing for the return of the pupils.
"There has been daily communication between us as a school and the children to ensure that nothing worries them on their return," she said.
She said everyone had received their timetable for the next fortnight to give sufficient advance notice and the Covid-safe measures put in place before Christmas remained key.
Dr Jones said they were treading "very carefully" for the two weeks before the Easter holiday and were returning specific groups of pupils only.
"For the first two weeks there are no more than two years in the same day and then rising to three years by the end of the last week," she said.
image captionLaura Doel says she is disappointed the Welsh government did not choose to prioritise vaccinating school staff
She added pupils from Years 7, 8 and 9 would have one whole day at the school during this period.
She said she hoped the home Covid tests would give families more confidence.
Commenting on the wider return to schools Laura Doel, director of NAHT Cymru, said the union wanted nothing more than schools to reopen for all children but only "as long as the science supports that it is safe to do so".
"The return must be sustainable to avoid further disruption to children's education, which means everyone continuing to adhere to the rules," she added.
Ms Doel also said the union remained disappointed that the Welsh Government did not choose to prioritise vaccinating school staff.