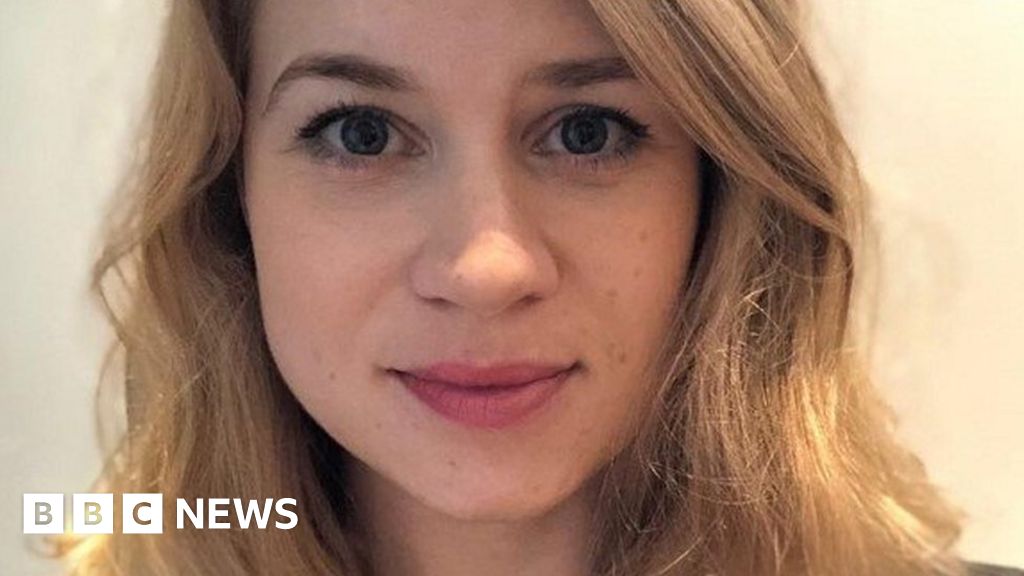 By James WilliamsBBC Politics Wales
image captionSarah Everard's death has prompted a public debate over women's safety
The justice system must be overhauled, according to a Welsh government advisor on violence against women, who said parts of it were "broken".
Yasmin Khan said men "have the power" and she called for a "change in terms of their role in tackling violence against women and girls".
Her comments come after police handling of a vigil in London to mourn Sarah Everard's death was criticised.
The Home Office has been asked to comment.
Ms Khan joined others in calling for a review of the Metropolitan Police's handling of the vigil. The force has said it will consider if "lessons can be learned".
Several hundred people gathered on Clapham Common on Saturday evening, despite Covid restrictions, to pay tribute to Ms Everard, 33, whose death has prompted a public debate over women's safety.
Officers were seen handcuffing and leading women away from the event.
media captionTense exchanges between women and police officers
"The footage that we saw last night wasn't a good picture because people were coming together, they wanted to show solidarity," Ms Khan, who also advises the government on domestic abuse and sexual violence, told BBC Politics Wales.
"And what it seems on the surface, from the footage and the pictures that we've seen this morning, there really needs to be some kind of review about what actually happened and what force was implemented last night."
Vigils were also held in Wales on Saturday night to mark Ms Everard's death; some were held online, others were attended in person.
In a tweet, First Minister Mark Drakeford said: "Her murder – and the stories from other women this week about their experiences – tell us why we have so much more to do to end violence and abuse against women.
"As candles are lit tonight, let us ignite a fire for change."
Prime Minister Boris Johnson tweeted on Saturday: "Tonight Carrie and I will be lighting a candle for Sarah Everard and thinking of her family and friends.
"I cannot imagine how unbearable their pain and grief is. We must work fast to find all the answers to this horrifying crime."
In a tweet, Plaid Cymru's leader Adam Price said: "Lighting a candle in memory of all the women killed by male violence and in condemnation of the actions of the Police in Clapham tonight."
image captionYasmin Khan: "Victims tell me that in coming forward to the police, that they're not listened to"
With many women speaking out following the death of Ms Everard, Ms Khan said it was "so important to listen and to recognise the scale of violence against women and girls".
Asked on the Politics Wales programme if there should be an overhaul of the justice system, Ms Kahn said: "Absolutely. There are things which are broken and that's been exasperated within the pandemic.
"Victims tell me that in coming forward to the police, that they're not listened to or in some cases they're not trusted and I think that truly informed policing investigation really must start to shape people's confidence so they do come forward and report.
"We've got to stand up and speak out about it. But once people have spoken about it, we need to make sure the offenders are held to account."
Ms Khan and her fellow Welsh government advisor, Nazir Afzal, have said in their final annual plan for 2021-22 that embedding a "public health approach" to violence against women "remains our main objective".
"A public health issue is making sure that we understand what the root cause of the problem is, as with any illness.
"I think domestic abuse is an absolute illness in our society," she said.
She called for a "multi-agency approach across Wales, so that whether the violence has been presented at health or whether it's been presented at education, this is something that we need to understand better so that we can avoid it".
"If we focus resources and work around the prevention, that's when we can really start to eradicate this from our society," she added.
Labour's MP for the Cynon Valley, Beth Winter, told BBC Radio Wales' Sunday Supplement programme: "We need far reaching change. It's been normalised.
"You know, as a woman myself, I go out and I automatically cross the road if there's a man walking behind me," she said.
"You know there are systemic changes that needs to take place.
"It's 20 years since I worked in a women's refuge, and we have not moved forward in any way that we should to address this issue.
"Far reaching and systemic change must take place, and we can address this, but we have to work collectively.
"We have to provide adequate funding."