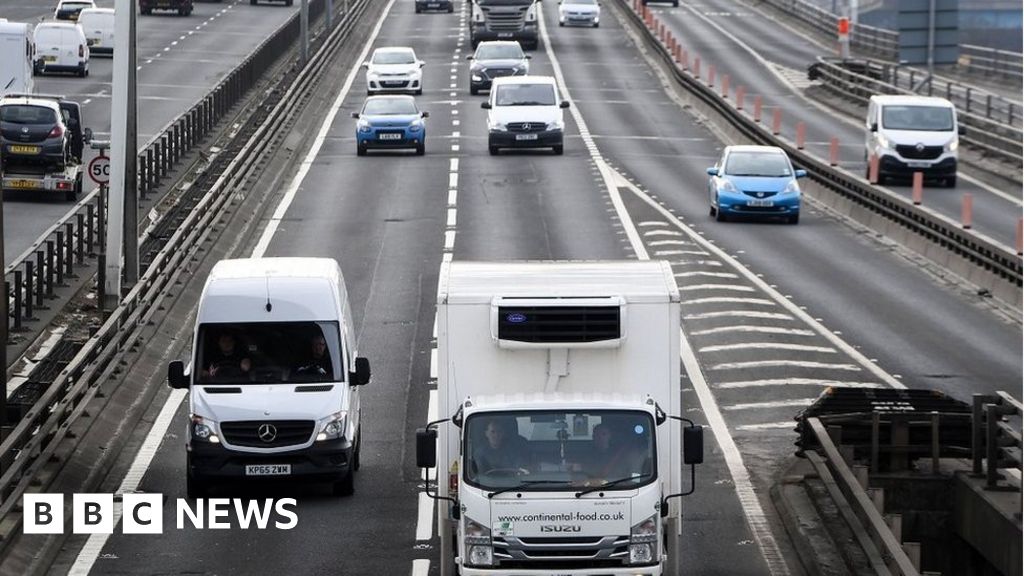 Image source, Getty Images
Roadworks on a section of the M8 motorway in Glasgow could last four years, it has been warned.
Repairs to the Woodside Viaduct in Glasgow have narrowed the motorway from four lanes to two since March 2021, and access to slip roads has been closed.
The roadworks are scheduled to be completed late next year.
However, Labour MSP Paul Sweeney said contractors had now warned that the work could take up to four years to complete.
He argues that alternative measures should be considered to make Glasgow more modern and visually appealing.
Mr Sweeney told BBC Radio's Good Morning Scotland programme that the contractor had indicated that 60 concrete pillars that support the viaduct would need to be completely demolished and rebuilt.
"That is going to take up to four years now, so we are going to have restrictions on that road for up to four years," he said.
"Given the scale of reconstruction work work required on that section of the motorway, which has long been derided as a scar through the heart of the city of Glasgow, perhaps we ought to take a sanity check here and have a more fundamental assessment of what we should be doing with this major piece of infrastructure."
He said other alternatives should be considered which could potentially unlock up to 4.5 million square feet of real estate in the heart of the city.
"Given that Glasgow just hosted COP26, rather than go back to automatically rebuilding a 1970 megastructure, we should be looking at alternative ways of delivering this infrastructure to be far more attractive," he added.
Transport Scotland said it was "working hard to minimise impacts on local residents and businesses and keep traffic moving".
It said the project had already been extended to November 2023 due to "the complexity of the work involved" – but that the overall timescale may shorten.
A spokesperson for Amey, the company carrying out the work, said a viaduct repair scheme of such a scale and complexity was "unprecedented" in Scotland.
Amey said it was still developing the solutions to some of the challenges and that the costs had not been finalised.
"An initial permanent repair trial will commence in summer 2022, which will allow the scheme designers to incorporate and refine the design solutions for other areas of the viaduct," it said.
The company said it would continue to update the public of any changes to the timing of their work on its website.