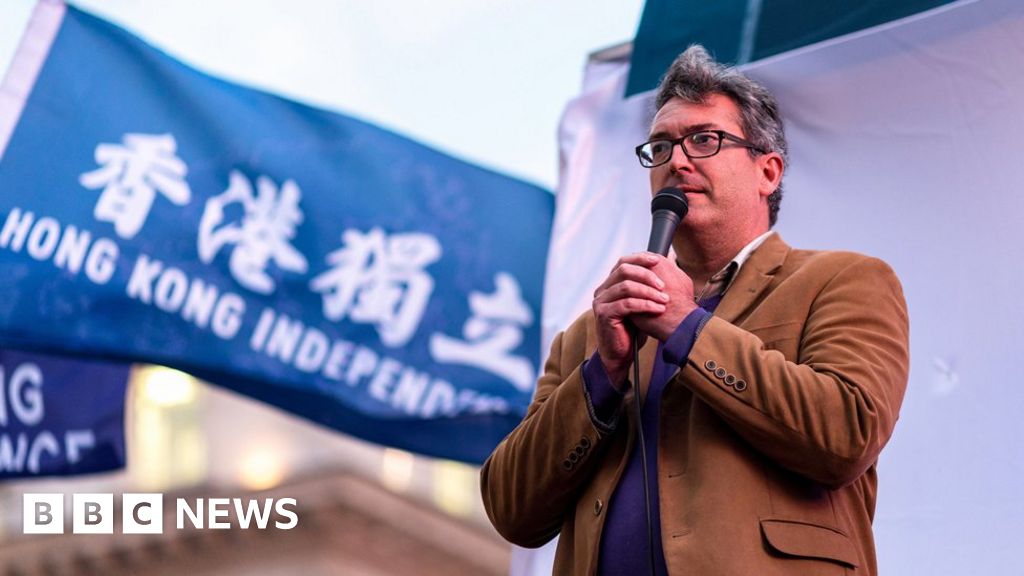 By James LandaleDiplomatic correspondent
Image source, Getty Images
A British national living in the UK has been accused by police in Hong Kong of jeopardising China's national security and told he faces three years in jail.
Benedict Rogers runs Hong Kong Watch, a charity which campaigns for human rights in the former British colony.
But he has been informed that he faces charges of "collusion with foreign forces" if he ever returns there.
Foreign Secretary Liz Truss said the threat was "unjustifiable". Mr Rogers said his group would not be silenced.
"We will continue to be a voice for the people of Hong Kong and those brave political prisoners who have been jailed under this authoritarian regime," he said.
Hong Kong was handed back from British to Chinese rule in 1997, at the end of a 99-year lease.
Beijing agreed to govern it under "one country, two systems", granting the city its own legal system, limited democracy with multiple political parties and rights such as freedom of assembly and free speech.
However, in 2019, mass anti-government protests turned violent. And a year later China passed a draconian law targeting secession, subversion and terrorism with punishments of up to life in prison.
The authorities have clamped down hard, arresting scores of activists and opposition politicians.
Media caption, Why China is bent on crushing dissent in Hong Kong
Hong Kong Watch said police had written to tell Mr Rogers of his offence, and that he faced jail, or a HK$100,000 (£9,800) fine, if he returns to the city.
It is thought to be one of the first times authorities have tried to apply the legislation outside the territory.
Lord Patten, the former colony's last governor, said it was a "disgraceful example" of China trying to stamp out freedom of expression in Hong Kong.