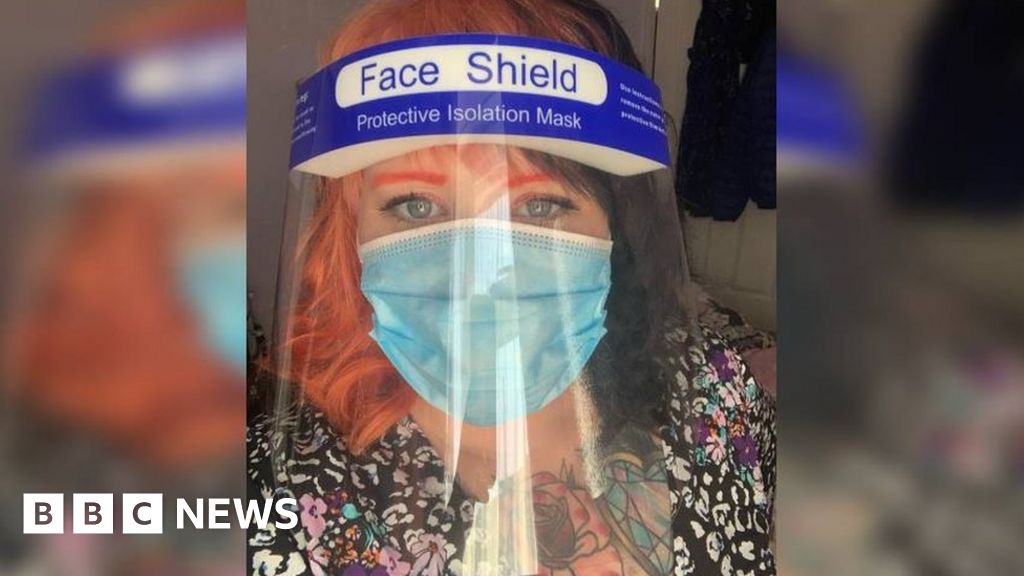 image copyrightAntonia Louise Sparkles
image captionMobile hairdresser Antonia Sparkles has started a petition over the "lack of clarity"
We can wave goodbye to our lockdown locks from Monday – but mobile stylists say they remain in the dark on whether they can pick up the scissors again.
On Friday the Welsh Government said all hairdressers, including mobile salons, could reopen.
But the Nation Hair & Beauty Federation (NHBF) said it had been told mobiles "might not be able to resume".
The Welsh Government said they could work only "where the client physically cannot leave the home".
The latest guidelines state mobile hairdressers can visit people's homes if "leaving the home is likely to have a significant detrimental effect on their wellbeing".
But the NHBF said the guidance was not clear and it was "seeking clarity to understand when mobile services will be able to fully resume".
Mobile hairdresser Antonia Sparkles, 32, from Pencoed, Bridgend, said she does not understand the rules.
"It should only be a yes or no, with clear instructions on what services we can do," she said.
"I feel a bit confused. I know three people who can't leave the house physically – that is not going to pay my bills.
"In the last hour I've had more confused clients saying I'm allowed back – it's more stress. I'm telling clients there's no answer yet, it's not clear."
Ms Sparkles said she was eager to get back to work, not only for financial reasons but also for her and her clients' mental wellbeing.
"It was emotional for me [to get back to work] because I haven't seen anybody, so for me it's such a good thing to get a routine. I had to go on antidepressants for my insomnia… because I've been worried," she said.
"I suffer really badly with anxiety and depression. We need to go back to work not just for the money – it's a part of our routine.
"It's good when you do someone's hair and they smile because they feel better. A lot of my clients live alone too and we can have a little chat."
media captionVisiting the hairdresser and meeting friends in your garden are among lockdown rules being relaxed
After the initial announcement on Friday, she spent all night doing a stock take and putting in orders, before a few hours later, her plans were halted again.
In response, Ms Sparkles decided to set up a petition calling for greater clarity on the rules for mobile stylists.
"I was just sat here thinking there's so many people struggling in the pandemic anyway. Loads of people have lost their salons, so more have gone mobile, so this affects more people," she said.
"I don't see what the difference is between a salon and a mobile hairdresser because you've got more people in a salon than when you go to a house, you're all wearing PPE.
"What's upset me is they've divided us into two, saying a mobile hairdresser and a salon aren't the same. But we've always been classified as the same. It's just making people more frustrated."
Before visiting clients, Ms Sparkles said she takes a range of Covid precautions.
"I send them questions the night before, asking have they had a temperature, have they been abroad, if they have had a test, have they had the results back?" she said.
"I go in with a surgical mask, I wear a visor. I wipe down the area where I'm working and have a new gown for each client. I was worried about trying to protect everybody.
"After I've gone into a house, I sweep the hair up, take the hair in a bag and then dispose of it – I pay to have that disposed of."