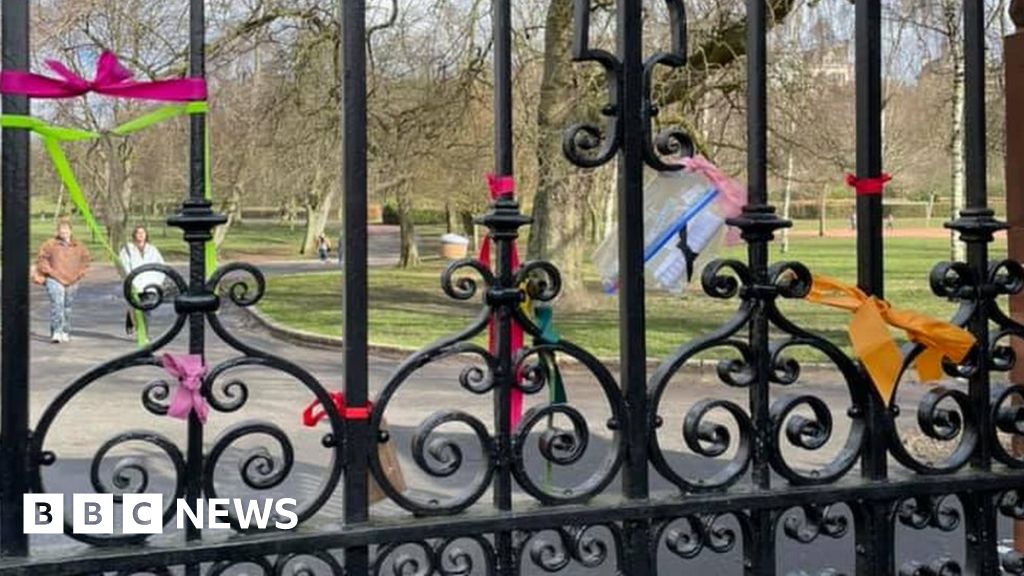 image copyrightCarolyn Sleith
image captionRibbons and notes tied to railing at Glasgow's Kelvingrove Park
Ribbons have been tied to trees and fences in Glasgow, after the cancellation of vigils for Sarah Everard over Covid restrictions.
Organisers asked people to leave a note or ribbon then "go home safely".
Events planned by the Reclaim These Streets movement in Edinburgh and London had already moved online.
Ms Everard, 33, was found dead after she disappeared while walking home in south London last week.
Metropolitan Police officer Wayne Couzens, 48, has appeared in court charged with her kidnap and murder.
Scotland's health secretary Jeane Freeman had warned that any vigil in a public place would go against coronavirus restrictions.
She said women should find another way to pay tribute to Ms Everard.
image copyrightFamily handout
Organisers of the Glasgow event asked people to tie a ribbon and a note at four locations – George Square, Queens Park, Kelvingrove Park or the Mary Barbour statue in Govan.
They urged people not to remain at the location and head home.
They said the notes would be gathered into a "manifesto for change" for real improvements in the lives and safety of all women.
Nikki Forde, one of the organisers, told BBC Radio Scotland that some women wanted a physical space to support the movement.
She said: "Every woman can relate to the concerns [about violence against women].
"This is a conversation women have been having for years. I think Sarah Everard's story is bringing to light that it can't be a one-sided conversation anymore – it needs to involve the wider population."
image copyrightCarolyn Sleith
image captionA red ribbon tied to the statue of Mary Barbour at Glasgow's Govan subway station.
Earlier, Police Scotland urged people not to attend an event outside the Scottish Parliament in Edinburgh on Saturday.
Organisers said they would "build on events hosted online" instead.
Edinburgh organiser, Chloe Whyte, told the BBC they did not want to be responsible for women who attended vigils potentially being fined for breaking lockdown rules.
Ms Whyte said: "This is only getting bigger and bigger, regardless of what the police or the law have to say about our vigils, women will not be silenced.
"We will be taking to the streets as soon as it is legal and safe to do so. In the meantime, the campaigns online are only growing."
At the Scottish government coronavirus briefing on Friday, Health Secretary Jeane Freeman urged people not to hold vigils as it risked spreading Covid-19.
She said: "The rules are there for a reason, they're there to protect all of us from a virus that doesn't play by the rules.
"Right now we're dealing with a mutation from that virus that is significantly more infectious that the one we were dealing with a year ago.
"If we weren't in the situation we are in right now, then any public vigil I would certainly join. But we are not in normal times.
"I'm saying to all of the women who are feeling angry, afraid or upset, I'm right there with you but please do not have a vigil."
Organisers of a planned vigil in London lost a legal challenge after police said it would be "unlawful".
Lawyers representing Reclaim These Streets argued the decision was against human rights law but a High Court judge refused to intervene.