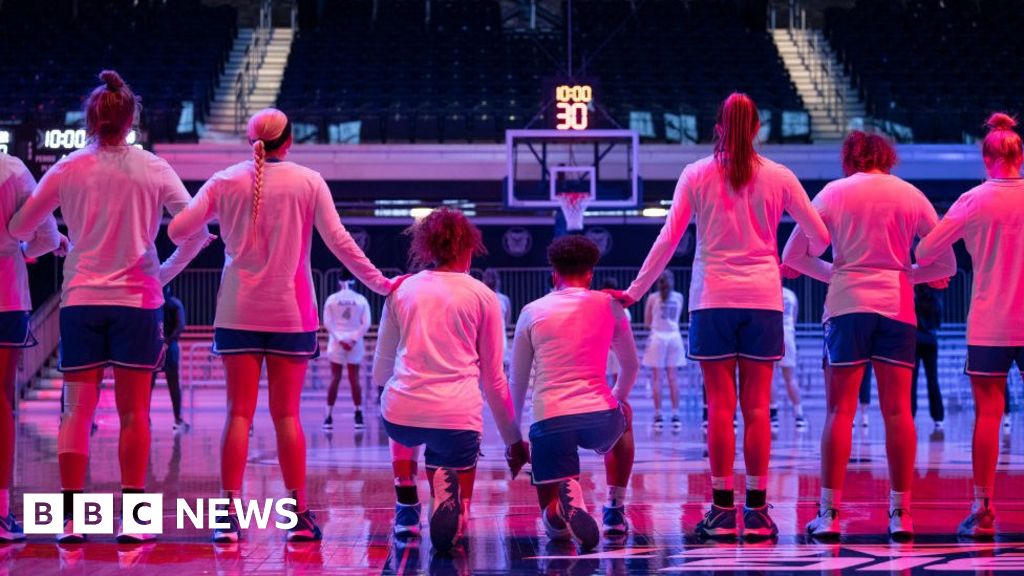 image copyrightGetty Images
image captionKneeling while the anthem plays at sports events is not uncommon
An announcer for a live broadcast of a girls' high school basketball game in Oklahoma was caught using a racist slur and profanities against players who knelt during the national anthem.
Matt Rowan, owner and operator of the streaming service OSPN, later admitted using the words and apologised.
The incident happened before the match between Norman High School and Midwest City quarter final game.
Kneeling for the national anthem symbolises a protest against racism.
NFL player Colin Kaepernick sparked the movement in 2016 when he knelt during the anthem in protest at police brutality – but it was controversial with many in the US, including former President Trump, viewing the gesture as unpatriotic.
Matt Rowan's comments were overheard during a break in the live stream on the National Federation of High School (NFHS) Network.
Appearing not to realise the stream was still live, he could be heard reacting to the decision by some of the players from Norman School to kneel while the Star Spangled Banner played.
"They're kneeling? F*** them. I hope Norman gets their ass kicked," he says.
"I hope they lose. C'mon Midwest City. They're gonna kneel like that?" He then went on to use a profanity and a racist slur. The video was posted to Twitter on Friday.
Matt Rowan later blamed his "horrible statements" on his Type 1 diabetes. "While not excusing my remarks it is not unusual when my sugar spikes that I become disoriented and often say things that are not appropriate as well as hurtful," he said in a statement.
The announcer who used a racial slur to describe high school basketball players who kneeled during the national anthem said he had "spiking" blood sugar when he used the n-word.https://t.co/JN0jNKDEqO
— Dylan Goforth (@DGoforth918) March 12, 2021
The BBC is not responsible for the content of external sites.View original tweet on Twitter
His firm was hired by the Oklahoma Secondary School Activities Association (OSSAA) to broadcast the game on the NFHS Network – and both organisations apologised, said they were investigating the incident and would not be working again with the broadcast crew.
Dr Nick Migliorino, the superintendent of Norman City's public schools, condemned "the disgusting words and attitudes of these announcers" and said they fully supported the players' right to freedom of expression.
"It is tragic that the hard work and skill of this team is being overshadowed by the vile, malignant words of these individuals," he said.
Norman Mayor Breea Clark said she was "livid and absolutely disgusted" by the incident and plans to hold a town hall listening session with the city's youth to "learn how this incident has impacted them and hear directly from our kids how we can improve our community going forward."