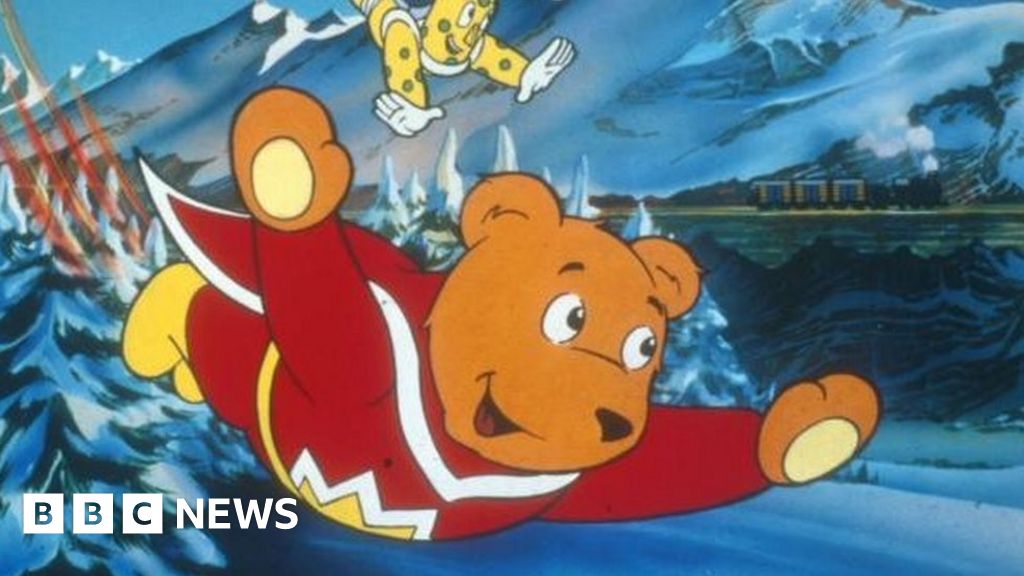 By Peter ShuttleworthBBC News
media captionSuperTed started with a teddy, a tea towel and a bedtime story
He was the teddy bear with magic powers who was a cartoon favourite among royal princes and a generation of children – and now SuperTed is being brought back to life once again.
More than 35 years since his last show, his creators are set to sprinkle magic dust over SuperTed again and recreate him for a new audience.
Work on new episodes is expected to start later this year.
It is hoped SuperTed will be back on TV screens by 2023.
His return will be the latest cartoon comeback.
Fireman Sam, Thomas The Tank Engine, the Care Bears, My Little Pony, Scooby Doo, Postman Pat and the Clangers have all been reinvented for 21st Century children.
SuperTed – whose most famous fans were the dukes of Cambridge and Sussex – was created by a stepfather trying to help a four-year-old sleep, who was inadvertently helped by the Beatles.
His production firm also wants Hollywood's Welsh acting stars like Michael Sheen, Rhys Ifans and Ioan Gruffudd to help narrate the revamped show and voice characters like sidekick Spotty and baddie Texas Pete.
The teddy bear – powered by Spotty's cosmic dust and Mother Nature's special powers – was beamed to 128 different countries and dubbed into 32 different languages before the last episode in 1986.
image copyrightSplash Entertainment
image captionThere were three series of SuperTed in the 1980s for S4C and the BBC
"The plan is to relaunch SuperTed and bring him back into 11-minute episodes," said Mike Young, now a Hollywood-based Emmy and Bafta award-winning animator who runs an entertainment production company.
"We'd have to pitch to Netflix, Disney+, HBO Max and the big guys because you're looking at an investment of about $11m (£7.9m) for a full series in CGI."
SuperTed started from very humble beginnings – just a stepfather trying to get a four-year-old to sleep at their house on the outskirts of Cardiff.
"Every parent has probably been there, trying to get a toddler to bed," recalls Mike.
image copyrightMike Young
image captionMike's stepson Richard being read a SuperTed book by Mike's daughter Sarah in the early 1980s
"My stepson Richard was afraid of the dark and this one night, I'd been up to his bedroom a zillion times and he called again while I was doing the dishes.
"My wife Liz had gone out so I went up to comfort Richard and I noticed a little teddy bear on his bed.
"I had the tea towel in my hand and I placed it around the bear's neck like a cape – and I said this teddy bear is also afraid of the dark but when you whisper a secret magic word he turns into SuperTed.
"That's how SuperTed was born, out of desperation! OK, it wasn't the most original notion but I made up a new story every night."
image copyrightMike Young
image captionMike Young (right) with son Pete, who runs development at Mike's company, and Mike's grandsons Bodhi and Owen
Mike, then a salesman selling food mixers, was encouraged to seriously pitch the idea as a cartoon by Richard's nursery teacher.
"When I used to pick him up, they'd say 'we love your SuperTed stories'," said Mike.
"They'd say 'Richard tells us the story you told him last night – you should get them published'. That's how accidental SuperTed was."
SuperTed was the first show broadcast on Welsh language television channel S4C on its first day of transmission in November 1982.
English language episodes were then made for the BBC – but little did anyone know this was a cartoon fit for a future king.
When Diana, Princess of Wales opened a children's ward at a hospital in south Wales in the 1980s, she was introduced to Mike.
image copyrightGetty Images
image captionPrince William and the Princess of Wales meet SuperTed and Spotty on William's first official engagement in Cardiff in 1991
"She gave me chapter and verse about SuperTed and we gave her two SuperTeds for the princes," recalled Mike, who was also assistant producer of the original Fireman Sam.
"She turned to her lady-in-waiting and said 'please ensure these go in the car with us'. She wanted to make sure the boys got their SuperTeds.
"I've got the future king and Prince Harry with us, they grew up with SuperTed and are big fans."
Many of the original SuperTed cast have died – including a buddy of the Beatles who did more than help.
image copyrightGetty Images
image captionVictor Spinetti with Paul McCartney (left) and John Lennon (right) during a Beatles photoshoot in 1965
"Victor Spinetti was my cousin and he knew everyone in entertainment after being in all of the Beatles movies back in the 1960s," recalled Mike.
"When I was living in London in the '60s, he'd used to call and say 'fancy going out with the Beatles tonight?'. So I'd get dressed up and party down the Pickwick Club with the Beatles.
"So when the SuperTed cartoon got commissioned for TV I called Victor and said 'what do I do? I need people to voice these characters and I haven't got a clue'. He replied 'leave it with me'.
"He basically got his phone book out, called his mates and assembled an iconic cast who were only too happy to help him out. Everyone loved Victor.
"When we moved to California, Victor would stay with us. We'd have famous celebrities come over to the house to see him, like Elizabeth Taylor and Sean Connery, because they were his pals."
Victor, the voice of bad guy Texas Pete, Doctor Who star Jon Pertwee, the man brought Spotty to life, and Bulk's voice Roy Kinnear have died since SuperTed was last made 35 years ago.
image captionIt Ain't Half Hot, Mum star Melvyn Hayes and Play School presenter Derek Griffiths were voices in the original SuperTed
Mike hopes Derek Griffiths, the former Play School and Coronation Street star who voiced SuperTed, and It Ain't Half Hot, Mum actor Melvyn Hayes, the voice of Skeleton, can return in any new episodes.
"I'd be delighted if the Welsh stars like Rhys Ifans, Ioan Gruffudd and Michael Sheen, who I know are all SuperTed fans, could play parts in a new series," added the animator, who has won 15 Emmys and two British Academy awards.
In an ironic twist of fate, the little boy who was scared of the dark and was the catalyst for the cartoon will be involved in the production of the new series.
image captionSuperTed appeared on the 1985 Children in Need show with Spotty
Richard Finn is now 48 and runs editing and post-production at Mike's company in Los Angeles.
Splash Entertainment has made 42 cartoon series and 25 films since being formed 30 years ago.
"No matter what I've made since, whenever I promote something new people always just want to talk to me about SuperTed," said Mike, 75.
"But SuperTed is the cartoon that made me and gave me the life I have and I want to bring him back.
image copyrightMike Young
image captionRichard Finn, here with his family, was the boy afraid of the dark and the inspiration for creating SuperTed
"From start to finish, creating a cartoon series from scratch is a two-year process. I'm running out of time as I've got to think about retiring at some stage.
"SuperTed will have to be a little bit different as there's things you could do and say in cartoons 40 years ago that isn't acceptable to today's audiences so we'll have to move with the times and it'll be updated."
SuperTed's rights were split in the 1980s but Mike has said his company have just one production house to negotiate with before Splash "kick it into production later this year".
"A series like SuperTed will cost about $11m so you need all of the those rights to get your money back by running licences and merchandise," said football fan Mike.
"It'd mean so much to bring SuperTed back and be very emotional – the only thing that'd top it is Cardiff City winning the European Cup. And that's not going to happen!"