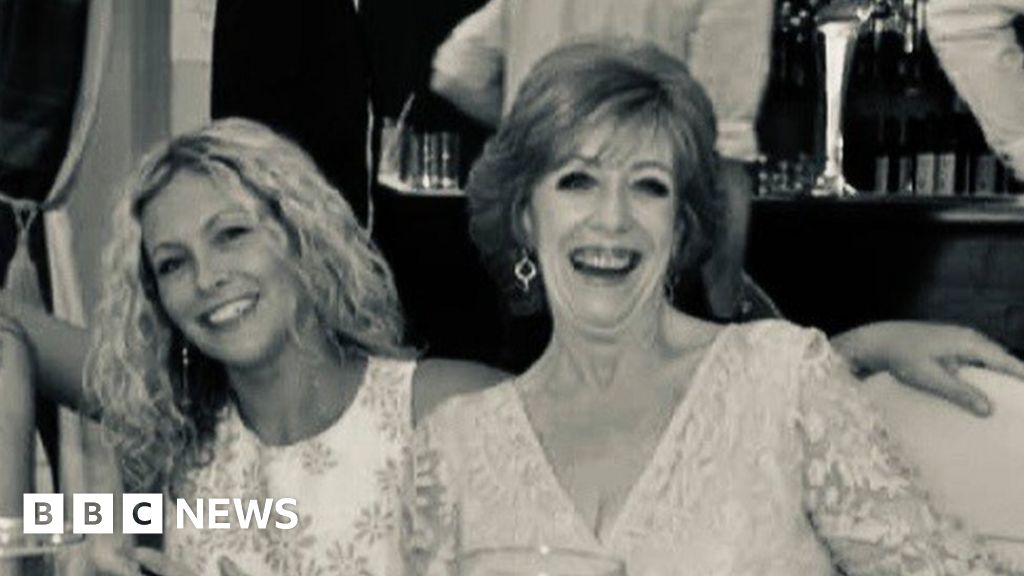 image copyrightCharlotte Phillips
image captionCharlotte Phillips plans to spend time with her mother on Sunday for the first time since Christmas
Plans for outdoor Mother's Day meet-ups are under way as a relaxation of lockdown rules comes into force.
From Saturday, up to four adults from two households can meet up in a private garden.
The stay-at-home rule has now been replaced by a requirement to stay local.
For Charlotte Phillips from Llantwit Major, Vale of Glamorgan, Sunday will be the first time she has spent time with her mother since Christmas.
"I'm really pleased," she said.
Last year, as the pandemic took hold, Charlotte's family abandoned plans to meet up for lunch on Mother's Day. The UK went into its first Covid lockdown just 13 days later on 23 March.
"I'd arranged for family to come round for Mother's Day lunch on that Sunday but we took a decision to not see each other, so I went dropping plates of food round to my family's gardens and wasn't able to see them," she said.
The new rules mean she can now visit her parents in their garden in Aberthaw, about five miles (8km) away: "It'll be really nice to go over this year and actually spend time with them in the garden, catching up because they've have pretty much been in since March last year.
"I'm not going to do a lot because of cross-contamination with Covid, just have a glass of wine in their garden, see them for a little bit and take some presents over."
If it rains she has a plan B: "I have bought a gazebo – I bought it when you could still meet people in your garden – I may have to erect that in my garden and they can come here… we'll sort something out."
image copyrightFamily photo
image captionAngelika Monks hopes rain won't prevent her from seeing her son Steven
Angelica Monks, from Anglesey, has not seen her son Steven, 35, since Christmas
Steven, who has cerebral palsy and severe learning difficulties, lives in a supported living setting.
From Saturday, designated solo visitors can also enter care homes.
"I can't tell you what it's been like and it is just as bad for Steven as well," she said.
She is waiting to find out if the relaxation of care home visit rules means she can visit her son, but the end of the stay-at-home rule means she can look forward to travelling to meet him outdoors again.
"We live on the same island but Steven is in Holyhead, and we live near Llanfair-PG [Llanfairpwllgwyngyll] so it's about 30-odd miles, and so we weren't allowed to go to see him," she said.
"I can't really express myself… it will be so wonderful to actually be normal again… it will make such a difference to our lives and to his life as well."
She hopes to be reunited with him on Mother's Day: "That is a decisions we'll have to make on the day – if the weather is nice, we're going to come out and meet him in the park, if the weather is not nice we can't do that. Decisions will have to be made day by day."
Outdoor sports facilities such as golf, tennis and basketball have also begun reopening following Friday's lockdown easing.
image copyrightLowri Roberts
image captionLowri Roberts is looking forward to returning to the golf course
Lowri Roberts is a member of Cottrell Park Golf Resort in Cardiff and pleased to be able to play again.
"I think it's good news that we're able to play golf again – it's very welcome," she said.
"It is an important part of your life, it takes at least four hours on a Saturday morning – I think many people have missed the opportunity to play some sports, get some fresh air, be with nature, even compete."
She said she backed the Welsh Government's lockdown restrictions: "I think most golfers understand why it's not been possible until now… we all have perspective – so many other things have been happening – it can't have been the most important thing.
"I'm looking forward to getting back but I fully understand what the government's chosen to do and why we've not been able to play since Christmas – and I'm fine with it."