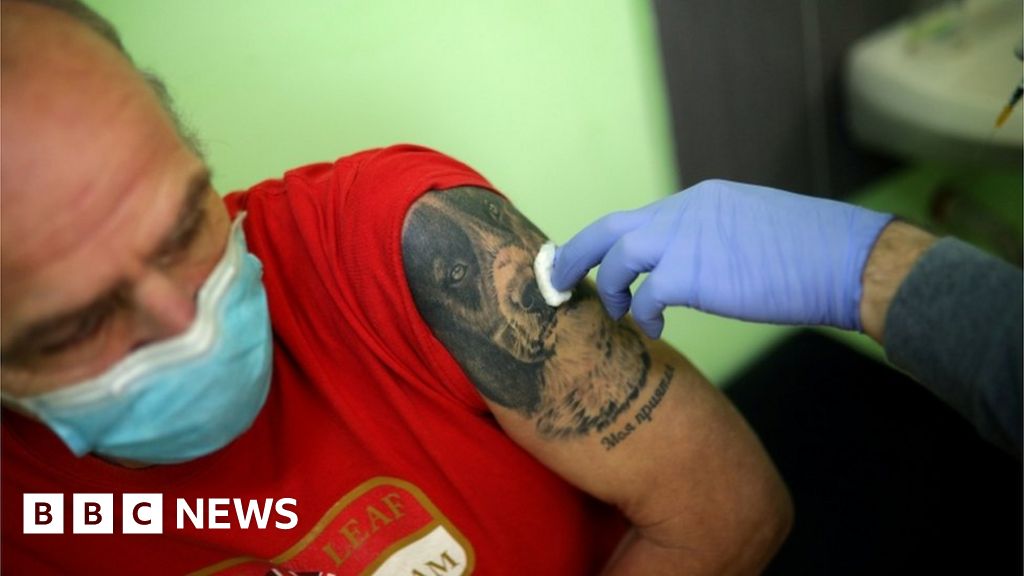 image captionBulgaria has administered about 300,000 doses of coronavirus vaccine
Countries should not stop using AstraZeneca's Covid-19 vaccine over fears it causes blood clots as there is no indication this is true, the World Health Organization says.
Bulgaria is the latest country to suspend use of the vaccine.
But a WHO spokeswoman told a briefing on Friday there was no link between the jab and developing a clot.
Margaret Harris said it was an "excellent vaccine" and should continue to be used.
Around 5 million Europeans have already received the AstraZeneca jab.
There have been about 30 cases in Europe of "thromboembolic events" – or developing blood clots – after the vaccine was administered. There were also reports that a 50-year-old man had died in Italy after developing deep vein thrombosis (DVT).
The WHO is investigating the reports, as it does any safety questions, Ms Harris said.
But no causal relationship had been established between the shot and the health problems reported, she said.
Bulgaria's decision to pause its rollout follows similar steps by Denmark, Iceland and Norway as well as Thailand. Italy and Austria have stopped using certain batches of the drug as a precautionary measure.
"I order a halt in vaccinations with the AstraZeneca vaccine until the European Medicines Agency dismisses all doubts about its safety," Bulgarian Prime Minister Boyko Borisov said.
The European Medicines Agency, the EU's medicines regulator, said earlier there was no indication the jab was causing the blood clots, adding that its "benefits continue to outweigh its risks".
AstraZeneca said the drug's safety had been studied extensively in clinical trials.
Other countries, including the UK, Germany, Australia and Mexico, have said they are continuing their rollout.
While vast numbers of people are being vaccinated at pace around the world, some of them will still get sick with other things unrelated to the vaccine.
These pauses for the AstraZeneca vaccine are not because it is unsafe to give. It's to allow time for experts to explore why a small number of people who were recently give the shot also developed blood clots.
When an illness occurs shortly after vaccination, it is right to question whether the shot might have contributed in any way.
There is no indication or evidence, however, that the vaccine was linked or responsible.
In the UK, more than 11 million people have already received at least one dose of the vaccine and there has been no sign of excess deaths or blood clots occurring. Europe's drug regulator has also backed the vaccine, saying its benefits are clear. Covid can be deadly and vaccination saves lives.
Germany's Health Minister Jens Spahn said he disagreed with the countries suspending the vaccinations.
"From what we know so far, the benefit… is far greater than the risk," he said.
The temporary suspensions come as a setback for a European vaccination campaign that has stuttered into life, partly due to delays in delivery of the doses.
media captionWhy do new variants of Covid-19 keep appearing? Laura Foster explains
In the latest upset, Austrian Chancellor Sebastian Kurz complained that the EU was not distributing coronavirus vaccines fairly among member states – according to population size, as agreed.
He said some countries were striking side deals with vaccine makers instead of leaving procurement to the European Commission.
The German health ministry acknowledged in January that Germany had signed a deal for 30 million doses with Pfizer BioNTech in September.
After cases declined in recent months, several European countries are now seeing a resurgence. France, Italy, Poland and Turkey have seen the highest numbers in recent weeks.
The whole of Italy is braced to enter the country's strictest lockdown measures over the Easter weekend, 3 to 5 April.
Under rules set to be confirmed by the government, residents will only be allowed to leave home for work, health reasons, essential shopping or emergencies. All non-essential shops will be closed as will bars and restaurants. School lessons must be held online.
The total number of deaths in Italy rose to 100,000 on Monday – the highest toll in Europe after the UK. Officials say infection rates are rising as new variants of the virus take hold.