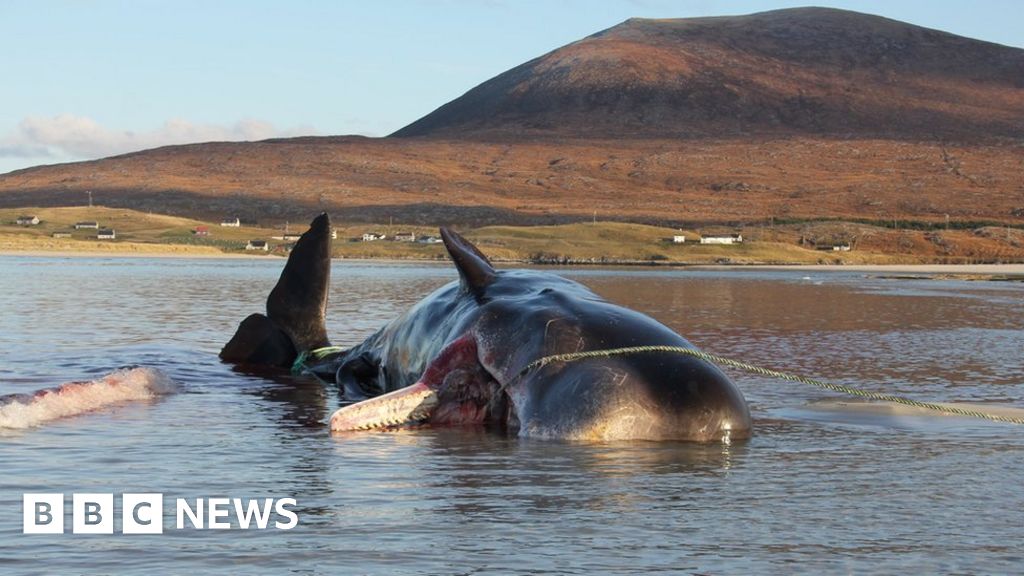 image captionNets and rope were among the plastic rubbish found in the whale
Scientists have revealed a list of items found in a stomach of a sperm whale which died after stranding on the Isle of Harris.
A 100kg "litter ball" was removed from the animal after it stranded on Seilebost beach in late November 2019.
A new report said the material included a scrap of net that was 3m (9ft) long and 2m (6ft) wide, a stack of plastic cups and flat packing straps.
It is suspected the whale ingested the marine pollution over some time.
In its report, Scottish Marine Animal Strandings Scheme (SMASS) scientists said the animal was likely to have accidently eaten the plastic while hunting squid at various geographical locations.
Squid beaks were embedded in the ball of litter, which also included three bundles of fishing rope, fragments of rubber gloves and rubber tubing.
image captionThe sperm whale died after stranding on a Western Isles beach in 2019
Inverness-based SMASS, which is part of Scotland's Rural College, said the "extraordinary amount of debris" would likely have caused the whale acute colic or similar discomfort.
It was unclear if the rubbish was a direct cause of the whale's stranding.