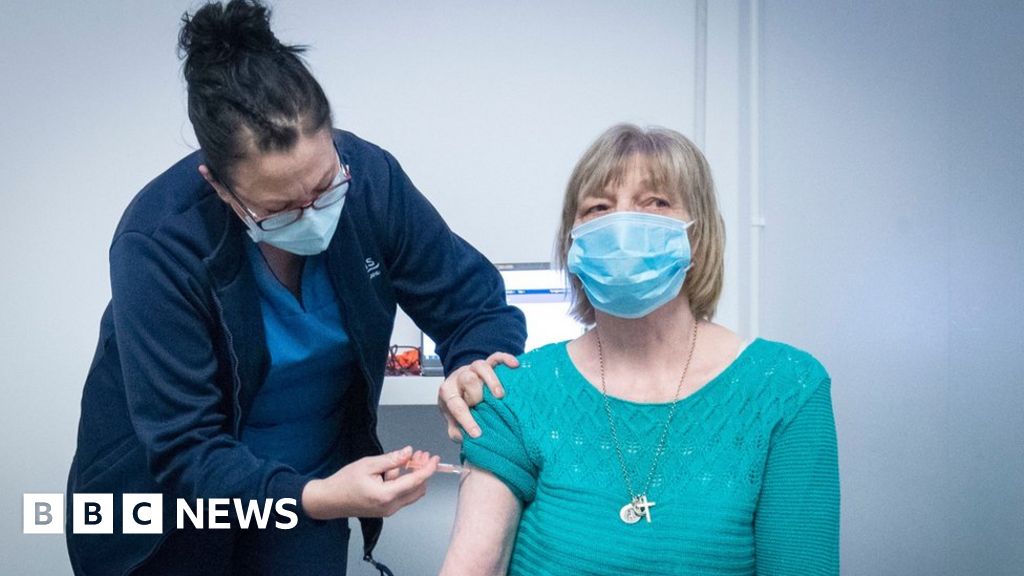 image captionMore than 144,000 healthcare workers were monitored for the study
Vaccination of Scotland's healthcare workers has lowered the rate of infection for people they live with, according to a major new study.
The research looked at the households of more than 144,000 healthcare workers between 8 December and 3 March.
It found that the rate of infection for people that lived with healthcare workers was at least 30% lower when the worker had received a Covid dose.
The study said the "true" effect of vaccination could be even higher.
It said people within the household could catch Covid from many different sources so the 30% relative risk reduction was an underestimate.
The research was led by Public Health Scotland and the University of Glasgow.
The study said that most healthcare workers in the research were women (79%) and the majority of the household contacts were men.
More than half of the healthcare workers were in "patient-facing" roles.
The study tracked the workers from 8 December and noted when they had their vaccine.
The majority received a first dose in December and January but 20% remained unvaccinated, the study said.
It found that there were 3,123 documented cases of Covid among their household contacts with 175 hospital admissions.
Statistical modelling showed that the rate of transmission was 30% lower for contacts of people who had received a vaccine dose at least 14 days previously.
It also showed that where healthcare workers had received a second dose of the vaccine at least 14 days before, the people they lived with had a rate of Covid-19 which was at least 54% lower than others who were close contacts of healthcare workers who had not been vaccinated.
Dr Diane Stockton, from Public Health Scotland's Covid-19 Vaccination Surveillance Programme, said the results were "very encouraging" because they suggested that the vaccine helped prevent people from passing on the virus to others.
Dr David McAllister, University of Glasgow, said the study provided the first direct evidence that vaccinating individuals working in high-exposure settings reduced the risk to their close contacts.